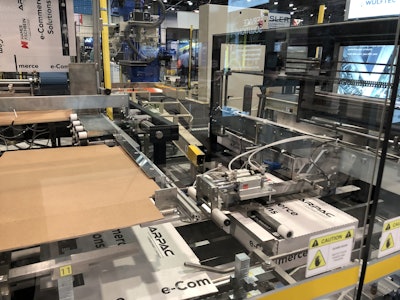 There is certainly no shortage of new solutions at the PACK EXPO Las Vegas show that address the challenges of e-commerce packaging, including creating packaging that is both durable and enhances the consumer experience. Among them is the new "bag-in-a-box" integrated line from Hamer-Fischbein and Arpac—both members of the Duravant family of operating companies—that can deliver multi-format packaging solutions.
The new line provides right-size packaging that Hamer-Fischbein says helps lower return rates by preventing shipping damages, increasing brand identification, and improving customer satisfaction with frustration-free packaging. "Shipping bagged products like pet food, household and garden supplies, and other larger-format bagged items purchased through e-commerce can be extremely challenging," said Ed Pickens, Director of Engineering and Product Development for Hamer-Fischbein.
The system is designed to manage primary and secondary packaging in one system. Hamer-Fischbein bagging technology fills and seals the bags, which are then directed onto conveyors for their secondary packaging destination. Those intended for retail shelves are diverted toward a palletizer. Those intended for e-commerce fulfillment are directed to Arpac's DPM motion wraparound case/tray packer, where they are packed in right-size corrugated packaging. At the end of the line, Hamer-Fischbein's robotic bag palletizer uses end-of-arm tooling that can simultaneously palletize both retail bags and case-packed bags onto two separate pallet configurations.
Said Mike Allegretti, Marketing Manager for Arpac, "We're excited to collaborate with Hamer-Fischbein on this bag-in-a-box e-commerce solution. Using secondary packaging to add corrugated is a great way to protect bags that are shipped to customers. We always strive to deliver creative and cost-efficient solutions, and with this system, we're able to give our customers the flexibility to package their products for multiple distribution pathways."
Companies in this article