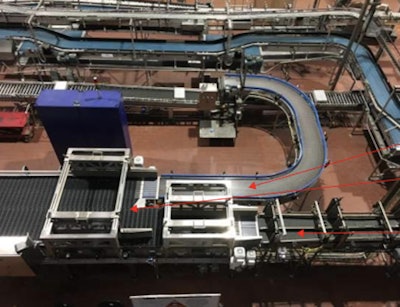 Packaging lines are well-known examples of multi-PLC operations. There are PLCs on the conveyor lines, which may or may not be provided by the conveyor supplier, and there are packaging machine PLCs typically provided by the OEM.
This mix of controllers can produce some challenging control issues if you're looking to connect controller communications in overlapping zones of control on a packaging line. And that's exactly what a Fortune 500 international producer and marketer of beer, wine, and spiritsfaced when it added a new multipacker to an existing can line used for new package types.

At the Siemens Automation Summit 2019, Fred Husman, senior project manager at system integration firm Stone Technologies, described how they handled this issue to facilitate an automated rejection of packages with defects. The multipacker in this application was added to an existing packaging line to handle a new type of sleek can, creating a system with five PLCs—one for the multipacker, two for the conveyors, one for the turner/diverter/rejector (TDR) table, and one for the tray packer. "In this line there were older Siemens S7 300 series PLCs, newer S7 1200 PLCs, and a Siemens Simotion controller," said Husman.
The multipacker performs quality checks with its PLC, but the actual rejection of defective packages takes place at the TDR table managed by a different controller. To handle this kind of high-speed processing that takes place at fractions of a second at steps along the line just a few feet apart, "we thought we would have to hardwire the PLCs," said Husman. "But how do you hardwire this when another PLC on the conveyor sits in between the two controllers in question?"
Husman noted that the beverage producer and Stone Technologies were "open to a deterministic network solution to address the difficulty of hardwiring" these separate controllers. He said Profinet became the networking option of choice because it is deterministic (i.e., it guarantees delivery of control packets for the system to perform as required). "But it also had to be fast for this application," said Husman. "We needed communications to be in the 100-millisecond range, and Profinet IO has cycles times in the 100-microsecond range, so it could handle our requirements."
Because the line's S7 300 series controllers do not have Profinet integrated, Husman said they added a CP 343 Profinet IO controller to the S7 300s. "This allows us to pass any info between those controllers on a fast, dedicated, deterministic network," he said.
With Profinet IO added to the line to connect controller communications, cartons flagged for rejection were successfully rejected 100 percent of the time, according to Husman. "Using a dedicated Profinet IO level 1 network worked better than S7 communications over Ethernet level 2 because Profinet IO level 1 communications are deterministic. "Also, using Profinet, the conveyor and machine speeds can be synchronized across PLCs and additional signals can be added quickly without additional cost," said Husman. "You don't have to front-end engineer all interlocks or synchronizations between PLCs."
Companies in this article