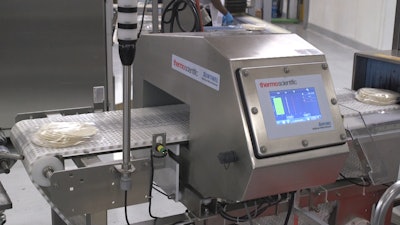 A leading producer of tortillas for quick-service restaurants and retailers alike, Catallia Mexican Foods of Eagan, MN, has relied on metal detection for product inspection purposes since it opened its doors in 2006. But in recent years the peculiarities that are inherent in tortilla production convinced management that it might be time to investigate X-Ray technology.
What peculiarities? For starters, it's a warm, wet, salty environment. But when the production line needed to be stopped, the product temperature would dip, which in turn caused false rejects by the metal detector. An operator would have to adjust the equipment for rework and then adjust it back for normal production. Also problematic was that seemingly small changes to the product or the environment, like a folded-over tortilla, was causing false rejects on occasion.
On top of these production line challenges, major customers were requiring more sensitive detection capability, and they wanted the ability to detect non-metallic contaminants. Such expectations are not uncommon among today's retailers, for whom brand protection standards are crucial.
So Catallia management looked into X-Ray technology and installed a solution from a low-cost provider on one of its most demanding production lines. But within two years there were problems with the equipment, to the point that the true cost of owning and operating it made it less than satisfactory. "Sure, we got into X-Ray detection more or less on the cheap, but we quickly started wondering if it would have been better to stay with a top brand even if it meant paying more up front," recalls Director of Operations Dan Gooch.
It was right about then that Gooch came across the NextGuard X-Ray Detection System from Thermo Fisher Scientific. "They've been a supplier to us for metal detection systems for so many years," says Gooch. "When I saw that they had NextGuard X-Ray technology available at an attractive price compared to the prices I'd been seeing previously, it became a natural fit." Not only did it bring the food safety benefits of finding smaller and more varied types of foreign objects. It also meant not having to contend with false rejects, line stoppages, and rework that the firm was experiencing as long as it relied on metal detection for product inspection.
The customers most likely to require that their tortillas get inspected by X-Ray technology are typically industrial manufacturers who are adding things like beef, vegetables, spices, and other ingredients to products that then go to the market as value-added burritos or tacos. Basically they're taking a 10-cent tortilla and turning it into a $3 burrito. If their in-house inspection systems detect metal in a tortilla after it's been turned into a $3 burrito and they have to remove that burrito or some cases of burritos from their inventory of saleable goods, Catallia may get charged for that loss. "For these customers we need to have the most stringent inspection methods available," says Gooch. Detection results have been very good, as sensitive as 0.8 mm for all metals, since the NextGuard technology was introduced in 2017.
But even on the packaging lines that didn't necessarily require X-Ray inspection, the challenges presented by conventional metal detection still needed to be addressed. So Catallia became a beta site for the Sentinel Multiscan Metal Detector, a first-of-its-kind metal detector from Thermo Fisher that overcomes the limitations of fixed-single or dual-frequency metal detectors by scanning up to five user-selectable frequencies at the same time. With the Sentinel, Catallia is able to improve detection by upwards of 25% and reduce false rejects no matter the product orientation or temperature or plant environment while benefitting from the low cost of ownership associated with metal detection.
By opening itself up to the exploration of new technologies in product inspection, Catallia has put itself in position to best serve the needs of its large portfolio of customers. It's all a matter of taking responsibility for deciding which technology is best suited for each application and customer. This is how metal detection and X-Ray came to coexist in the Catallia plant.
The firm has also embraced another Thermo Fisher technology, ideal for baked goods, by incorporating the Versa Flex Checkweigher. This checkweigher, designed for dry applications, has all the right features to enable the company to avoid overfills and underfills while meeting packaging weight requirements 100 percent of the time with a more cost-effective solution than an all-purpose checkweigher.
Companies in this article