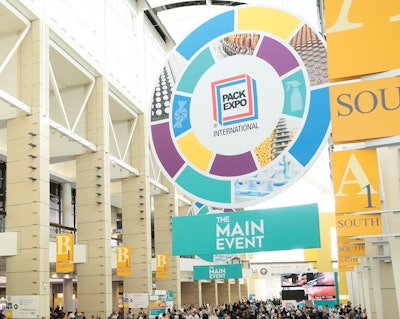 Each year the editors at PMMI Media Group roam the aisles of PACK EXPO looking for the next big thing in the packaging sector. Of course, with a show this size it's never one big thing we find but rather a multitude of things big, medium, and small, all of them innovative and meaningful in one way or another to packaging professionals of today.
This report sums up what we found in six main categories. We present them here for your review knowing full well that, inevitably, we missed a few. Probably more than a few. That's where you come in. Let us know what we missed and we'll look into it. Or at the very least, we'll know to be on the lookout for it at the next PACK EXPO.
Our report comes to you from the following:
Matt Reynolds, Editor, Packaging World
Pat Reynolds, VP Editor Emeritus, Packaging World
Anne Marie Mohan, Senior Editor, Packaging World; Editor, Contract Packaging
Stephanie Neal, Senior Editor, Automation World; Editor-in-Chief, OEM
Joyce Fassl, Editor-in-Chief, ProFood World
Maya Norris, Managing Editor, ProFood World
Natalie Craig, Managing Editor, OEM
Jim Butschli, Editor, Healthcare Packaging
Keren Sookne, Director of Editorial Content, Healthcare Packaging
PTI developed the Dromo bottle and dispensing system to support growing e-commerce product demands, survive the distribution channel with limited secondary packaging, and reduce dependence on raw materials.
Up to 75% lighter weight than traditional personal care PET bottles, the 16-oz PET refill weighs less than 10 g and has been designed to be inserted into an attractive, rigid, reusable dispenser. PTI engineered several dispenser types, each with specific features to address brand preferences. The injection stretch-blow-molded bottles can be made from virgin PET or up to 100 percent recycled PET.
Opposing flat side panels provide sidewall strength and facilitate stacking prior to shrink wrapping into optional double packs. Bottles can also be sealed with a traditional threaded closure or accommodate a foil seal.
Unlike traditional PET bottles designed for the retail shelf, this system has been specifically designed for e-commerce distribution. That means structural attributes that are mandatory in the retail space, but unnecessary for e-commerce, have been removed.
Dromo bottles have also passed burst tests of up to 173 psi and drop tests (both base and sides) of 6 feet to ensure that they will be able to handle the rigors of e-commerce distribution.
"Consumers have never been more vocal about reducing plastic packaging consumption. Along with this has come the significant shift in buying habits, moving away from retail stores toward e-commerce," says Thierry Fabozzi, President of PTI. "Different times call for different packaging solutions, and that's what this innovation represents."
The Autobag 650 is the same wide bagging system with a fully-integrated next-bag-out printer that eliminates the need for a separate labeling operation, increasing speed and accuracy in mail order e-commerce, prescription-by-mail, catalog order fulfillment, and frequent-changeover, variable-data applications. The Autobag 650 prints and packs at speeds to 40 bags/min.
These baggers include an AutoTouch™ control screen that provides quick and easy access to job storage and recall, on-board diagnostics, and productivity monitoring. The Autobag 600 and Autobag 650 can also be networked for full pack-station integration and central monitoring. Both baggers feature an open design with fewer moving parts for longer life and ease of maintenance. Plus, the Autobag 600 and Autobag 650 easily integrate with Autobag and third-party equipment for fully automatic bag packaging operations.
"These new baggers were engineered with an emphasis on ergonomic design for the operator and return on investment for the owner," says Chris Rempe, Vice President of Global Marketing. "The unobstructed access to the loading area is one of our most user-friendly features to date, and the highly flexible design accommodates a wide range of products and bag sizes, increasing packaging capacity."
"We believe the Sharp MAX-PRO 18 is the most advanced bagger available and the first with predictive maintenance," says John Hubert, Director of Engineering, Sharp Packaging by Pregis. "It utilizes the Maxwell intelligent interface featured on other Pregis on-demand systems. The diagnostic abilities mean the system is constantly checking data such as run rates and other usage metrics so that it's able to notify a technician that there might be a potential service issue down the road. The ability to send that alert in advance of an actual problem results in no, or minimal, downtime." The MAX-PRO 18 is recommended for large e-commerce and manufacturing operations with high volumes. The bagger was designed for easier operation, with fast bag and pass-through changeovers. Sharp E-Z Bags® feed through the machine and then are opened, filled with product, and sealed. The MAX-PRO 18 accommodates 18-in.-wide bags with an 8-in. pass-through depth. The unit also features an intuitive user interface and thermal printing technology that prints barcodes, graphics, and alphanumeric fonts directly onto the package.
Also new at the show, Pregis debuted its Sharp SX GO tabletop bagger (see video at pwgo.to/3940). It's designed for operations seeking a simple, plug-and-play machine that requires minimal training. Pregis points out that the compact bagger fits into workstations but is powerful enough to meet peak season demands. According to the company, the SX GO is the first bagging solution specifically designed to address the challenges of ship-from-store fulfillment—space limitations and training among them—while improving shipping costs, increasing speed, and allowing for printed bags that enhance the customer experience.
"It's the only tabletop on the market that can handle an 18-inch bag and a pass through of up to eight inches," says Hubert. "It is also the only tabletop unit that can use fan-folded bags, which means fewer reloads. We've engineered it so that it only requires a couple of hours of training, for fast start-ups and companies employing seasonal labor."
The Renco 301PP (Pouch Pack) (4) is ideal for small- to medium-volume e-commerce applications but can handle bigger fulfillment center applications due to its flexibility. In the demo at the show, the system came handsomely equipped with an ID Technology print-and-apply labeler. The model 301PP stands out from the existing 301 line in that it has an inverted seal system, whereby the horizontal seal bar is below the vertical seal. This primes it for running multiple loose items. Products are fed to the packager by means of an infeed chute that can be hand loaded or automatically fed from upstream equipment. The machine's sweet spot is in right-sized packaging of multiple items in up to a 18-in. x 24-in. package size.
The 301PP could optionally be equipped with a small bucket horizontal conveyor, a bucket incline conveyor, an easy-open perforator, a film registration eye, a hole punch, and many other features that could come in handy in an e-commerce setting, depending on the level of automation preferred. The system also provides a user-friendly HMI and programmable changeover. More generally, the system provides significant cost savings over pre-made bags.
Meanwhile, the Texwrap 3322 Auto-Mailer (5) is optimized for high-volume e-commerce businesses that rely on ready-to-ship mail packages that effectively save on cost, labor, and time. With its advanced features, this Texwrap system can minimize material usage and maximize efficiency for end-of-line mailer fulfillment. The number one advantage to using mailers instead of cases, according to the company, is reducing freight costs by minimizing dimensional weight. Texwrap's 3322 Auto-Mailer is the ideal solution to any e-commerce business with high production volumes.
The 3322 Auto-Mailer can accommodate package sizes ranging from 4 in. L x 2. in W at the smallest extreme to 6 in. H x 19 in. W x 28 in. L at the largest. Maximum film width is 32 in. centerfold, and the conveyor heights are adjustable from 32.5 in. to 38.5 in.
Says Chad Klostermann, US Marketing Manager – Packaging | Equipment, 3M, "A production line is no place for bottlenecks, and our new 7000r/7000r3 High Speed Pro case sealer enables consistent tape application at high speeds—even if the size and shape vary with every box."
Features of the new machine include PLC controls that connect upstream and downstream operations, long-life column linear bearings and guides for precision upper assembly movement, outer column machine status indicator lights designed to maximize operator productivity, and 3M™ AccuGlide™ 4 2- and 3-in. taping heads engineered to ensure reliable application of tape without box damage.
The model 7000r can accommodate cases 7 in. or longer, in widths from 7 to 26 in., and heights from 3.5 in. in a standard position to 14.38 in. in a fully raised position. The model 7000r3 can also handle cases 7 in. or longer in widths from 7 to 26 in., but it can accommodate cases that are deeper—27 in. high in a standard position, and 38.13 in. raised.
The system not only ticks the e-commerce box, it also satisfies a growing trend toward the use of collaborative robots, which are becoming increasingly easy to program and can work side-by-side with operators to accomplish repetitive tasks. According to William Reilly, Technical Sales Engineer with XPAK, "This collaborative design not only enables the operator to safely and intuitively interface with our machine, ROBOX also realizes approximately 60-percent reduction in terms of the footprint required for a similar machine using more conventional robotic technology requiring fencing." Reilly confirmed that the company developed ROBOX to address the undeniable market trends toward collaborative robotics, now the fastest-growing segment of industrial automation.
The UR10e is the largest model in Universal Robot's new e-Series of cobots, which features built-in force/torque sensing, "unrivaled" safety features, and improved precision for faster integration in a wider range of future-proofed applications. The e-Series includes a rapidly expanding portfolio of certified UR+ plug-and-play end effectors, software, and peripherals certified for UR cobots. Watch the video at pwgo.to/3941.
It's best to visualize the Meta e operating at an e-commerce fulfillment center. Cases formed on a Meta e system include an internal cohesive paper liner. The liner is cut from rollstock and sheets are automatically transferred to a waiting case blank just before it's formed around the mandrel. So when the formed case arrives at the packing station in an e-commerce fulfillment center, the cohesive paper liner is in place.
It's important to note two things about the case when it does arrive at the packing station. First, it's upside down. Second, it's the bottom flaps that are open, and it's through the bottom that the case is filled. The operator doing the filling then folds the cohesive paper liner over itself, which snugly presses the product or products being shipped to the top of the case. The cohesive liner remains folded and keeps product from rattling around throughout transport without any need for void fill.
On the receiving end, the unboxing experience is optimized because there's no foam "peanuts" or other void-fill that the consumer has to wade through. Plus the entire system, case and liner, is 100% recycleable.
And what if an e-commerce fulfillment center doesn't have the kind of high volumes that would justify the purchase and installation of its own in-plant Meta e system? For these customers WestRock also makes knocked-down Meta e cases available.
Companies in this article