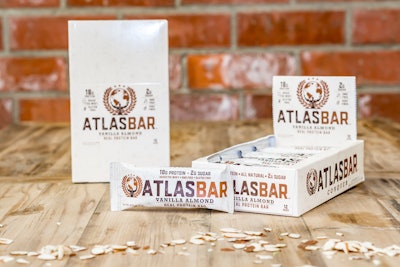 With the growing consumption of healthy snacks in the U.S., many manufacturers are offering tasty snack bars to satisfy consumers' appetites. One such company, Los Angeles-based YouBar, works directly with brands to help them create their own, cutting-edge protein bars with pure, natural ingredients that meet a range of dietary and nutritional needs.
YouBar's story begins in 2006 when mother-and-son team Ava Bise and Anthony Flynn set out to create a more nutritious snack bar than could be found on supermarket shelves. As both Flynn and Bise share a passion for healthy food and athletics, they realized the market needed a healthier snack-bar option. Their idea of customizing recipes to fit individual preferences appealed to many customers, including fitness club owners, personal coaches, and celebrities. In 2007, the duo commenced production in their own kitchen.
Starting out, YouBar hired eight employees who handcrafted the bars and wrapped them in wax paper. Later on, the company packaged the bars in premade pouches, closed the open side of the premade pouch using a foot-paddle sealer, and shipped up to 100 hand-packed boxes of bars per day. Their customers' appetite, however, was constantly growing, and soon YouBar started looking for a packaging machine supplier that could support their expanding production.
"When we were looking for a packaging supplier, the name that kept coming up was Bosch Packaging Technology. We were then introduced to Jim Neville from Nevco Ltd. [a long-time West Coast Bosch distributor], who, along with the rest of the Bosch team, really took us under his wing and made us feel we were an account that mattered, regardless of how small our company was at first," recalls Flynn.
As a result, one of the first entry-level Bosch Pack 101 flow wrappers installed in the U.S. was in YouBar's kitchen in Los Angeles in 2014. However, even though the machine offered a significantly faster packaging speed of up to 150 bars/min versus YouBar's previous manual process, as the company's business continued to grow, the flow wrapper soon became a bottleneck.
Full automation helps meet consumer demand
The success of the YouBar concept kept pushing the company's production to its limits, and by 2016, it was clear YouBar needed a fully automated line to grow its business even further. The reliable performance of the Pack 101 flow wrapper and YouBar's continued positive relationship with Bosch convinced the company to reach out to the supplier again for an equipment upgrade.
One of YouBar's biggest requirements for the system was flexibility. Being a co-packer, YouBar needed to be able to accommodate flexible minimum order quantities (MOQs) with fast changeover, as the company believes small MOQs are the key to true innovation. It also needed a machine that would work well with a range of film materials and primary and secondary package sizes.
YouBar can produce protein bars ranging in weight from small, bite-sized 20-g squares to large protein bars of 70 g, and everything in between, wrapping them in a range of film materials, depending on clients' needs. The company packs the bars in a standard tri seal-style carton, available in two sizes.
Line offers flexibility, quick changeover
The new line comprises an extruder, a Bosch Pack 201 horizontal flow wrapper for primary packaging and, for secondary packaging, a Presto top-load carton packer, a Cobra carton erector, and a Doboy TSC-030 carton closer—all from Bosch. The line starts with the extruder, from an unnamed supplier, that produces the bars. Then, the formed bars are fed automatically via a six-belt feeder to the flow wrapper. The Pack 201 is said to be ideal for applications where flexibility and fast changeovers are required due to its use of servo controls and pre-programmable recipes.
To change over the film on the flow wrapper, the operator simply places a new roll of film on the machine, threads it through the rollers and forming box up to the seal-jaw system, and selects the recipe for that film. If the new film is a different width, the operator also has to make a change to the forming box, whereby the former has to be changed out completely or changes must be made to an adjustable forming box. A bar-size change may only require the operator to make a recipe selection, or it may also require a film change, a forming-box change, and some product guide adjustments.
To clean the machine for a new bar recipe, the operator must remove the film, wipe down or—when needed—remove and wash the belts and infeed chain, wipe down the rest of the machine, and clean out the crumb trays.
After flow wrapping, bars are carried by conveyor to the Presto robotic cartoner, which is supplied with cartons from the Cobra carton erector. While YouBar currently uses just two carton sizes, the erector is capable of forming a range of sizes, from a minimum of 115 mm L x 75 mm W x 25 mm H to a maximum of 406 mm L x 254 mm W x 152 mm H.
The cartoner, a joint development with Demaurex of Switzerland, picks and places the bars using a delta robot equipped with a vacuum end-of-arm tool with squeeze-and-spread functionality. For picking, bars are placed into a collation chain that evenly spaces the product. From there, the EOAT is able to pick with vacuum the bars from the collation chain and then squeeze and spread the select quantity of product in order to place the bars into the carton with the correct spacing. In the last step, the cartons are sealed and closed by the Doboy TSC-030 carton closer.
"With the new automated system, once we place the bar dough on the line, we are not touching the product any more until it is boxed. It allows my staff to focus more on higher-level tasks, like monitoring the equipment, rather than hand-loading boxes," says Owner Anthony Flynn.
Room to grow
According to Bosch, key benefits of the automated packaging line include expanded capacity with a current output of up to 300bars/min, enhanced flexibility by accommodating a wide selection of different film materials, and proven reliability, ensuring consistent results regardless of whether the order comprises 5,000 or 1 million pieces.
Furthermore, explains Bosch, protein bars can be a tricky product to package, but the system allows for uninterrupted changeovers from one recipe to another, increasing the ease of overall operation and keeping planned production downtimes to a minimum. Additionally, the equipment is also easy to clean, reducing the risk of contamination of the bars.
After the equipment was installed at YouBar, Bosch provided extended training for the staff, which helped them understand how to best operate and maintain the equipment to optimize productivity. As a result, production output reached 300 bars/min and still offers more potential, as it's not yet running at its full capacity of 425/min. Today YouBar is producing 100,000 bars on average per eight-hour shift.
"Although the machines are the key to our success, the close relationship we built over the years is the key reason why we are loyal to Bosch," Flynn concludes. "They helped us take the first step into automation and stood by us throughout the process. It's clear to me now that without Bosch we wouldn't be where we are today."
Companies in this article