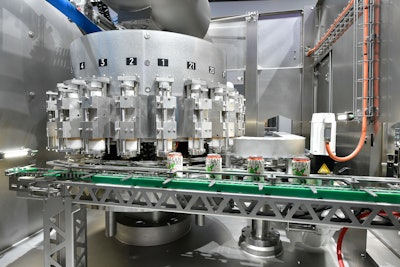 Launched in 1995 in Vancouver, British Columbia, Steamworks Brewery had by 2013 outgrown its original space and began construction of a new brewery in the nearby town of Burnaby. Both kegging and bottling equipment came from KHS. As brewery CEO Eli Gershkovitch puts it, "We partnered with KHS from the word go."
Little surprise, then, that when it came time to install a new can filler recently, Gershkovitch opted for the KHS Innofill Can C, a machine designed specifically for small- and medium-sized breweries. It made its debut at drinktec 2017, and Steamworks was the very first customer to put it into commercial production. Since the filler, seamer, valve manifold, cladding, and control cabinet on the Innofill Can C form an enclosed, ready-to-produce machine unit, all that had to be done during installation early this year was to connect up the electricity, piping, and conveyors.
Just 14 days after delivery, the KHS teams from Waukesha, WI, and from Bad Kreuznach, Germany, had the system up and running. And it ran at nominal capacity on the very first day of production. According to Steamworks it fills about 15,000 cans/hr in its standard 355-mL can format, with a lower rate for 473- and 500-mL cans.
Gershkovitch is pleased with his new can filler. "I like the KHS approach to design," he notes. "In my experience, things with a logical array work best. This applies to all of our KHS machines." He's also impressed with the machine's compact footprint, especially in a place like Vancouver, where real estate is about as pricy as it gets.
"We have to plan well in advance and put every single square centimeter to effective use," says Gershkovitch. "Compared to other fillers, the compact C series gives us the speed we need despite its smaller size. For ourselves, and I believe for most craft brewers, it's probably the optimum solution on the market. It's the best complete package."
In addition to the compactness and fast installation, Gershkovitch also appreciates his new acquisition's hygienic design. In particular, this includes a gapless bell guide with PTFE (Teflon) expansion joints and bells that are lifted and positioned electropneumatically to seal the cans with no mechanical action from cams or rollers. This does away with the need for water lubrication, simplifies cleaning, and promises a long service life.
KHS also uses PTFE materials in the filling valve, to seal the valve piston, and in the gas membranes. Flavor carryover when changing the product to be filled is thus as good as eliminated. In combination with a fast format changeover, this option is of special interest to breweries such as Steamworks that produce many different beers—from Pumpkin Ale to Kanadische Kolsh, for example.
Besides the speed, precision, compact design, and reliability of the machine components—especially the valves—Gershkovitch likes KHS's general approach to things. "Communication is direct and attentive," he observes. "The focus is on the technology and the design."
Companies in this article