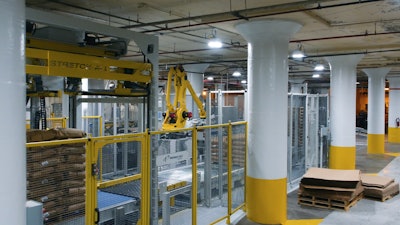 LifeLine Foods, LLC is a producer-owned cooperative that processes corn into human food ingredients for the likes of Frito Lay, Anheuser-Busch, General Mills, and dozens of other large CPGs. The co-op's 600-plus farmer/owners hail from Missouri, Kansas, Iowa, and Nebraska, and supply LifeLine's St. Joseph, MO, facility with whole corn for milling into products such as masa flours, dry corn mill product, and extruded flours. Operating 24 hours a day, seven days a week, with the help of 120 full-time employees, the LifeLine plant manufactures and ships more than a million pounds of food ingredients daily.
A few years ago, when LifeLine experienced a sharp increase in sales, it realized it would have to do something about its manual bagging, sealing, and packaging processes. Says Michelle Clark, Director, Strategic Planning and Analysis, "One year it [sales] increased 97 percent. We were running three different lines with different bag types, sizes, and product types. We knew it wasn't a sustainable business model."
One of the biggest issues with manual packaging was the resulting ergonomic effects on operators. For instance, to seal LifeLine's 25-, 50-, and 55-lb multiwall bags of product, workers had to manually take the bags and run them through the sealer. "If you're doing 4,000 bags a day, it's going to be hard on your wrists," says machine operator Keith Williams.
LifeLine Operations Manager Casey Housman was especially concerned about worker safety: "We needed a new pack line. I said, 'These things are so old, outdated. We've got terrible ergonomic issues. We've got to get to it before someone gets hurt or we have a bad quality issue.'"
At the same time, LifeLine's existing packaging system was costing it sales. Because some of the company's customers lacked floor space in their own facilities, they required pallets that could be stacked. The lack of automation at LifeLine meant it was producing uneven pallets that could not be stacked. This resulted in LifeLine losing some of the business of those customers requesting easy-to-stack pallets.
According to LifeLine Vice President of Operations and Supply Chain Mike Sobetski, inefficiency and inaccuracy were ultimately the impetus behind updating the company's packaging process.
In investigating suppliers, Housman says he was looking for a company that not only knew how to build packaging equipment, but also understood the type of products produced by LifeLine and its concerns around dust, sanitation, food safety, and food quality. Due to its expertise in the food industry and its reputation for providing high-quality machinery, Premier Tech Chronos fit the bill.
LifeLine's new packaging line includes two scale-feeding systems, a high-speed open-mouth bagging machine, a pinch-top bag sealer, a robotic bag palletizer, and a stretch hooder—all from Premier Tech.
The two scale feeders, models DSR and BHS, feed one scale, an option chosen to ensure speed and accuracy. Powder products are run on the DSR dual-screw feeder, which is controlled by two separate variable frequency drives. The high-speed BHS belt feeder handles course, granular products, controlling the flow of the product with one VFD. Each feeder has a 2,000-lb gravity surge hopper above it for continuous feed along with a Chain-Vey tubular drag conveyor from Modern Process Equipment that can deliver up to 50,000 lb/hr of product to the line. Use of the scales has increased the accuracy of LifeLine's bag weights to within 0.02 g, according to Clark.
The feeders and the scale are integrated into a PTK1700 bagger, which operates at speeds to 25 bags/min, filling a range of bag types and sizes. After being filled, bags are closed using a pinch-top bag sealer, the model DS-90J, which activates a pre-applied hot melt adhesive on the bag, folds the top flap against the face of the bag, and compresses it to set the closure.
Sealed bags then go through a series of additional steps to ensure product and bag integrity. Those that meet LifeLine's quality standards are then delivered by conveyor to the infeed of the AR 225 robotic bag palletizer. The system uses a Fanuc M-410iB/140H five-axis palletizing robot with a Fanuc ART-201 finger gripper, which Clark says was chosen "for the flexibility between bag sizes of 25 to 110 pounds and the gentle, flexible fingers that ensure there is no damage to products." (While LifeLine routinely runs 25-, 50-, and 55-lb bags, it has the capability to produce 110-lb sizes if needed.)
In the final step, finished pallets are wrapped using a Premier Tech Stretch-All stretch hooder, which applies a stretch hood over the pallet load. The wrap provides optimum protection against humidity, UV, and other weather conditions as well as the risk of cargo shift during transport.
The line operates at 14 bags/min, twice the speed of LifeLine's former 7-bag/min line and can quickly be changed over from one bag size to another. According to Clark, changeover of both the bagger and the downstream palletizer is as simple as selecting a product recipe on the Allen-Bradley PanelView HMI. "During setup mode, it adjusts all conveyor heights and pallet patterns to accommodate all bag sizes automatically," she explains.
According to Housman, the new line has handily addressed his greatest concern: worker safety. "Now we don't have to worry about the ergonomic issues: the backs, the shoulders, the wrists, the hands, the pinch points. All that in the new line has been very well thought out. All the safety aspects of the new line are just amazing."
It has also added to the operators' skillset, he notes, with Premier Tech providing on-site training, which further helped to ensure employee safety. Sobetski concurs: "The training they [the operators] received from the technicians that were on-site was very helpful, very beneficial, and it's been relatively uneventful since then."
Through the use of the stretch hooder, LifeLine is now also able to capture some of the business lost due to their formerly unstackable pallets. It has also increased LifeLine's own floor space as well. "One of the greatest things is the look of our pallets," shares Housman. "Now they're all perfectly uniform squares. That gave us the opportunity to increase our floor space by three times, by being able to stack them on top of each other."
Housman admits Premier Tech was not the lowest-priced solution considered by LifeLine, but it has paid off in terms of risk avoided. "One terrible shoulder or back injury, or say you've got a product recall because your steps are not very controlled, these two things alone could cost more than one brand new line."
And, as Clark shares, the ROI on the equipment was even better than expected. "We were looking for a solution that would meet all of our wish list," she says. "Premier Tech not only met our wish list, but also, instead of an ROI of three years, it was just over two years."
Watch a video of the line.
Read Part II of Packaging World's Robotics & Automation Special Report, "Robots prove their mettle."
Companies in this article