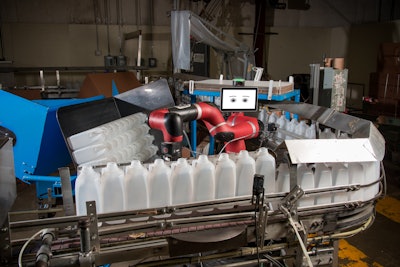 Established in 1984, Cox Container, LLC of Troy, AL, is a blow-molding manufacturer that supplies local, regional, and national customers with a variety of plastic bottles. The small, privately-owned company operates several blow-molding machines, 24 hours a day, in its 73,000-sq-ft manufacturing facility. Because Cox accommodates custom orders, including high-volume, low-mix and low-volume, high-mix jobs, it's critical that both its operators and machinery are flexible.
Like many manufacturers in the industry, Cox has experienced difficulty hiring and retaining quality, skilled workers—particularly when it was trying to man a workcell where two employees were required to pack bottles into bins. The pace was too vigorous for one employee to keep up with, but not enough to justify a second employee. To solve that problem, the company turned to automation to fill the gap, boost factory productivity, and redeploy operators to higher-quality jobs within the plant.
It selected Sawyer, a collaborative robot from Rethink Robotics, as the solution. The robot has been deployed to assist a single employee with the packaging function, allowing the other employee to add value and participate elsewhere within the factory. Counting all shifts, Sawyer freed up three full-time employees, enabling them to do more meaningful work.
"We're very particular about who we hire, so it's been difficult to find quality employees," says Cox Plant Manager Gary Fox. "With Sawyer, we've reduced labor needs by 50 percent in this particular workcell and reassigned three staff members to other areas of the company, giving them more valuable and meaningful work. As a result, our retention has improved significantly."
During operation, Sawyer picks up bottles from a conveyor belt and places them in a row on their sides into a custom bin designed by Cox. Once the bin is half full, Sawyer is programmed to go to another picking area, select a cardboard divider, place it on top of the row of bottles in the bin, and then begin filling the container with a second layer of bottles. Once the bin is full, the operator gives Sawyer a new bin to start loading and then performs final packing of the product. This involves putting a bag over the bottles, sliding the bottles into the bag, tying the bag closed, and putting it in a stack.
At Cox, Sawyer was up and running within one day, and the company expects to see ROI within six to eight months, according to Fox. "We brought Sawyer in, trained him on the task, and the next day he was packing bottles," he says. "Since then, Sawyer hasn't been late, hasn't had a break, and hasn't left early—Sawyer's been very dependable.
"It's very important to me to deploy automation quickly. We're a small company, and of course any time we invest capital in equipment, we want a return on investment as quickly as possible."
In the next year, Cox hopes to deploy more Sawyer cobots on three other product lines. "Sawyer has been a great addition to our team and has had an immediate impact on our business," concludes Fox. "Now I have many ideas for deploying Sawyer in other areas of the facility."
Watch a video of the operation.
Read Part II of Packaging World's Robotics & Automation Special Report, "Robots prove their mettle."
Nearly 60% growth expected for cobots through 2023
A recently-released report from ResearchAndMarkets, Collaborative Robots – Global Market Outlook (2017-2023), notes that the global market for cobots accounted for $159.76 million in 2016 and is expected to reach nearly $4 billion by 2023, representing a 58.2% CAGR during the forecast period.
According to the report, factors such as growing funds in automation, the low cost of cobots, and a high return on investment are fueling market growth. "In contrast, absence of repeatability and capabilities related to faster cycle time is affecting the market," it adds. "High capacity for robot installations in different countries provides ample opportunities for market growth."
By geography, Europe commanded the largest market share in 2016, which the report attributes to huge disposable income. Asia Pacific is anticipated to grow at the fastest CAGR, due to the increasing demand there for cobots.
Companies in this article