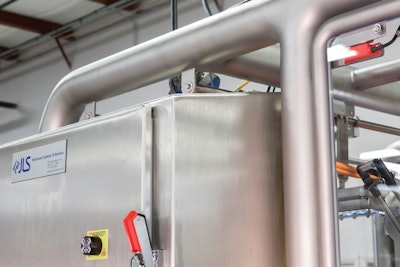 Built on a history of designing customized packaging solutions, JLS Automation provides robotic automation solutions for primary and secondary packaging operations in the food industry. Each machine utilizes at least one enclosure for controls components, but JLS struggled to find a serviceable enclosure manufacturer to meet a variety of needs. What was required is high-quality fabrication of stainless steel enclosures, the ability to customize enclosures necessary to meet the unique space requirements of the range of machines produced by JLS, and fast, worry-free delivery so that JLS could focus on other important business decisions.
After considerable research, JLS ultimately selected the WATERSHED and CONCEPT Slope Top product platforms from Hoffman, which provide a high-quality stainless-steel solution with consistent lead times.
"Hoffman was a name and company that we had a high level of trust and confidence in," says Craig Souser, President/CEO of JLS. "But we had always used them for standard enclosures from their catalog, which is a small portion of what we purchase. When we learned that Hoffman had a custom group, we were a bit concerned about their ability to deliver. But that proved to be a non-issue."
When JLS needed custom solutions, Hoffman's engineering team worked with JLS on CAD drawings to meet its needs. Through working together and building mindshare, the two firms were able to streamline the process for future use, expediting lead times for future projects for which JLS needs enclosures.
"Bottom line is that Hoffman has delivered," says Souser. "We get great-looking enclosures, which is critical to us as our machines are valued for their appearance and function by our customers, and they deliver on time."
The ability to customize enclosures to meet unique size and cutout requirements was also a great advantage. Most important, Hoffman's ability to streamline the customer's supply chain by providing custom enclosure solutions with acceptable lead times allows JLS to focus on driving innovations and growing the business.
Companies in this article