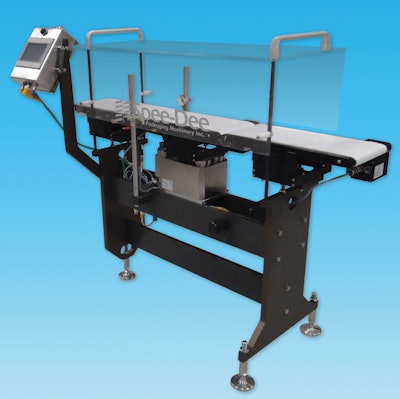 Well established as a leading maker of auger fillers for a variety of products in many different primary packaging formats, Spee-Dee Packaging Machinery has also been making checkweighers for the past 15 years or so. But they were never really positioned as stand-alone pieces of equipment. They functioned more like "local feedback devices" tightly integrated into the auger fillers themselves so that adjustments to fill weights could be made automatically and on the fly.
In every case these checkweighers used a Wipotec Electro Magnetic Force Restoration (EMFR) load cell rather than the strain gauge load cell used commonly in checkweighers found on today's packaging lines. Why? Because, according to Spee-Dee Director of Electrical Engineering Ron Fojtik, they're more accurate and faster than anything else out there. (For why this is so, go to pwgo.to/3298) They also offer something called "simple static calibration," where the weigh cell automatically compensates for changes in temperature so that re-calibration on a daily basis is not required. Last but not least, the Wipotec load cell includes an AutoZero feature between weighments, something customers love because it negates the effect of product dust buildup.
Spee-Dee's move to stand-alone checkweighers started about four years ago when a customer that had about 40 of Spee-Dee's integrated checkweighers asked if the firm would look into producing a checkweigher suitable for inspecting carton weights. "So we started building them," says Fojtik. "They were on the expensive side, but in cases where they could save significant amounts of product giveaway, they paid for themselves quickly."
In fairly short order, Fojtik continues, the Spee-Dee Marketing Department asked if there was a way to make a stand-alone checkweigher that wasn't so pricey. The answer was no—until Fojtik came across what he describes as a "block PLC" from a vendor Spee-Dee considers proprietary. "It's a low-cost, embedded PLC that can do all the communications I need," says Fojtik, including connecting with an inexpensive HMI from Maple Systems. "Working with Maple Systems, Wipotec, and the PLC supplier, we produced the inexpensive standalone checkweigher that Marketing asked for," continues Fojtik. "And there's no drop-off in performance. If anything, it delivers increased performance."
Called the Evolution checkweigher, this new stand-alone machine made its official debut at PACK EXPO Las Vegas 2017. Helping to keep its selling price down is that it requires no electrical cabinet and it's made of less costly hard anodized steel rather than stainless. Spee-Dee also took a radical approach to the Evolution's frame, giving it just three legs instead of the traditional four. Not only did this help keep the cost down, it also makes the machine inherently far easier to level than a four-legged alternative, says Fojtik.
The Evolution is available in three sizes, so it can be configured according to how heavy an item is being weighed and on how long the weigh belt needs to be for the package size being weighed. "We've given it a bolt-together quality, a modularity, that makes it easier to go from building one size to building another," says Fojtik. "All the cables are made ahead of time and there's no wiring. Just plug, plug, plug, and go. Another thing that had people excited at the booth in Las Vegas is the Ethernet IP interface, which allows the checkweigher to talk to other plant PLCs and share as much data as is required. Every single weight, average weights, standard deviation, downtime, or whatever other metrics you want."
Additional communication capabilities are in place thanks to the USB port that Spee-Dee integrated into the HMI. It can be used to upload or download HMI applications, import or export manufacturing recipes, or export up to seven days of either weight data or alarm faults.
Companies in this article