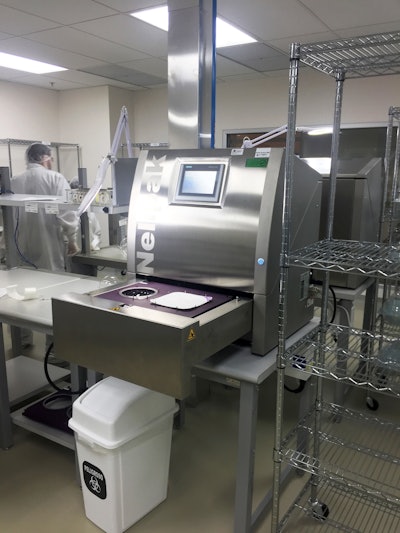 The decision to surgically add or remove a breast implant is a deeply personal one that involves emotional and physical considerations, with safety a paramount factor. Establishment Labs understands that, incorporating patient safety, quality and control in its aesthetic technology product development and innovation.
Based in Costa Rica, Establishment Labs is a global, privately held, medical device and aesthetics company that designs, develops, manufactures, and markets a product portfolio consisting of advanced silicone-filled breast and body shaping implants. Its CE-marked Motiva Implants® employ ultra-high purity medical-grade silicone and are subject to strict quality assurance testing throughout the manufacturing process. The implants are regulated as Class III medical devices.
Downstream packaging machinery and materials serve essential functions, according to Salvador Dada, Establishment Labs' Chief Operating Officer. In particular, he points to two new NX-T1 medical tray sealing machines from Nelipak Healthcare Packaging.
Establishment Labs began selling implants in late 2010, which are now sold in more than 50 countries worldwide. Dada says, "Our first two families of implants [represented] an improvement [over] current devices in the market. Our third generation is unique, responding to unmet market needs."
In all, the company produces more than 400 different sizes and shapes of breast and body contour implants. These are sold to hospitals, clinics and plastic surgeons for aesthetic and reconstruction breast enhancement procedures. Dada says, "These are the most innovative and state-of-the-art breast implant in the market. And we have the lowest numbers of complications recorded in the market due to its unique features."
Specifically, the implants use Puregraft®'s FDA-cleared and CE-Marked technology that provides plastic surgeons with purified fat for reinjection on the sterile field used in hospitals and clinics worldwide. Another feature employed is Divina®, a proprietary 3D imaging technology integrated in consultation and surgical planning to customize implants for aesthetics and reconstruction. All manufacturing facilities are fully compliant with both FDA and ISO applicable standards. (Watch a video of the company's Motiva Implants® production process.)
Sterile barrier packaging
With 10 manufacturing locations across the U.S., Central America and Europe, Nelipak applies innovative design, development, manufacturing and packaging for implants, which require sterility to remain intact throughout their 5-year validated shelf life. Product must be kept at temperatures between 4°C and 40°C.
"Packaging is critical as it [provides] a sterile barrier and protects the device from harm during its shelf life and maintains its sterility," says Dada, explaining there are two packaging sizes for 80 different sizes of silicone implants.
Although material specifications are considered proprietary, Dada says the implants are protected within a polycarbonate rigid tray with a zone-coated DuPont Tyvek® lidding, and a product label. Nelipak provides the trays while the Tyvek is sourced through Oliver Healthcare Packaging.
Machine benefits, ROI
Before using the Nelipak NX equipment, Establishment Labs used sealing equipment from a different vendor. In searching for additional equipment, the company evaluated various suppliers, eventually visiting Nelipak's Cranston, RI facility to "test drive" the NX-T1 tabletop tray and blister heat sealers.
"The main reason for the switch was the technological features the Nelipak equipment provides," explains Dada. "Specifically, the digital controls, the ability to upload the data into cloud-based systems, the one-piece flow configurability, the zone-seal feature, and the regulations Nelipak adheres to in building its machines."
Establishment Labs uses two of the machines within a Class VII clean room just prior to sterilizing the implants in their primary package.
Dada notes the Nelipak machines are user-friendly, allow for easy parts changeover and require little maintenance. "Moreover," he says, "there is good spare part availability. The service is a highlight and the cost is acceptable. To compare it with other technologies, Nelipak makes a great choice."
And what is the return on investment for the equipment? Dada says, "We were expecting to increase our output significantly to amortize the cost of the equipment compared to the [previous equipment] in the short term. Currently the output is similar, however, in terms of controls, data management, and preventive maintenance features, this equipment is superior to our legacy machine.The company is very satisfied with the technology switch." He says Establishment Labs continues to focus on improving its output.
Dada states that customers have noticed a difference in the implant packaging since switching to the Nelipak machinery."The sealing track is less 'damaged' and no 'wrinkles' are generated in the Tyvek due to the 'zone-seal' feature," he says.
Optimistic future
Looking ahead, Dada says, "As we increase production volumes, more equipment will be required—at least two new machines within the next 10 months."
The ability to increase future production volume makes sense given the optimistic forecasts for the global implant market. According to a Persistence Market Research report, "Breast Implants Market: Global Industry Analysis and Forecast, 2016-2024," the breast implant market will reach a value of over $1.48 billion by the end of 2024.
Referring to the Persistence Market Research, medgadget.com noted that implant growth factors include a "greater emphasis on physical appearance," a "rise in global disposable per capita income of women," and "a growing prevalence of breast cancer and the availability of an expanded product line with premium pricing leading to greater sales." Growth restraints cited by the report included an "increased risk of developing serious complications including deflation, capsular contracture, infection, and breast and nipple sensitivity; and high costs of the implant procedure." The report listed Establishment Labs as one of the "leading market players dominating the global breast implants market."
With its combination of Nelipak sealing machinery and sterile barrier materials, Establishment Labs is positioned to take advantage of the growing implant market, and maintain its focus on patient safety.
Companies in this article