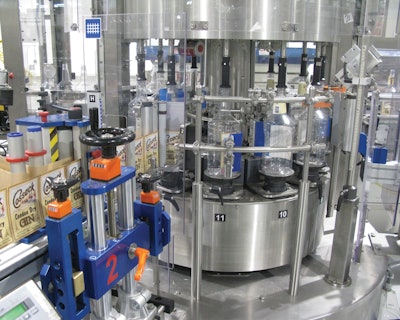 M.S. Walker is an importer and bottler of distilled spirits that produces finished products in a new state-of-the-art facility. The firm is also a wholesale distributor of fine wines and spirits. It got its start in Boston back in 1933 and is now headquartered in nearby Norwood, MA. While it does no distilling, it's what is known as a "rectifier," which means it blends grain neutral spirits, citrus, flavors, sugars, and a host of other ingredients into the finished vodka, tequila, rum, or liqueur that Walker's sizeable distribution network takes to retailers, hotels, and restaurants in some 42 states. Walker also fills these products into primary containers—both glass and PET—and puts them into whatever secondary and tertiary packaging formats are required.
The firm's processing and packaging operations—along with warehousing and some office support functions—recently moved out of Somerville, MA, and into a brand new 140,000 sq ft facility on the southwest side of Boston when that city decided the Somerville plant was in the way of a light-rail maintenance facility.
"It's safe to say that at first the idea of moving was pretty terrifying," says Gary Shaw, Executive Vice President, Director Control States. "But as we thought it through and realized that we already had our forward distribution facility and corporate headquarters near the industrial park where we were going to be relocated to, we figured it could actually be a really positive thing to have manufacturing just six miles from our Norwood headquarters."
In fairly short order, fear of the unknown was replaced by a decidedly gung ho spirit of "Let's leverage this to the hilt." And so it was that M.S. Walker set about designing and building a manufacturing facility for the future rather than continue operating in a plant that was encumbered and constrained by issues out of the past.
When asked why the firm didn't seize on the relocation as an opportunity to optimize vertical integration by making distilling a part of the new operation, top management asks why would they when they excel at sourcing from a well-established supply chain of top-quality distilled product. Gary Shaw puts it this way: "When we looked at the make versus buy model, it made more sense to continue buying it just as we've been doing all along."
While some additives and flavorings arrive at the plant in totes and barrels, large-volume items come in rail cars thanks to a private rail siding. What follows is a three-step process. First comes storage in one of 29 tanks ranging from 7,000 to 32,000 gal. Next is blending in one of 30 blending tanks ranging in size from 1,200 to 9,000 gal. Finally there's filling on one of three filling and packaging lines supplied to a great extent by DTM Packaging LLC. Based in Hingham, MA, a stone's throw away from M.S. Walker's new plant, DTM is an engineering services firm that specializes in manufacturing and remanufacturing bottling and packaging equipment as well as packaging line integration.
What DTM provided in this case are three U-shaped lines:
• Line A handles glass in 750-mL and 1-L sizes
• Line B handles 1.75-L PET, though in 2018 it's scheduled to accept a 1.75-L glass container, too.
• Line C handles PET flasks in 100-, 200-, 375-, and 750-mL
Blending is next door
Blending and batching take place in a room immediately adjacent to the room occupied by the three packaging lines. Some 1,500 network devices tell the M.S. Walker software what product should flow where.
"There were a number of priorities as we designed this new plant, but it all started with blending," says Michael Saitow, Chief Information Officer. "We wanted to be able to make 30 different forumulas at a time and have a batch system so that any one of the three filling lines could pull from any one of the 30 available recipes being blended. This allows us to be more agile because we can make big batches and make them less frequently. We can pull product and send it to one line or to all three lines at the same time."
Another important priority was filling speed. "All three lines are sized to run at 160 bottles per minute," says Saitow. "Our old fillers topped out at 110 per minute, and if we ever ran at that speed it felt like the walls were shaking, so we rarely did. Also worth pointing out is that if we ran a heavier product like an egg nog, we topped out at 60 bottles per minute. So with the new lines we told DTM we wanted 160 per minute regardless of the formula or viscosity."
And then there was the issue of changeover. "We wanted 15-minute toolless changeover," says Saitow. "At the FAT that's what we were hitting, but in the real world of manufacturing, we're at 18 to 22 per minute. As we continue to work on it and get used to the change part carts and laminated recipe sheets and other things we were not using in the old plant, we continue to whittle it down."
According to Saitow, the trickiest part of transitioning to the new plant was making sure customer orders could still be met without delay. "When you're moving from old plant to new, you can't shut down the old one and reassign those people the job of getting the new one running," says Saitow. "And while a number of our operators put in extra hours to come in and learn how to run the new plant, it was a challenging transition. We've been in operation here now since May and we're still learning things and getting better."
Gary Shaw describes the transition process as nothing short of a miracle. Not to mention the fact that in February the corporate headquarters was relocated and in April a major distribution center was relocated. "Three major moves in five months," he says. "The best thing about it was that customers never even noticed.
"We built this plant from a packaging perspective with agility, flexibility, and scalability in mind," he continues. "That's what steered us away from robotics, which can be pretty inflexible. Similarly, we de-emphasized bulk depalletization and rely more on uncasing equipment on two of the three new lines. There's room for bulk depal if we get to a point where it makes sense, but right now it doesn't for the most part. We fill 350 recipes into seventeen container varieties, and few runs are dominant enough in volume to warrant bulk container handling."
For the most part, each of the three packaging lines resembles the others with one or two notable exceptions. Line C for example, which is dedicated to PET flasks, begins with an unscrambler that introduces bottles to the line while the other two lines have corrugated cases fed manually from a pallet and into an uncaser that feeds bottles into the line.
A close look at how Line B is configured provides a good sense of how all three lines operate. Before going there, however, it's worth noting that Chief Information Officer Saitow was the M.S. Walker executive chiefly responsible—along with DTM—for designing the new packaging lines and specifying what equipment they'd consist of.
"The long-standing joke around here is that I'm in charge of everything that plugs in," says Saitow. "It probably started going that way back when our first warehouse control system went in, a project that I oversaw. In actual fact I'm much more operations oriented than information technology oriented, even though my title is CIO. But data and Information Technology is what drives all of our operations. So it makes sense, in our view, to have the CIO be the one who runs operations and makes decisions on capital investment in packaging machinery. I think this is becoming more common across all of manufacturing. CIOs today realize they can't sit behind a keyboard all day, you have to be out on the front line and the plant floor. That's how I wound up being de facto project manager for getting this new facility up and running."
On to Line B
Line B begins with a Hamrick Manufacturing uncaser that mechanically grips bottles by the neck, removes them from corrugated reshippers, and places them on a conveyor from Arrowhead Systems, the supplier of much of the conveyor connections on all three lines. Next stop for the bottles is pressure-sensitive labeling, but the reshippers proceed down a different path that takes them to an overhead conveyor leading eventually to a drop packer.
On the day of our visit, the 1.75-L PET bottles in production on Line B were having a pressure-sensitive label applied to front and neck. But the Modular Plus labeler from P.E. Labelers has a third label unwind station, so a total of three labels—front, back, and neck—can all be applied when it's called for.
After an ink-jet coder from Linx Printing Technologies puts lot and date code on the shoulder of each bottle, the bottles move into a cleaner/filler/capper system. On lines B and C that system is entirely from DTM. But line A has a rotary cleaner and rotary filler from Arol because it provides for greater changeover flexibility, says Saitow.
Exiting the capping machine, the bottles make their way to a Hamrick drop packer and then to case closing, which is another area where Line B differs from the other two. "We couldn't find a case taper that could keep up with about 27 cases per minute, so on this line we use hot melt glue," says Saitow. A Nordson unit integrated into the Hamrick drop packer is what the firm specified.
Immediately following the case closer, a print-and-apply unit from Domino Printing Sciences applies a lot and date code label. Then the case hits a bump turn so that a second Domino unit can apply a second label on an adjacent side.
Labeled cases are conveyed to an overhead palletizer from Premier Tech Chronos. It's followed by a Wulftec International stretch wrapper that brings the line to a close.
"We spent a lot of time studying the constraints of our old building as we prepared to move into this new one," says Saitow. "As we look to the future, we're pretty excited about the flexibility we now enjoy."
'A serious effort'
Also an ongoing process at M.S. Walker is container development. "We've made a serious effort to learn more about what goes into making a bottle, whether glass or plastic, from production cycles to bottle weights to tilt tests," says Justin Shaw. "As much as anything we think about the visual proposition that we are trying to achieve from a sales and marketing perspective and then we set out to achieve it with our brokers and their network of plants and engineers around the world, most of which are in China."
The firm is planning to add four to six new molds to the M.S. Walker lineup in 2018. In many cases these new bottles will retain the same base structure as an existing bottle already in use. But by capitalizing on modular mold technology offered by Saxco International, a variety of custom neck and shoulder configurations can be executed.
On the glass side of things, one notable design project just now coming to fruition is a custom 750-mL glass bottle for St. Elder, an elderflower liqueur introduced about five years ago. Once again it was developed with help from Saxco.
"When first launched it was in a commodity glass bottle," says Director of Brand Strategy Justin Shaw. "With this re-staging we wanted to bring some customization while still maintaining a price point that is about half of what the category leader charges. So we added three areas where the St. Elder brand is embossed onto the shoulder of the bottle. We also moved from a continuous-threaded plastic closure to a metallized stelvin closure."
The new bottle will run on the same Line A as its predecessor once a few change parts in the cap handling area are finalized.
Companies in this article
Videos from Nordson Corporation