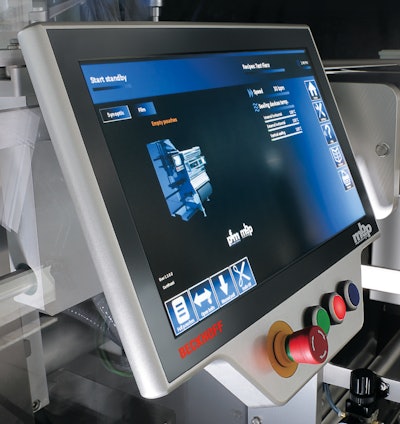 MBP, a specialist in designing and building combination scales and vertical form/fill/seal machines, has developed a vf/f/s machine that combines the high-speed commonly found in continuous-motion machines with the fast and flexible format change capabilities of intermittent-motion machines. The design is based on PC-based control and an automation architecture from Beckhoff.
To appreciate what this new machine represents, it's important to recognize that a conventional intermittent-motion vf/f/s machine can pack between 80 and 100 small bags/min. But the new R-Series from MBP puts out as many as 150 bags/min in test mode. "We have already shipped more than 30 R-Series machines, all of which package 120 bags/min with maximum reliability," says Andrea Fioravanti, CEO of MBP. He adds that the decision to use a PC- and EtherCAT-based automation solution was an important step in the development of the new R-Series.
The machine also features an electronically controlled dancer roll. TwinCAT NC PTP software, with the appropriate libraries for dancer control and register control, automates the continuous movement of the film and diverts it toward the discharge belts—with continuous motion and precision.
"A major advantage of the Beckhoff automation solution is the possibility to use a single CPU to run all logic and control functions for all axes across the entire system, from weighing to packaging, as well as its extremely clear and easy-to-use interface," says Fioravanti. MBP decided to use a CP3716 Panel PC with a multi-touch display that complies with protection class IP 67. The Panel PC, which is equipped with an Intel Atom dual-core processor, was customized by adding a specific button and the MBP logo. "Due to the high performance and flexibility of the Beckhoff automation architecture, we are now able to run both the weighing system and the packaging machine with a single industrial PC with integrated screen for HMI," notes Fioravanti.
Another major factor in the development of the new R-Series was the availability of a communication network like EtherCAT, which can transmit information via very simple protocals. EtherCAT can also provide links to higher-level layers that are typical in the IT world, such as Ethernet, remote maintenance tools, and ERP systems. "The open system design, which accommodates a wide range of communication standards and cloud computing, makes the R-Series machines definitively ready for Industrie 4.0," says Fioravanti.
With the TF6730 TwinCAT IoT Communicator from Beckhoff, MBP is able to transmit process data from the machine to any device, such as a smart phone or tablet. Plus, with the TF6735 TwinCAT IoT Communicator App, Beckhoff provided a simple solution for monitoring and analyzing this data. By going through the cloud, MBP can facilitate remote support quickly and efficiently, as having real-time access to machine data makes technical services significantly faster and less expensive. The head of the support department uses an MBP-developed application to generate e-service tickets for support technicians. This enables a technician to efficiently download the information needed to perform the required service.
Companies in this article