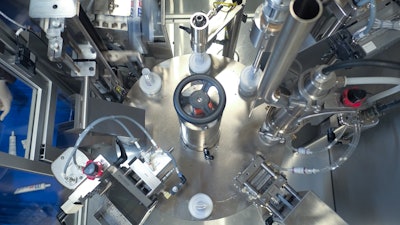 Go into virtually any major grocery, drug, club, or hardware store today, and you will almost certainly come across a package that has been handled by Sterling Contract Packaging, Inc. Sterling CPI, of Moore, SC, is one of the largest providers of contract packaging services in the Southeast, providing complete turnkey solutions—from product and package procurement through to the point of distribution—for non-regulated consumer products.
The company began in October 1996 with a single customer. Today, it packages 22 million products each year. Among them are healthcare products such as vaporizers, heating pads, and contact lens solutions, as well as items such as batteries, writing instruments, scissors, adhesives, and many others.
In October 2016, Sterling CPI positioned itself for even greater growth, opening a new, custom-built facility spanning 145,000 sq ft, with room to expand an additional 100,000 sq ft. The plant brings together under one roof what used to be two separate facilities, allowing the company to manage 100% of its business from one location, with 120 employees. "We could not have continued to grow without the new facility," says co-founder and President & CEO Michael Hastings.
A new equipment acquisition has also helped Sterling CPI take its business up a notch. Through the addition of a new automated, servo-driven tube filling and sealing machine from ProSys Innovative Packaging Equipment, Sterling CPI has been able to "achieve improvements in almost every area of operation from speed and setup to quality," says company Package Engineering Manager Wes Melvin. The machine was installed in March 2017 and offers a range of new tube style and size options, which Sterling CPI anticipates will expand its customer base for tubed products.
New machine expands capabilities
In the area of primary package filling, Sterling CPI has a strong customer base of adhesive products companies. For six years, Sterling CPI had been using a mechanically-driven tube filling and sealing machine for these products, but with age, the machine was losing its performance and reliability. So, after completing the monumental job of opening its new facility, the company turned its attention to replacing the equipment.
"We probably looked at replacing the machine for a couple of years," says Melvin. "But we'd find another way to put a Band-Aid on it, because it was a very large capital expense—our largest, in terms of machinery."
"The last couple of years, our focus has been on the facility, and the machine was okay; it was working," adds Hastings. "It's like anything else. You don't want to deal with it unless you have to, and then it became apparent not long after we were in the new building that we needed to do something."
According to Melvin, the number of rejects and downtime resulting from its existing tube filling and sealing system had become too much for Sterling CPI to tolerate. "The machine had almost become a maintenance nightmare, and we were not receiving the proper attention to service that was needed," he says. To make matters worse, the company's main mechanic was retiring, "so a lot of knowledge was leaving as well," Melvin adds.
To replace the aging equipment, Sterling CPI installed a ProSys RT60 fully automatic tube filling and sealing machine with eight indexing stations. The machine is equipped with servo-driven filling, metering, and tube-lift stations, along with electronic recipe storage and recall.
One of the main issues Sterling encountered with its previous equipment was its "antiquated" hot-air system. With the old equipment, when the machine's heater met the tube to heat it before sealing, any glue left inside the tube was transferred to the heater. "We had to stop the machine every hour and clean the heater," explains Melvin. "The heater was a $1,000 part, and we were constantly having to replace it."
The hot-air system on the ProSys RT60 includes a blow-off nozzle that ensures there is no residue left on the side of the tube. In addition, there is no contact between the tube and the hot-air station, which means Sterling CPI no longer has to continually stop and clean—or replace—the heater, greatly reducing downtime and consumables costs.
In the case of downtime or other machine issues, Sterling CPI now has the assurance of instant support from the supplier: ProSys offers online support and troubleshooting through an Ethernet/modem connection.
Flexibility with easy changeover
The new machine can fill plastic, metal, and laminate tubes with products that vary in consistency from water-thin liquids to highly viscous pastes. The system accommodates tubes from 0.2 to 14 oz and offers multiple sealing options. What makes such a wide range of products and packages feasible is the RT60's servo-driven filler and its recipe storage and recall, which greatly speeds setup and downtime.
"There are eight stations, and each station we can adjust independently," explains Melvin. "On the old machine, the mechanical machine, if you made one adjustment to one station, you'd have to go around and fix all of the other stations. Now you just have to address one station."
Melvin estimates changeover time has been reduced from two hours to between 45 minutes to an hour, with eight to 10 changeovers per month. "Once you select the recipe from the touchscreen, half the stations are already taken care of. You just have to go in and verify them," he says.
Production speeds have doubled with the new machine as well—from 30 tubes/min to 60/min. Says Hastings, "The increased speed and changeover time will improve our ROI as well as allow us to meet our customers' needs much faster. Our lead times have been reduced, and we can react to spikes and promotions sooner than we could previously."
Currently, Sterling CPI is running plastic tubes with square corners, but with the ProSys RT60, it can now offer other styles. According to Melvin, the company has been promoting the new capabilities in a number of ways, talking to both existing and potential customers.
Companies in this article