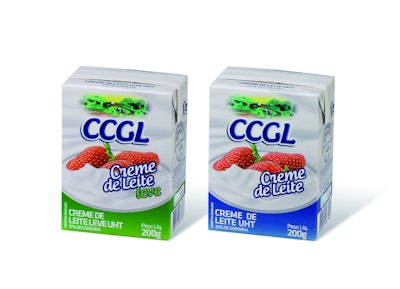 The Cooperativa Central Gaúcha Ltda (CCGL), a dairy cooperative in Brazil, has purchased a second aseptic filling machine from SIG Combibloc. With the goal of increasing production capacity at the company's Cruz Alta plant, it has opted for another CFA 712, which can aseptically fill up to 12,000 cartons/hr. In an initial step, this machine will be used to fill cream products in the combiblocSmall carton.
"Our partnership with CCGL started three years ago, when the first CFA 712 was put into operation to fill chocolate milk and cream into our carton packs," says Antonieta Hilst, Regional Director of SIG Combibloc South America. "CCGL's favorable experiences with filling technology from SIG Combibloc and our partnership have encouraged them to opt for another SIG filling machine in their current stage of plant expansion."
CCGL was founded in 1976 and is one of Brazil's largest dairy cooperatives. It comprises 39 individual cooperatives, representing a total of 170,000 rural producers from 350 municipalities in the Federal state of Rio Grande do Sul. CCGL now comprises three business units, which cover everything from research and development to manufacturing and marketing the products and handling logistics. The company focuses on sustainable agricultural production to ensure products of the highest quality.
"Crucial factors in the choice of another filling machine from SIG Combibloc are the high productivity of the machines, cost-effectiveness, and low wastage rates during production," says Guillermo Dawson Jr., Managing Director at CCGL.
A special division of the cooperative, CCGL Lac, was set up in 2008 at the company's headquarters in Cruz Alta and specializes in dairy processing. Currently, around 2.2 million liters of milk are processed at the facility every day. Cruz Alta is the main collection point for the raw milk obtained in the region, which is processed on-site. This has a favorable effect on the milk quality, as there are no long distances to be covered or periods of storage to go through.
Companies in this article