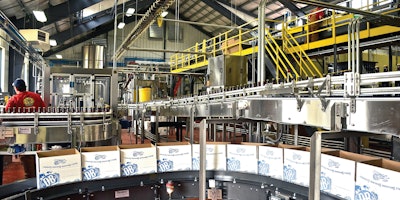 A regional craft brewery tends to celebrate the area from which it hails. This can be represented in flavors, branding, attitude, or all the above. Devils Backbone, for instance, a Virginia brewery, adopts the outdoorsy posture endemic to its Three Ridges Wilderness Area home, a back-wood, hill-country outdoor playground near Roseland, VA, its founding location.
Founded as a brewpub in 2008, the company's growth and demand eventually convinced management to add a production-based facility, complete with bottling and canning lines. The 15,000-sq.-ft. facility began humbly in 2012 as a 30-barrel brewhouse. A CFT filler hinted at the beginnings of automation, but bottles were hand depalletized, and cases were hand erected and hand packed.
But a 2014 jump from a 30- to a 120-barrel brewhouse necessitated a corresponding leap in automation. During this process, Josh West, Director of Operations at Devils Backbone, put a lot of trust in local and regional companies in the East and North East to accomplish this. He wanted to work with people who would be relatively nearby, in the same time zone, and available to help automate and grow.
"We connected with Wayne Automation and a couple of other manufacturers that were somewhat nearby. Wayne supplied us with the case erector and a six-pack erector and inserter, and a top sealer for the finished bottled cases," West says. "That made a tremendous difference. It went from us having to burn the midnight oil just to make boxes to get ready for the next day, to being able to make boxes on the fly, as needed. It's been remarkable. We would never fathom going back to building them by hand."
Now, in 2017, the company is growing again, moving all packaging operations into yet another new building. Some equipment will survive the move, and other equipment will be replaced or upgraded in anticipation of even greater line speeds down the road. But having seen the value of regional equipment partners, West will be largely sticking with the familiar suppliers that got Devils Backbone to where it is today.
Bottling line
The bottling line at Devils Backbone begins with a Sentry high-level depalletizer that single-files bottles overhead and feeds them into a Sentry lowerator. Sentry, which is in nearby Lynchburg, VA, provided all conveyance and much of the systems integration for the brewery, further illustrating West's local preference.
At floor level, the bottles are fed into a CFT 20-head monoblock bottle rinser/filler/crowner. CFT manufactures and integrates the monoblock, but the bottle crowner is manufactured by Arol. An accumulator, also designed by Sentry, manages volume and back-ups. Bottles then pass a Videojet ink jet date-coding unit and a Filtec low-fill detector unit that then feeds into a P.E. USA labeler. This cold glue labeler is a vestige from the original 2012 operation, but West has eyes on a pressure-sensitive labeling application, also from P.E. USA, as it moves packaging operations into the new building in 2017.
"We're moving from glue to pressure-sensitive because we're planning on hitting higher speeds at our new location, and we are anticipating upgrading to a faster bottle filler in coming years, so we need to have equipment that's ready to handle that speed," West says. "Plus, we want to move away from cold glue for various reasons. It can be messy, for one. You need to keep glue in inventory, and keep it from freezing in the winter. Using pressure-sensitive will streamline things for us."
After labelers, the bottles ascend a gentle incline into a Standard-Knapp drop packer, which West selected due to its proximity, reputable name, and parts availability.
"I shopped around, and while they weren't necessarily the cheapest option, I thought that combination of factors meant they'd be able to provide the best service in the long run. And I have no complaints so far. When we've needed service they've been easy to get ahold of and quick to get here if we need assistance, which is what I value most."
In parallel to the drop packer, on the secondary packaging side of the line, a Wayne Automation case erector and basket carrier erector builds the cases and carriers. Typically, cases contain four six-pack carriers. But sometimes, cases hold 12 or 24 bottles without any paperboard carrier at all.
"We went with Wayne for the same reasons," says West. "They're close by, out of Pennsylvania, and they were very responsive to the conversations I was having with them, even before I had purchased a piece of equipment. They seemed robust and versatile, parts availability would be easy, and the service and local support has definitely been there for us."
Changeover on the case erectors, when going from 12- to 24-packs or vice versa, takes 20-25 minutes, sometimes faster. Sometimes, operators don't need to shut down the bottle filler during changeovers, as the accumulator can accommodate a backup.
After cases are erected, the bottoms are hot melt glued. Basket carriers are inserted if applicable, and cases are conveyed to meet the Standard-Knapp, which releases the bottles into the pack. The case continues to a Wayne top sealer, which folds the tops down and glues the top of the box closed. The Wayne top and bottom sealers use Nordson adhesive systems. Marsh ink encoders by Videojet use ink jet to encode the closed cases.
Palletizing is currently done by hand. Plans for the new facility include requisite space for a palletizer, but that would only be required if and when the company opts for a faster bottle filler.
Canning line
Cans share the same Sentry depalletizer as the bottling line. This is possible, despite the differences in shape, height, and weight, thanks to a presssureless combiner system. This setup single files the depalletized cans or bottles by using several parallel tracks of conveyors to feed contents into a single guard rail at a gentle but intersecting angle. Each track's individual speed is continuously adjusted to carry bottles or cans out of their palletized block position into a single line against the lone guard rail. A more typical two-rail system physically bottlenecks the contents, so the variance in weight and shape between cans and bottles would necessitate two separate two-rail single filers from the depalletizer.
Once in single file, the cans are diverted from the bottle line into a twist rinser from CFT, then into another 20-head CFT can filler, which is set up similarly to the bottle filler. Lids are seamed onto the cans, which are date coded by another Videojet ink-jet encoder.
Uniquely, pre- and post-date coding, the conveyor employs an inverter add-on, or a helical feed screw, made by Carleton. This flips the sealed cans upside down in a machined housing with a rifling effect, orienting them in such a way that the date is placed at a precise location on the bottom that doesn't interfere with the intricate artwork on the cans.
New in 2016, the brewery now employs a can cartoner with Nordson hot melt glue system. Previously, Devils Backbone had employed ring carriers, which was another source of hand labor in pulling cans off the line, putting them in trays, and snapping on the ring carrier toppers. The cartoner, a Brewpack 150 from Switchback Group which is leased from WestRock, represents a shift from six pack toppers to paperboard cartons, both in 6-pack and 12-pack varieties. The glossy paperboard material, supplied by Graphic Packaging, which didn't absorb ink very well, led West to switch date coders, from an ink jet to a laser Videojet.
"This is a fairly new piece of equipment, but the changeover from six- to 12-pack and back is improving," West adds. "We hired a few key staff members who have really owned that machine, learned the ins and outs of it."
Can cartons are hand palletized, and trays are hand formed and packed, but the new 2017 facility will integrate a tray former from Plemons, and a Wayne Automation tray packer.
Operation speeds and feeds
Devils Backbone's packaging line operates five days a week with three shifts, or 24-5. The filler can hit roughly 120 bottles/min, but about 80% of that figure is more practical.
"It's a work in progress. Our third shift is still new, still shadowing and learning the ropes. We also have a new maintenance staff so our efficiency has been improving," West says. "Like anything else, we look for constant improvement, and we are getting more dialed in. We haven't quite nailed down our target numbers yet, but we're getting there, and with our new facility in 2017, we'll be getting even faster before long."
Companies in this article
Videos from Nordson Corporation
Videos from Graphic Packaging Intl.