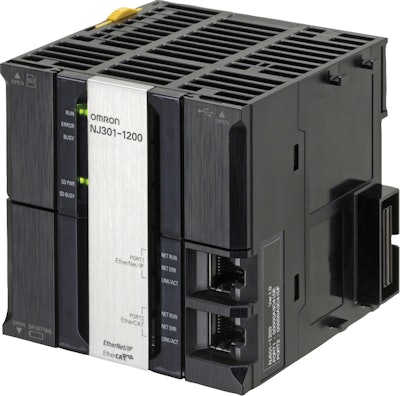 American Packaging & Plant Equipment (APPE) is a specialist in vertical form/fill/seal systems designed to solve tough packaging challenges. The Canadian firm's latest technological advancement is in the development of the VERTOBAGGER 2.0. Because it uses Branson ultrasonic sealing technology from Emerson Industrial Automation rather than the more conventional thermal sealing technology, it lets users specify thinner materials. The result: less packaging material is consumed. The machine also is capable of sealing through plant-based plastic films, and it can do so at speeds to 140 bags/min.
Precise control of motion is of course essential in such a machine. APPE relies on Omron motion systems, specifically six G5 servo motors digitally geared for synchronous motion, to deliver all the control that's needed.
"A great example of how Omron's G5 servo motors work seamlessly with our machines is through the motion of the horizontal jaws," says APPE owner Al Aman. "G5 servo motors control both the x and the y motion, enabling continuous-flow processing." With the number of separate operations on such a machine, including filling, sealing, and cutting, APPE finds these motors essential to precisely control motion. In fact, APPE has a patent pending on the horizontal jaws due to their unique design and performance.
"Common issues associated with the flexibility of eco friendly film materials are slippage and friction," says Aman. "The nip roller on our bagging machine compensates for such inefficiencies, minimizing downtime." APPE's patent-pending nip rollers are powered by Omron's G5 servos to reliably check alignment, thus reducing setup and maintenance time as well as product scrap.
In addition, APPE uses Omron's E compact rotary encoder to assist with precise bag length measurement. In conjunction with the rotary encoder, APPE uses Omron's E3ZM photoelectric sensor for print mark registration, allowing for accurately aligned cuts when trimming, with no adjustment required. This also helps save on packaging material waste. Because the sensors are designed with food grade 316L stainless steel housing and are Ecolab certified detergent-resistant, they can withstand washdown environments—making them ideal for maintaining clean-in-place standards.
Another Omron component in the APPE mix is the 8-axis NJ3 controller with integrated motion. Position is continuously measured via a closed loop system that sends feedback to the NJ3, which accurately and reliably adjusts velocity, acceleration, and jerk while allowing operations to remain stable. The NJ3 seamlessly provides advanced motion control with proven machine logic in a single controller with built-in EtherCAT.
EtherCat is a real-time communication platform with powerful capabilities used in the automation field mainly due to high speed and determinism of less than 1 ms. Among other advantages, EtherCAT includes a safety protocol and multiple device profiles. Fieldbus standards IEC61158 and IEC61784-2 both include EtherCAT as well as ISO15745-4.
APPE maintains a policy of partnering with suppliers that not only provide robust and reliable systems but also offer best-in-class service and support. Aman notes that it is important for their machines to be correctly built for the application but that a truly successful integration includes training, maintenance, and ongoing support. That's why he values Omron's extensive network of resources—especially when it comes to the global aspect of support. "Our bagging machines are shipped all over the world," he observes, "and Omron's global presence makes it very easy for us to access systems off-the-shelf, anywhere in the world."
Companies in this article