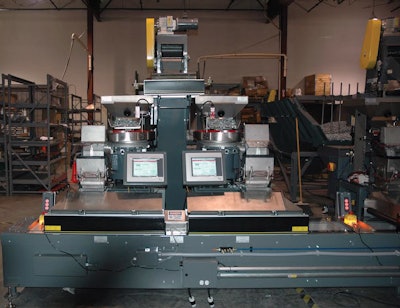 Sealtite Building Fasteners of Tyler, TX, specializes in the manufacture of metal-to-metal and metal-to-wood screws, sealants, tapes, and adhesives to accommodate a broad range of assembly and construction projects. The combination screw batching, weighing, and bagging operations had been semi-manual. Basically two modified pan feed scales and roll baggers blew open bags on a roll. This equipment could only run about 85% of Sealtite's product range. The rest had to be completely hand-bagged.
Machine packing speeds were about 6-10 bpm with about 2% product giveaway. Hand-packing was about 3 bpm. So the company simply could not keep up with rising demand for its products. The bagging machinery was not fast enough or reliable enough and took up considerable plant floor space. Management knew that a packaging upgrade was needed.
After exploring various options, Sealtite decided to install two state-of-the art BSI Bagmaster® 250 indexing bucket conveyor packaging lines from Batching Systems, Inc., equipped with thermal-transfer printers from Markem-Imaje and four Batchmaster® Fast Automatic Weighers (FAW), also from Batching Systems Inc. (BSI).
Fast & flexible
Each line now is capable of bagging up to five pounds of bulk screws per bag at speeds of 34 bags/min with less than 1% giveaway and no under-counts. Each line incorporates BSI software that allows operators to package two different products at the same time on one line. B&R Automation programming software and controls electronically tag each batch of screws. The indexing, conveying, and weighing systems are mechanically and electronically integrated.
The sophisticated, well-coordinated control system enables Sealtite the flexibility to run all four weighers with one product or divide up each set of weighers to run separate products simultaneously—producing two different products in two different bags and with two different thermal-transfer-printed labels.
Each line consists of two high-strength bulk feed units that can hold 45 cubic feet of screws and can handle up to three of Sealtite's existing 10-cubic-feet screw tubs. The feeders are specially designed to gently de-nest and de-clump screws, avoiding damage to the painted screw heads.
Each bulk feeder feeds two Batchmaster FAWs. These single-head patented weighers, specially designed to handle both short and long screws, accumulate the next batch while topping off the first batch. Each FAW is paired to a staging conveyor belt that feeds into a large indexing bucket conveyor. Only accepted batch weigh/screw counts are dropped onto a staging belt conveyor. This allows the FAW to start accumulating the next batch while the completed batch is staged to the bucket conveyor.
Batching Systems, Inc.'s new B&R-controlled high-speed, heavy-duty, servo-driven indexing bucket conveyors enable Sealtite to run all four of its weighers from one location or divide up the weighers to run separate screw products at the same time. The servo-driven indexing conveyors facilitate transfer of batches of screws from the weighers to the BSI heavy-duty Bagmaster Model 250 VFFS baggers. Impulse heat seal jaws with seal wires independently grip and seal, allowing the heavy bags to stay in position while the seal cures to accomplish high-strength sealing of products such as screws, bolts, nuts, and nails.
Bolting down the benefits
Jim Carter, VP of Operations at Sealtite, summarizes the advantages of the new batching/bagging systems as follows: "This new Batching Systems bagging equipment delivers what we were promised. It is well-built and designed for high output. We are impressed with how smoothly and quietly the machines run. To reduce noise levels, Batching Systems has done a nice job of putting cushioning material in key areas to avoid metal-to-metal contact."
Carter adds, "This new system has greatly increased our bagging capacity to handle both current customer demand and future growth. The installation comes at a perfect time because our business is growing rapidly."
Companies in this article
Videos from B&R Industrial Automation