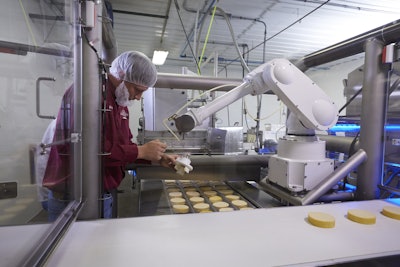 Barron County Cheese of Barron, WI, is a young and growing company that since 2010 has been converting and packaging dairy cheese for retail sale, offering services that include cutting, waxing, and smoking to cheese manufacturers and private-label companies. Over the last two years, the company has seen a major expansion of its business, prompting it to double its plant size from 6,000 to 12,000 sq ft.
But as Chief Operating Officer Gene Graf explains, despite its recent growth, Barron County is still a relatively small co-packer. As such, it is very cautious in its purchase of new equipment to ensure a successful return on investment.
Currently the company runs two packaging lines that produce shrink-wrapped product, with a third line for waxed product coming online in August 2016. In setting up the second line, Graf took a step-by-step approach, adding the packaging equipment first, with the end goal of automating with robotics the most manual process in the line: the loading of cheese into a horizontal form/fill/seal rollstock machine.
To convert and package product, Barron County first takes the raw material—bulk cheese in a variety of different sizes, widths, and heights—and cuts it with a three-way wire harp system to create an exact-weight piece, while minimizing the trim waste. From there, the cheese is cut into a specified weight and shape, such as a round, square, wedge, or rectangle, using a custom-engineered, exact-weight titanium-blade ultrasonic cutter from Sodeva France.
The cheese is then carried by conveyor to a point where previously it was manually loaded into the pockets of the hf/f/s machine, the RapidPak RP-45. Once the cheese is loaded, the machine removes the air from the package by vacuum and seals it. From there, the package is carried through a Promax ST-700 automatic hot water shrink tunnel, followed by a Supervac air dryer from Supervac Maschinenbau GmbH.
According to Brian Friendshuh, Barron County Mechanical Engineer and a graduate from the Milwaukee School of Engineering, the drawback to manual loading was the inability of the line to maintain a consistent speed. "The thermoformer [hf/f/s] was on its own, and we'd set it to run at a certain speed, no matter what speed product was being delivered to it," he explains. "So a lot of times product would come too fast, so we'd had to have a buffer there to collect overflow. At other times, product would come too slow, and the thermoformer would advance too fast, so we'd have to stop the machine so product could catch up. It was a very hectic job for the operators filling the machine."
As Graf explains, for years he had envisioned adding robotics to Barron County's operations, but was concerned about the cost and whether the machine could be integrated into an existing line. "Our biggest concern as a smaller co-packer was the fact that it's a huge investment," he says. "And then there was the issue of tying it in with the other pieces of equipment on the line, since you can only go as fast as the slowest machine."
In working with JLS Automation, Graf found a supplier that could provide a robotic loading system that not only could be integrated with Barron County's existing machinery but could also handle a number of different cheese shapes and sizes. "A lot of larger companies might have four different packaging lines for four products; we have one line that does all four items," says Graf. "So I needed a robot that could pick up all four sizes."
The system specified by JLS is the Talon™ pick-and-place packaging system equipped with a Fanuc M-430iA five-axis, articulated, electric servo-driven robot that locates the cheese with its vision system, and picks it up and turns it vertically before loading it into the hf/f/s pocket. The robot uses two different suction-cup end-of-arm-tools: a flat grabbing surface for round, square, and rectangular products, and an angled grabbing surface for wedge-shaped cheese.
The EOAT is ideal for sanitary requirements, incorporating JLS's Vacuum On Board™ 2.0 single-stage vacuum pump technology, which eliminates vacuum hosing and tubing. "The suction cup is the only place where debris can get sucked in," Graf explains. "So when you're done running the product, you can just take the suction cup off and that's all you have to clean, rather than having to clean out a vacuum line."
He adds that JLS worked extensively with the USDA and the Department of Agriculture in Wisconsin to ensure that the equipment complied with food-grade requirements for handling cheese products. This included the use of stainless steel and a complete washdown system.
JLS integrated the Talon with the RapidPak's Allen-Bradley operating system, which Graf says is one of the huge benefits of the system for Barron County. "Depending on what the upstream cutter is doing, the system can communicate with the RapidPak to speed it up or slow it down without anyone touching anything," he says.
Before the system was delivered to Barron County, JLS programmed the robot with six different recipes, to accommodate the different sizes and shapes being run on the line. JLS also trained Friendshuh at its facility in York, PA, to program the machine for future products and to make adjustments to the system.
With the addition of the Talon system, Graf says the line now runs consistently at 60 pieces/min, which has increased efficiency and throughput, has resulted in less fatigued employees, and has freed up operators to perform more food safety inspection—"and honestly," he says, "that has an impact on cost."
Still in a self-reported "infatuation stage" with the robotic system, Graf says he wouldn't change anything in the way Barron County approached the project. "By waiting and having the robot built to what we believed was the top speed of the line has really helped us," he says. "Everything just fell into place."
Companies in this article