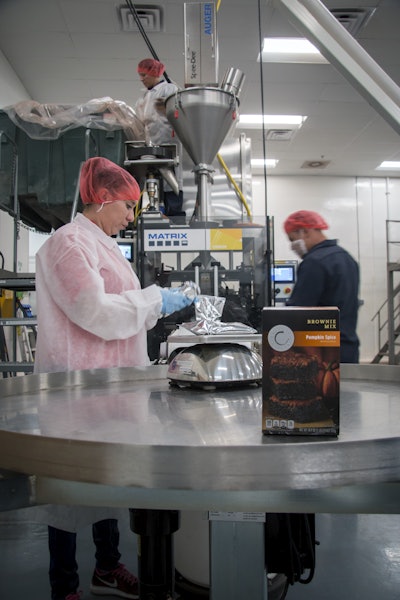 For a small startup, competing with entrenched brands in the competitive, low-margin grocery industry is a daunting challenge. But owner and CEO Carlo Brandon-Gordon and the team at American Naturals Company were confident they could succeed given their manufacturing experience, dedication to quality products, efficient processes and the flexibility to serve a broad customer base.
The company specializes in sweet and savory dry baking mixes, rice and grain mixes, ancient grain blends, and soup mixes. These are produced at its 18,000 square-foot plant in Commerce, CA, which is SQF Level II certified. The company also holds certifications for gluten free, organic and kosher production—giving rise to the company's motto: "If it's dry, we're your guys."
Taking production in-house
Brandon-Gordon launched the Sof'ella brand of premium dry mixes, named after his daughters Sofia and Stella, in 2006. An attorney by training, he concentrated on building sales, and outsourced production to a co-packer who handled manufacturing and packaging. The product was very well received by national retailers, including the Cost Plus World Market chain of specialty retail stores, and more customers sought their own private-label versions.
By 2013, it became evident that the contract manufacturer's cost structure and manufacturing operation simply were not competitive because of the premium ingredients used and the number of different stock keeping units (SKUs) requested by potential customers. Brandon-Gordon knew the company could do more if he had control of the production as well as sales.
In order to grow the Sof'ella brand, Brandon-Gordon teamed up with Nick Vacalo to design a state of the art plant, based on Mr. Vacalo's 30 years in food processing and manufacturing for brands including Sof'ella. "We were happy with some of the co-pack facilities we used, but with multiple certifications being required by an increasing number of our national retail partners, we decided that in order to continue to grow we had no choice but to open our own facility," says Brandon-Gordon. He also cited a need for greater control over production costs, efficiency and quality.
The management team discussed what it would take to economically and competitively produce wholesome quality dry mixes in order to launch American Naturals Company. Vacalo envisioned a state-of-the-art production facility that would "A: guarantee that the right processes were followed, especially for non-GMO, gluten-free and organic products; and B: would reduce order cycle times."
Today, the company not only produces its own products more efficiently but has become an efficient contract packager, as well. A case in point: In contrast to the old co-pack arrangement, the company reports that order-to-ship turnaround time has been reduced by as many as 10 days for large orders. The journey from being a startup brand using a co-packer to operating a state-of-the-art plant—as well as being a co-packer—is remarkable in a highly competitive, low-margin industry.
Outfitting the plant
In launching the manufacturing facility, Carlo and his husband Andrew Brandon-Gordon, incorporated and bought the formulas and trademark from Sof'ella Gourmet Natural Foods, which was then closed.
The partners sought and found a building that would accommodate the highest levels of food safety, and more. The plant could take bulk ingredient delivery via rail, and house all operations including production, shipping, receiving, warehousing, a test kitchen, quality control lab, and corporate offices.
The plant opened in 2014 following several upgrades. Food safety-related features include sanitary epoxy wall and floor coatings, floor drains to handle thorough washdowns and production area with a 10 parts per million (PPM) threshold for surface contamination. The layout of the building, and production lines to come, allows for a horseshoe-shape production flow; raw materials come in at one end of the horseshoe and stretch-wrapped pallet loads come out the other.
Almost all production involves packing dry mixes in bags and, in turn, cartons. The bags contain between 0.7 and 1.3 pounds (300 to 600 grams) of dry mix. Customers also have the option of ordering larger amounts, —up to 5 pounds per form fill seal bag.
Vacalo designed a production line that optimized that bag-in-carton flow, using high quality and high output machines with particular attention placed on the workhorse of the system, a new vertical form/fill/seal (v/f/f/s) bagger. The ideal machine had to run all day every day at optimum speed, fill weight, and seal integrity.
After working with vendors to determine the right equipment for the company's present needs and future goals, Mr. Vacalo selected a mid-range Orion model vertical form-fill-seal (VFFS) machine from Matrix Packaging Machinery, a business unit of Pro Mach, as are several other pieces of equipment installed. It's a supplier Vacalo worked with in the past, to find that: "The company has a good reputation in the market, the machinery is reliable and easy to operate, parts are available, and it wasn't as expensive as other machines we considered." The bagger produces on average 18,000 one-pound form filled and sealed bags in an eight-hour shift.
Upstream of the bagger, the project team integrated a servomotor-controlled auger filler from Spee-Dee Packaging Machinery. The filler has been upgraded with a volumetric metering upgrade, which Vacalo says is highly efficient for handling uniform powders such as flour while also preserving the quality and integrity of particulates such as freeze-dried apples, corn and other delicate ingredients. "Together, these two machines help us make things that would be difficult to do any other way, and not everyone can do," Vacalo says.
A tour of the process
Dry ingredients are carefully weighed before entering a 60-cubic-foot fluidizing paddle blender from Eirich Machines, a division of American Process Systems, which can produce about 2,000 pounds of dry mix per batch. The supplier "knew what I wanted," says Vacalo, for its design as well as its results: "We have done work for an ice cream company that tells us they get a more uniform mix from our plant than they've gotten from other co-packers using ribbon blenders."
The blended mix is placed in totes and conveyed via elevator to the loading area above the Spee-Dee auger filler.
Bags of mix leave the Orion via a KLEENLine sanitary conveyor to a semi-automatic cartoner from ADCO Manufacturing. The cartoner allows American Naturals to achieve rapid changeovers between bag-in-box configurations in as little as 15 minutes. It also expands packaging flexibility with machine variations that can accommodate multiple bags of the same size and contents per carton; different carton sizes; and mixed bags per carton of, for instance, cake mix and frosting mix packets. Price, performance, and flexibility were all factors in the decision to purchase this semi-automatic machine.
An alphaJET inkjet printer from KBA-Metronic adds date and lot codes to cartons as they leave the cartoner. Each carton is X-ray inspected for contaminants. Foreign items down to .012 inches (0.3 mm) in size can be detected. Cartons passing this inspection are routed via conveyor to a Wexxar BEL (another Pro Mach business) semi-automatic case erector and sealer, with cases containing 12 or 24 cartons. Employees build pallet loads and a semi-automatic stretch wrapper secures the load for shipment.
Safe, efficient production
Since its opening, the plant has grown from running one shift a day to two. Ongoing audits ensure certification to food safety, GMO free, gluten free, kosher, and organic standards and requirements—in various combinations, even in a single product.
As the new plant ramps-up for additional branded, store-brand and contract packaging business, the management team continues to grow. As this story goes public, the company confirms two new management hires: a new Chief Operations Officer, Lambert Van Hulst, "who comes to us with solid brand manufacturing and marketing experience," says CEO Brandon-Gordon; and a new Chief Operations Manager, Drew Anaya, who brings deep experience with Lean manufacturing and continuous improvement.
"When I started Sof'ella in 2006, I had in my mind's eye what the business would look like," says CEO Brandon-Gordon. "Now that we control production as well as sales, I feel that we are approaching the kind of sustainable operation that I envisioned a decade ago. It is certainly challenging, and it's a lot of fun as well."