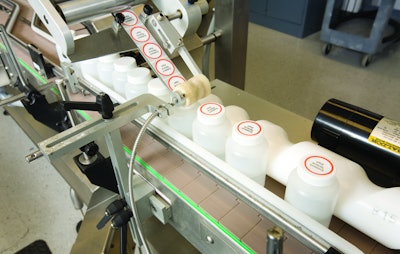 When a crime suspect is identified due to DNA evidence (like they do in CSI), there's a good chance the tools used to help identify that DNA came from Promega Corp.
The company produces more than 3,500 products that enable scientists worldwide to advance their knowledge in genomics, proteomics, cellular analysis, drug discovery and human identification.
Crime labs are just one of the many types of labs where you will find Promega products. The products are also used in life sciences research, in diagnostics, and in drug discovery by pharmaceutical companies researching new components for future treatments.
It is in the manufacturing of a specific product for a diagnostics customer, that Promega utilizes Nosco labels, according to Marc Janes, Promega Engineering Manager.
Janes works with the company's packaging development group, which is involved in both the processing and packaging aspects of Promega's business, including machinery and materials. Many of the company's packaging projects utilize label materials from Avery Dennison that are converted by Nosco.
"We purchase fillers, labelers and various types of equipment to pack our products, and many of them require shipping via the cold chain distribution cycle," Janes says. These are primarily liquid reagents filled into both plastic and/or glass containers, bottles and tubes.
Says Janes, "The reagents are combined with other reagents, plastic components, and preparatory goods within a finished kit." Many of Promega's reagent products are supplied frozen and some are supplied lyophilized. Promega also sells laboratory instruments.
Packaging lines
With the exception of laboratory instruments, Promega packs the vast majority of its products on 13 lines. "Most often we sell combinations of different reagents that get used together, in a kit," says Janes. "We have three primary plastic bottle filling lines [where the Avery Dennison/Nosco labels are utilized] and a liquid filling line for glass containers.
Promega also runs several filling lines that combine filling, capping and labeling functions for products supplied in microliter volumes in 1.5-mL tubes.
A horizontal fill/seal bagging line fills and heat-seals some Promega products in a plastic bag that's placed into a kit package.
Promega also uses thermoform/fill/seal machinery from Multivac that produces packs nine-up.
Another packaging line at Promega is dedicated to secondary kit packaging, which involves robotic assembly and placement of five different labeled bottles into secondary packaging.
Yet another line at Promega's Madison, WI headquarters facility fills plastic cartridges containing multiple "wells" into which seven different materials are filled. A film-based seal completes these cartridge packs. Two smaller semi-automated lines are also used for cartridge packs.
The newest line, operational last year, is one of the three liquid filling lines for plastic bottles that also applies continuous-thread, injection-molded polypropylene closures to the bottles, which are subsequently induction-sealed. Automated vision inspection equipment from Cognex checks for lot number and expiration date. The lines also include automatic robotic loading and palletizing machinery.
Label details
Today, the Avery Dennison/Nosco labels are applied to the exterior of 40-, 120-, and 180-mL high-density polyethylene bottles. Promega employs both a 4 MIL Transcode with S475 adhesive on a 50# coated paper liner and a 60# Transtherm with S2501 adhesive and a 40# paper-coated liner.
"We don't surface-treat the bottles in any way, and have never had an issue or failure in the field due to labels or label adhesion issues on these bottles," says Janes. "We've had good success with that."
For the three plastic bottling lines, labels are preprinted and provided in rollstock form from Nosco with certain product information and graphics. Lot number and expiration date are printed inline with thermal-transfer printers from SATO. Pressure-sensitive labels are applied to bottles at speeds averaging 100/min on equipment from LSI, a brand of ID Technology/Pro Mach.
"We've been using this material for many years," says Janes. "I am a happy customer as we've had good success with Avery Dennison supplying all the label and backing material. Nosco prints and die-cuts the materials into labels for us."
Janes points out one important and recent change in the process. "In the past, these labels were printed flexographically. Now, most of them are being printed digitally in three or four colors. Digital printing by Nosco gives us a little bit more flexibility for making changes, and Nosco can turn things around faster for us, providing us with more flexibility on lot sizes. There seems to be less variation with digital printing. And because we do some smaller lot runs among our 3,500 or so products, that flexibility is beneficial to us."
Preparing for UDI
Another factor Promega realizes it will need to address is serialization, or in the case of its medical device offerings, unique device identification (UDI).
"We're not required at this point to do serialization like the pharmaceutical industry, but in the near future, our area of the device world will have to comply with FDA's UDI regulations," Janes states.
To get ready for that, Promega is preparing some packaging lines. UDI implementation will involve adding additional information to kit labels and requires a specific format for expiration dating and a UDI-related GTIN barcode, in addition to the existing product information currently on the label.
Verification of existing printing and GTIN barcoding is handled by Cognex scanning systems at Promega. Again, labels will be supplied by Avery Dennison and preprinted in three or four colors and converted by Nosco. Janes says the kit labels are paper-based for better adherence.
There's sometimes a tendency for labels and adhesives to be viewed as another packaging component—a commodity of sorts—but for Promega, these materials clearly are integral to the products and customers the company serves.
Companies in this article