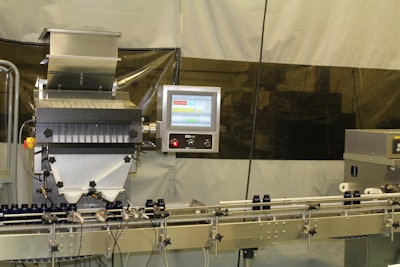 Reliance Private Label Supplements has recently invested not only in their facility, but the machinery inside their building to help them fulfill their mission of not just developing products, but developing brands. Critical to this mission are new electronic tablet counter/fillers from APPS Inc.
Founded in 1978, the Edison, N.J. privately owned supplement, vitamin, herbal formula and extracts company moved into a 90,000-sq-ft eco-friendly facility that allows it to blend all aspects of manufacturing and packaging. This year they are expanding to 130,000 sq ft.
The facility includes powder filling lines, tableting and encapsulation equipment. Brands are manufactured in new Class 10,000 Cleanrooms, which exceed industry standards for air quality and moisture control. Reliance produces labels, marketing and sales materials on a Kodak Nexpress digital printing press.
The facility is LEED (Leadership in Energy & Environmental Design)-compliant and features a sophisticated Energy Recovery System. LEED is a "green" building certification program that recognizes best-in-class building strategies and practices.
Providing premium products to the retail market wouldn't be possible without productive and reliable packaging machinery operating at the facility's eight packaging lines that produce primarily solid-dose products in white injection-molded HDPE and different-colored PET bottles. Sizes typically range from 75-cc bottles up to 3,000 cc bottles. Suggested retail prices range from $2 to $90 per bottle, depending on product and quantity.
A 'Reliance' on APPS machinery
With so many products on eight lines, "flexibility is especially important to us," says Ted Vigeant, Reliance's co-owner and COO. "We began working with APPS about 12 years ago. They supply our tablet counter /filler machines. We purchased two of their Model RK12s last year, one in early 2015, the other near the end of the year, and they function on two separate lines."
The new machines replace outdated equipment and increase operational efficiency for Reliance.
"We felt that this equipment was the best value for our dollar, compared to other machines that are on the market," says Vigeant. "We based our equipment purchase decision on the type of products we have, our excellent past experience with APPS, and the good support we receive from them."
Expanding on the decision to purchase the APPS machinery, Vigeant adds, "We felt their electronic tablet counter/fillers offered us the best value for the dollar. They have a nice footprint in that they don't take up a lot of space on the line. The machinery counts all sizes and shapes of tablets and capsules, are easy to setup and changeover."
Reliance uses virtually all round bottles, provided by a variety of venders that also supply the injection-molded polypropylene closures that provide tamper-evidence and child-resistance. Cap types vary and include flip-top opening convenience for certain brands.
On a typical bottle filling line, bottles are loaded into a bottle unscrambler, which sets them up on a conveyor. Bottles proceed through cottoning and/or desiccant inserting stations, then continue through metal detection, capping, and sleeve labeling steps prior to manual packing of boxes.
Vigeant notes that the company did explore other companies' machinery.
"We looked at what they had to offer, but we came back to the APPS machinery."
And with good reason: The new equipment operates at rates up to 25% faster than the older machinery it replaced. Says Vigeant, "Reliance estimates that we will gain a return on investment in merely 1.5 years on the new APPS equipment
"That's not typical," he admits of the fast ROI, "but that's based on what we've replaced and upgraded and the improvements we've gained as a result of the new counter/filler equipment."
Companies in this article