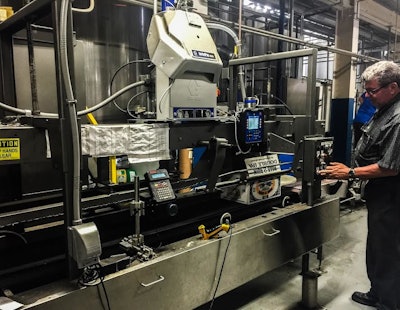 Two Roads Brewery, Stratford, CT, is a fast-growing craft brewery. Since its start-up in 2012, the company has increased production capacity and expects to ship 121,000 barrels in 2015. The brewery had installed the latest state-of-the-art brewing and fermenting systems, but was operating with some second-hand carton and case gluing equipment that was causing significant downtime.
Paperboard cartons containing multi-counts of bottled or canned beer were being hot melt-sealed, and these cartons then were being loaded into corrugated cases, also hot melt-sealed. But the tank-based glue equipment used to seal multi-pack cartons and shipping cases was outdated. Two Roads was experiencing hot melt glue charring and plugging of the hot met delivery system. The result was costly downtime and labor-intensive remedial operations.
New glue system search
Astro Chemicals, Inc., the brewery's supplier of both adhesives and cleaning chemicals, had made suggestions to Two Roads about upgrading their gluing equipment. The Two Roads' packaging team solicited advice from Astro's Adhesive Division Manager Chester Duff in finding more advanced gluing technology.
Two Roads spokesmen note, "We asked our glue supplier for a recommendation for a new unit, since there is a marriage between the materials and the machinery. With our old adhesive system we were subject to potential human error in terms of when the gluing system was turned on and off. The old system took nearly an hour to heat up, putting extra pressure on the production schedule, especially if the system wasn't turned on at the proper time. In addition, we were experiencing charring of the adhesive, resulting in large clumps of glue that lost their thermoplastic nature, wouldn't flow through the system, and plugged the adhesive delivery nozzles. And to compound the problems, we were told that the vendor of our old adhesive delivery system was being phased out and would no longer be able to supply replacement parts."
Two Roads decided to install the InvisiPac® Tank-Free™ Hot Melt System from Graco suggested by Duff, who had been evaluating the Graco system for some time. Duff was not an immediate convert. It wasn't until he observed an InvisiPac installation in action at a nearby glass bottling plant with previously severe adhesive plugging problems that he became a believer in the system's ability to eliminate downtime due to glue nozzle plugging.
Duff notes, "Glue nozzle plugging has been an industry-wide issue. Companies like Two Roads have had to keep plenty of nozzles on hand and stop the line whenever they need changing. And, because Two Roads was having to make nozzle changes three times per week on a 4-nozzle applicator, this created a major impact on line downtime."
The InvisiPac incorporates an integrated vacuum feed, tank-free glue melter, heated hoses, glue applicators, and process control technology that provides easy, remote system analytics. Adhesive is used on a first-in, first-out basis, reducing adhesive tank residence time and averting charring potential and nozzle plugging. Controlled right-sized adhesive beading application improves quality control and reduces adhesive consumption.
Astro Chemicals staff arranged to bring this new adhesive technology to Two Roads for a demonstration of the effectiveness. After a very satisfactory demonstration, Two Roads installed one InvisiPac hot melt system in December 2013, and added another in August 2014. The systems have performed well. Two Roads hasn't had to change a filter or replace a plugged nozzle. But the feature that Two Roads appreciates most is that the units take only ten minutes or less to warm up, compared to the hour-long wait with the old adhesive system. And checking of glue levels and refilling is automated, freeing up valuable worker time to perform other tasks.
According to the Two Roads packaging team, the automated aspects of the new equipment are a huge help, protecting the production lines from human error and conserving energy. For example, if the unit does not dispense glue within an hour, it automatically shuts off. With the old system, there were instances where the unit could be running at high temperature over the weekend.
Installation of the compact, sleekly designed system was quick and painless. Graco provided the equipment as a complete plug-and-play unit, and the old system was easily removed. After operator training, Two Roads was given reference manuals and contacts for technical assistance. The brewery also has installed an InvisiPac Pattern Control System. This pushbutton system places precise amounts of stitched beads of adhesive and provides enhanced control over glue dispensing for sealing of carton and case flaps.
Two Roads packaging staffers explain, "For glue patterns, we just type in the appropriate numbers. We now have recipes for each application, and the equipment remembers everything."
Satisfaction on several fronts
The system has reduced line downtime due to char and nozzle plugs, freed up operations personnel for other duties, and improved the overall efficiency of the carton and casing operations. In addition, glue consumption rates have been stabilized and adhesive waste and energy consumption costs have been reduced. Two Roads has been extremely satisfied with the Graco equipment, support, and service. They give a special shout out to Anthony (Tony) Horelik, Graco's local area sales manager, who personally oversaw the installation.
Packaging systems overview
Two Roads uses aluminum cans supplied by Ball Corp. and glass bottles from All American Containers Northeast. Filling equipment is from CFT, who also supplies the bottle capping equipment. For its bottles, Two Roads uses Astir metal crowns. Labels are from DWS Printing, and label application equipment is from P.E. USA Labelers. Paperboard carton flats and corrugated shipper case flats are from WestRock. And carton and case erecting/loading equipment is from Pearson.
Companies in this article