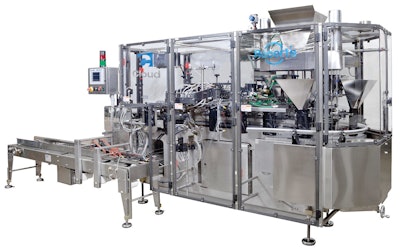 Red Bay, AL-based World Pet faced the enviable problem of keeping up with growing demand for its products. The pet food manufacturer packages a variety of dry-extruded and soft-and-moist pet treats under its own name as well as co-packing for a number of major brands. To achieve the capacity it needed, World Pet recently installed its sixth fill/seal system: a Robert's Series Pre-Made Fill-Seal Standup Pouch Machine. It now runs three Roberts 1500 and three Roberts 1750 machines spread out over three of its facilities.
"We are producing high-quality products," says World Pet Vice President of Manufacturing Phil Bates told us. "The Robert's equipment allows us to present those products in quality packaging that looks very professional on the shelf." The World Pet products include jerky strips, meat balls, kabobs, bacon strips and other treats for pets.
"Not only has demand for our own branded products grown, we've had new co-packing customers come online," saysBates. "We are growing across the US as well as exporting into South America, parts of the Pacific, and Europe." Using both Robert's 1500s and 1750s allows World Pet to serve customers whose packages range from a few ounces to five pounds or more.
World Pet has been using the Robert's Series machines since 2009. "We use these machines for problematic flowing items," says Bates. "Most machines have a single fill station. For products with poor flowability you have to slow the machine to the point where it can all flow at that single fill station. With the Robert's machine it dumps to a funnel above the pouch and that funnel follows around the machine. It generates a lot less waste than most of the machines out there."
Like most of the machines in the Robert's Series, the machines at World Pet feature traveling funnels. The funnels continue to fill the bags as they move through an 126˚ semicircular bend in the conveyor, providing 3 times the filling time of a conventional single-point fill machine. Both the filling funnel and the conveyor are equipped with optional agitators, which vibrate the funnels and bags to help the product move quickly through the filling system and settle into the bags. This also avoids contaminating the seal with product.
"They've done a really good job at designing that machine," says Bates. "I've been in the industry for 28 years. I haven't found anything out there that can handle flowability issues as well as a Robert's."
40/min
World Pet fills about 40 pre-made bags/min on its Robert's Series machines. Changeover time is also efficient. Even a total changeover takes them less than fifteen minutes. If the changeover is to a similar size standup reclosable pouch, the changeover will be even faster. World Pet bag sizes range from 5.08"w x 7.68"h with a 1.97" gusset to 9.41"w x 10.35"h with a 3.94" gusset.
"Speed of changeovers is a big advantage for us," says Bates. "We pack many different sizes. When we order the machine from Cloud, we send them the standup reclosable pouch we'll be using. Their engineers build a sizing jig to gauge the grippers exactly correct. That makes changeovers even that much faster. Reconfiguring the machines we used in the past for a different size gusset bottom and different face width is much more time-intensive."
World Pet purchased its first Robert's Series machine before Robert's became part of Cloud Packaging Equipment. "Service has always been excellent with either company," Bates told us. "Under Cloud, they have improved spare parts, and the engineering department is much better. They have improved on the design in terms of bag ejection, filling, vibrator control units, and the air blaster units to open the pouch. They also standardized the control screen for setup of the unit."
"Before delivery they do a thorough job of testing our products and packaging on the machine and communicating back anything to us that we might want to alter in the packaging to allow the machine to run more efficiently. They make sure the unit achieves the rates we want. The communication between us and their engineering department is very good. If there are any type of funnel saddles or baffles that need to be added to help with the flowability of product, they are very good at designing that. Their design keeps even our most difficult products from getting bunched up or bridged together instead of falling cleanly through the funnel into the package."
"Each machine we build has a project manager," says Kyle Scalise, Cloud Global Account Manager. "These project managers ensure the customer receives a constant flow of communication throughout the build. They are dedicated to making sure World Pet gets the most efficient packaging with even their most difficult stick-shaped Jerky Strips product geometries."
"What they're building at Cloud, I'd recommend to anybody who is trying to package products that have flowability issues," Bates said. "These machines are not high maintenance. They are very good at low waste generation on the packaging material. It's a very efficient machine. Moving to the Robert's series from our previous machines greatly improved our rates per minute of packaging. It dramatically reduced packaging waste. The Robert's machine even has a feature that if a pouch doesn't get filled it rejects it in a way that it can be reused. And it's very flexible. Not only will it do standup reclosable pouches, it'll do four sided seamed bags that have a side gusset end, and other pre-made package designs."
Companies in this article