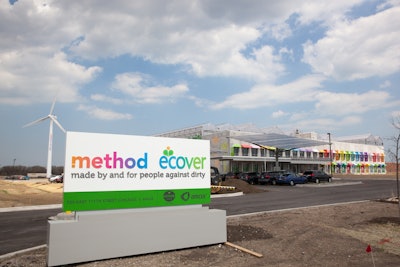 Known as "The South Side Soapbox," Method's first and only U.S. manufacturing and distribution facility—built on a former brownfield site in the historic Pullman area on the South Side of Chicago—is a sight to behold.
Designed by William McDonough + Partners, the 22-acre campus includes a refreshing amount of native landscaping, a refurbished wind turbine, solar panel installations, an expansive rooftop garden that grows fresh greens that will be sold locally, a flower garden, and an in-house bottle molding facility run by Amcor Rigid Plastics. 
Mind you, this isn't your typical manufacturing plant that's now producing liquid cleaners for Method—yes the company and brand you see in absolutely stunning packaging shapes and colors. No, this "Soapbox" is the world's first and only LEED (Leadership in Energy & Environmental Design, a green building certification program) Platinum-certified manufacturing plant producing consumer products.
The site is located in the historic Pullman neighborhood of Chicago, a unique community built in the 1880s as a planned model industrial town for the Pullman Palace Car Company. The area boasts a tradition of progressive thinking and is undergoing some renewal projects.
Shannon McCann, Production Manager for Method, explains that the actual facility on the site measures 150,000 sq ft. It includes two work-line levels, with different ceiling heights—the higher ceiling elevation allows for more vertical storage for the distribution center while the rooftop greenhouse rests on the lower elevation. Special steel supports with angled rafters provide stability for the rooftop gardens. The gardens, which will be managed and run by Gotham Greens, will grow up to one million lb/yr of leafy vegetables to provide nutritious food for needy local stores and restaurants.
Ultimately, Method hopes the facility will be able to use 100% renewable onsite energy and capture 100% of harvested rainwater from the site.
First U.S. manufacturing site
For Method, Pullman serves as the location for its first U.S. manufacturing facility; it has an office in San Francisco, but until now, manufacturing was done by contracted companies or by its sister company, Ecover, in Europe. McCann explains that The South Side Soapbox is an important part of Method's environmental focus. Before the plant was built, Method worked with multiple copackers and two different bottle decorators.
"We were having most of our bottles made in Kentucky, decorated in southern Illinois, and then transported to our copackers for filling, and then transported them to customer distribution centers," McCann says. "So we could say for every bottle that we had made, we were moving it 1,000 miles. That carbon footprint goes against what Method stands for. Building this facility brings the blowmolder on-site, and the decorating in-house on two new lines, and moves the distribution center here. Instead of moving that bottle 1,000 miles, we're now moving it 1,000 feet. And it doesn't require trucks and fuel."
The LEED Platinum designation precisely fits Method's environmental goals. McCann explains that qualifying for the various LEED categories requires earning points for such things as the energy efficiency of the building, and the use of solar panels and wind turbines to generate electricity, etc.
But why Pullman as opposed to any other location? McCann says, "We looked at about 150 sites, most of them in the Midwest because it's all about carbon footprint. So from a distribution standpoint, you want to be able to be in the middle of the country. Out of all those sites, it came down to about a handful."
The final decision was based in part on the community residents. "We very much wanted to be engaged with the community, so as part of the process of choosing the site, there were community meetings where Method personnel met with community members, and those from the Pullman community were the most welcoming and appreciative of the social, economic, and environmental benefits we could provide," McCann says. "That's really what put this neighborhood over the top."
For many companies, the community might not merit such consideration, but as a founding B Corp, Method is about more than making money. It is certified by nonprofit B Lab to meet rigorous standards of social and environmental performance, accountability, and transparency.
"We're a public benefit corporation," explains McCann. "Part of our mission is to provide benefit to the world. We wanted to make sure that wherever we built the factory, we would give benefit to residents of the neighborhood. By the time the plant is at full production, we expect to have hired and trained more than 100 local employees."
Financials
Method budgeted in the neighborhood of $30 million for the facility, which includes space for future growth, expanding from one to three filling lines, and increasing overall space by 50,000 sq ft.
Especially remarkable is that Method purchased an environmentally condemned site, complete with wires and steel moorings. The former steel facility on the site shut down in 1982, and Method had to remediate the top three feet of soil and the land to be approved for use by the Environmental Protection Agency. Method also worked with the Chicago Neighborhood Initiative to help with land remediation.
"It was important for us to move into a site that was previously used by industry," McCann explains. "That was part of our mission. We did not look at any greenfield areas. We had no intention of going out to Southern Illinois and tearing up somebody's farm and taking away usable land. We really were only looking at brownfield sites where people would never build."
Bottle molding and filling
By presstime, Method had planned to have two silk-screening/bottle decorating lines in production in addition to its initial bottle filling line. A second bottle filling line is expected to be operational by 2016, with a third line down the road.
Before bottles are manually delivered to the filling line, they are blow-molded at the onsite facility run by Amcor.
Robin Quint, Site Manager at Amcor Chicago, says, "We've partnered with Method to run a 24/7 on-site manufacturing facility that will help reduce transportation costs and lower Method's carbon footprint. The new on-site facility has reduced the need for about 600 trucks of bottle freight, which translates to elimination of 200 metric tons of carbon dioxide emissions. We're making 100 percent post-consumer recycled PET bottles for hand wash and household cleaners on Nissei ASB machines and with wind energy. This is a first for Amcor. Through our partnership with Method, we will continue to assist with the company's strong sustainability goals."
For Method, Amcor produces clear, 100% post-consumer recycled PET, or rPET bottles. At the Pullman facility, Amcor Chicago is producing all of Method's rPET bottles at this site, including 10- and 18-oz bell-shaped bottles, a 12-oz teardrop bottle, and a 28-oz square bottle.
The bottling line runs at speeds up to 200/min. "It's a very flexible line," says McCann. "Our four most popular bottle shapes come with very distinct and different closures. The 28-ounce has a trigger sprayer, the 18-ounce a large pump, the 12-ounce a smaller cosmetic-style pump, and the 10-ounce is topped with a foaming pump. So we had to buy a line that could run triggers, foaming pumps, and finger pumps, which makes the line more complex than a traditional bottling line."
At the beginning of the line, a Pace bottle handling system sorts the decorated rPET bottles and stands them up on the conveyor line. The Pace unit is equipped with an Allen-Bradley PanelView Plus 600 terminal from Rockwell Automation. A Diagraph laser coder adds lot code and manufacturing data to the bottles.
Labeling, filling, and capping
Next, a Kosme six-station rotary labeler applies one or more labels on each bottle. Supplied by CCL Label, labels unwind from rollstock. McCann says the square bottle receives three separate labels. "We wanted a machine that had redundancy for each label. The heads are fairly flexible because our bell-shaped bottles have an extreme pitch, so we have to hike the angle up to match the pitch of the bottle."
Labeled bottles then convey through a 24-head rotary volumetric filler/12 capping head monobloc machine from Ronchi Packaging Machinery.
The filler measures the volume and weight of the liquid going into each of the bottles for the fill.
"We measure and fill slowly and that helps us achieve plus-or-minus a gram accuracy on each bottle," says McCann. "We considered other types of fillers, but they didn't have the capability on the capping side to do what we wanted to, so that's why we ordered the Ronchi monobloc."
The capping portion of the monobloc is where the closure complexity comes into play. Two separate inclined infeed conveyors sort and deliver the various closure styles, one for the trigger type, the other for the pump version.
"On the trigger unit, the machine orients the front label and points the trigger to ensure consistency on the store shelf," says McCann. Triggers are sorted and oriented, then applied to the filled bottle.
The pump sorter, says McCann, is less sophisticated in that it does not have to orient the pump closures. It simply positions the pump and torques it to the filled bottle.
Beyond the filling/capping monobloc, downstream case packing and palletizing functions are primarily manual. The exceptions are a Wexxar/BEL case sealer used to close shipping boxes and a Diagraph print-and-apply system. At press time, Method was about to install a shrink-sleeving machine to provide additional decorating capabilities, from Karlville Development Group.
"At the end of the day, we would love to automate the entire line but the bottle types make that a little expensive," says McCann. "We are still planning on doing that over the next couple of years, but getting the plant up and running was the higher priority. The only initial automation we needed was for the sophisticated capping process."
Vendor scorecard
At Method, vendor selection is a serious—and complex—process, based in part on its B Corp status and its environmental position. Method looks at a prospective vendor's overall corporate values, environmental thrust, overall product footprint, etc. Suppliers are graded on a scorecard that he says is also used for Method's internal procedures and products.
"That's factored into how we design our products—making sure what we sell on the shelf is environmentally sound, while still providing shelf appeal," says McCann. "Most people put cleaning products under the sink and they forget about them or try to hide them from the world. But we really try to make products that people are proud rather than embarrassed to have sitting out on their kitchen island when their friends come over. It's about package design, it's all about product fragrance, and it's about giving people a stylish green option."
McCann, like his Method teammates, is especially proud of the role he plays. The company asks its employees to create their own title to reflect something personal about them. Listed on his business card, above his Production Manager title is "The Beekeeper." Why? "Because at Method, I'm in the production department where we make all the honey," he says.
Method's "honey" is sold online, typically at Soap.com or Amazon.com. Target continues as its primary retail customer, although Method's shapely and fun packages are sold at 40,000 retail locations in North America, Europe, Australia, and Asia.
Despite its serious environmental stance, the company knows how to have fun. Colorful banners within the facility and natural sunlight create a joyful work environment. Beyond its online blog and its "made by and for people against dirty" slogan, Method has several good-natured "values" printed on colorful banners in the plant. One of them reads, "keep it weird." Clearly, the South Side Soapbox and the personnel that happily work there demonstrate that there is a Method to the company's madness.
To see a spin + zoom 360° photo, click here.
Companies in this article
Videos from Diagraph, An ITW Company