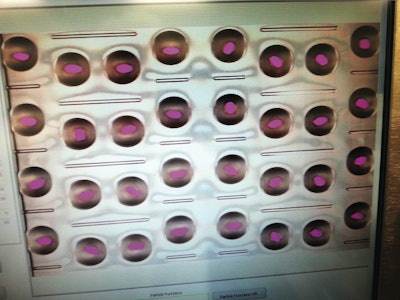 Contract pharmaceutical packager PCI has used LED lighting since the 1990s, when it first started implementing vision systems. PCI utilizes in-house expertise to develop and employ vision system technology across its business, focusing on maintaining the highest levels of quality and safety in delivering lifesaving medicines to patients around the world.
More recently, PCI sought to find the right LED lighting to optimize its machine vision automated package inspection systems across all products and package types. The company needed to find a light architecture that would provide a completely even light approach from all axes for the machine vision line scan cameras, providing even illumination without "hot spots," or bright reflections that may confuse the machine vision software.
A global leader in drug development, clinical trials, and commercial services in both pharmaceutical and biotech, PCI specializes in products with multiple package configurations, including single- and two-color capsules, transparent and semi-transparent softgels, capsules, liquigels, and varying shapes of round and oval tablets. This includes challenging applications such as mixed product fills for titration or combination therapies that may include up to four or five distinct products in the same package.
PCI features 16 facilities across eight sites in North America and Europe. U.S. locations include Rockford, IL, Woodstock, IL, and the company headquarters in Philadelphia.
Integrated vision systems are employed extensively at these sites across primary, secondary, and tertiary packaging lines for applications such as product inspection, verification of code application, as well as 2D barcode scanning in assuring component presence and correctness. The lines handle multiple package formats, including clear and opaque films, flat foil, pocketed foil, lined foil, board, and paper, as well as emerging biotech delivery forms such as injectables, including vials and syringes, custom injectable devices, transdermals, and other evolving parenteral delivery technologies.
Ray Hook, Senior Manager, Global Serialization Services, PCI, notes that LED lighting is used on a variety of vision systems throughout PCI to provide even and constant lighting to products, films, labels, cartons, and various items that it inspects.
"Most of the LED lights are constant (or on all the time), and we utilize electronic shuttering options on cameras to freeze the motion of products as they are moving past the cameras. Other LED lights we use are strobes, and they freeze the motion of products by acting as a flash to older cameras that do not have electronic shutter options."
PCI's search led to Smart Vision Lights, a designer and manufacturer of high-brightness LED lights for industrial applications, to develop the TL305, a custom light for inspecting highly reflective surfaces.
"For the most part, with our in-house expertise, PCI develops and builds its own lights and inspection systems, but the application for inspecting an increasingly wide range of tablets, capsules, and gel caps in various blister materials has been challenging," Hook notes. "Drug delivery is changing and we continue to adapt and stay ahead of the industry needs. We had three main lighting geometries (focused beams, direct diffused light, and on-axis lights) we would use depending on the product and backing. We would sometimes have to change between them, which would greatly increase our changeover times and vision setup times. We developed a prototype continuous diffuse light that worked extremely well in testing for hard-to-see, almost clear gel caps. However, the quality was not optimal for the pharmaceutical environment in which the light would be used, and we then partnered with Smart Vision to develop a best-in-class solution."
The TL305 light delivers an intense amount of light from an on-axis architecture that is supplemented by an array of off-axis illumination. The light is designed to complement direct lighting with matching intensity of off-axis lighting that provides combined diffuse light source architecture.
"With our continuous improvement culture we are always looking to advance the technology and raise the bar for our inspection systems. The vision systems that have been retrofitted with this light are delivering better images and more robust inspections," says Hook. "The lights have also reduced 'hot spots' and glare, as well as provided better imagery on gel caps and increased color response of the camera. The challenge of multi-colored products is also now less of a concern, since this new light eliminated 'halo' reflection and blurred edge contrast."
He points out that very few modifications were necessary to accommodate the TL305. "We have a custom-designed housing that both the camera and light are mounted to, which in turn is mounted to the line. We just need to cut a slot in the housing to fit the wider part of the light and allow the heat-sink portion to sit outside the housing. This allows the heat generated from the light to be dissipated outside of the housing and not overheat the camera. The only other modification is to drill two holes in the back plate of the housing to line up with the mounting holes on the light."
One light per system
Smart Vision Lights provided the controls to set the intensity of both the on- and off-axis lights so PCI could balance them as needed for the application.
"These lights were custom-designed for the pharmaceutical application that we use them for, however, the light itself would be very useful on any line-scan application where any reflective materials or products are being inspected," he notes.
The light was specifically designed to work with various substrates, not just foil, including clear PVC, clear Aclar, opaque PVC, tinted PVC, as well as Alu-Alu or "cold-formed" high-barrier foils. These varying substrates can have differing characteristics for illumination, transparency, and reflectivity, making the lighting solution and vision technology critically important.
Asked about the economics of investing in the lighting, Hook says, "They are within 10 percent of the costs of other lights we would normally have used. Since we have installed them, we have saved countless hours in setups of difficult products that we would have had with other lights.
"In one specific application where we are inspecting an off-white capsule in a foil cavity, our vision techs used to spend three to four hours tuning in the inspection, verifying the setup, and running challenges. With the TL305, this setup is now easily complete in less than 30 minutes. Smart Vision Lights has done a terrific job in helping us solve one of our challenging issues for vision inspection."
Companies in this article