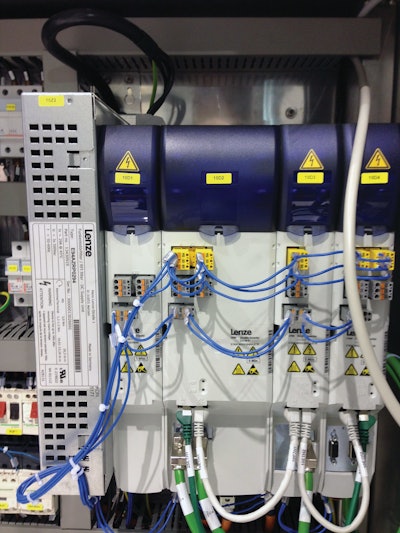 Pneumatically operated in the past, the Formpack line of roll-fed thermoforming machines from Ilpra now feature servo-driven actuation in key areas. In moving to servo drives and motors supplied by Lenze, Italy's Ilpra, represented in the U.S. by Roberts Technology Group, has also switched to a Lenze PLC as its machine controller.
According to Ilpra Product Manager Andrea Zini, the move to servo first occurred in 2009. But the servo motors selected by Ilpra at the time were made by a company other than the local Italian supplier that was behind Ilpra's dedicated controller. "With this earlier implementation, which involved two suppliers, we experienced some limitations," says Zini. "By going to one source for motors and PLC, we were able to overcome these limitations. In the process, because now we are dealing with an internationally known controls and automation supplier, we have access to far more features, more experience, and better reliability."
Among the features he's especially pleased with is improved remote diagnostics capability. "When relying on a local Italian supplier for our PLC, we had to have remote access capability custom developed just for us," he points out. "With Lenze, it's a feature that comes as a standard package that's been proven in countless applications, and it works so much more smoothly as a result."
A good example of the kind of thermoforming machine Zini is talking about is the Formpack Model F1 EMec. Designed for medium to high output, its three main axes of motion involve opening and closing the thermoforming tools, opening and closing the heat-sealing tools, and advancing the side gripper chains that carry the forming web through the machine. Now that all three of these are servo-driven, there's no longer any need to produce compressed air for the pneumatics, so the new machines are 40 to 65% more energy efficient.
They're also 20 to 30% faster because the tooling can be opened and closed faster than when it was pneumatically operated. An additional increase in speed comes from the touch screen control. Zini explains.
"Depth of draw is typically no more than 130 mm. When the thermoforming tooling was pneumatically controlled, even if you were producing a shallow tray at, say, 90 or 100 mm, the tooling still had to open to its full extent. With servo controls, you can set the depth of draw that you want right at the touch screen control panel. You dial it right in. Then when it comes to production, you don't have to wait for the tooling to open to its full extent, so once again you reduce cycle time."
Companies in this article