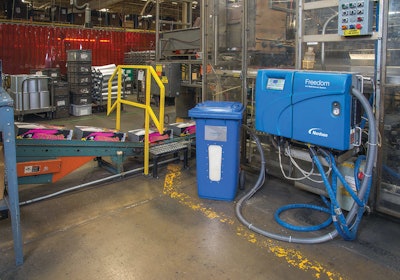 The Harrisonburg, VA operations of Tenneco, Inc., specialize in the manufacture, packaging, and shipping of mufflers for cars, trucks, boats, and a range of heavy-duty industrial and agricultural vehicles. To seal shipping cases for these mufflers, the Harrisonburg plant had been using traditional adhesive tank glue melting and pumping equipment. But Tenneco decided that this system was not delivering optimum performance in terms of cost efficiency and seal integrity. They were encountering problems with case seal pop-opens, even prior to shipping.
Mike Moyers, Muffler Engineer at Tenneco, says, "We were working with our hot melt glue supplier Henkel to accomplish upgrades. Henkel recommended the Freedom® hot melt dispensing system from Nordson. We evaluated the Nordson system and determined that it offered important benefits to improve our case-sealing operations. It's easily programmable to accommodate shut-off and stand-by modes. So we are able to prevent glue charring and reduce electrical power usage."
The tankless design offers the ability to melt only the amount of adhesive needed at any given time for any given application. Unlike the previously used large tank, the Freedom incorporates a small, space-efficient reservoir. And glue pellets are automatically fed to the system via transfer pump. Operators are no longer required to hand-scoop pellets into the tank to keep pace with case-sealing operations.
The melted adhesive is delivered quickly and efficiently. It doesn't sit and char—a situation that can cause both adhesive waste and electrical power over use. In addition, the Freedom hoses and nozzles incorporate self-cleaning mechanisms to help minimize clogging, downtime, labor and maintenance requirements, and parts replacements.
Moyers notes that the systems were phased in over several months. Two Nordson units were installed in June 2013. Two more were installed in September 2013. And a fifth unit was installed in December 2013. "Henkel and Nordson staff helped immensely in the retrofit installation with existing equipment, start-up, and operations and maintenance training," reports Moyers.
Tenneco sources corrugated, preprinted (flexo) shipping case flats from Packaging Corporation of America. Case forming equipment is supplied by Pearson Packaging Systems. Case label application equipment is from CTM Labeling.
Moyers says, "We have averted adhesive charring episodes, saving about 30% on adhesive costs. And we've saved on electricity costs, due to the hot melt gluing system's programmable automatic stand-bys and shut-offs when the systems are not in use. And we basically have no more pop-ups of case seals. So we are not spending costly time reworking cases."
Companies in this article
Videos from Nordson Corporation