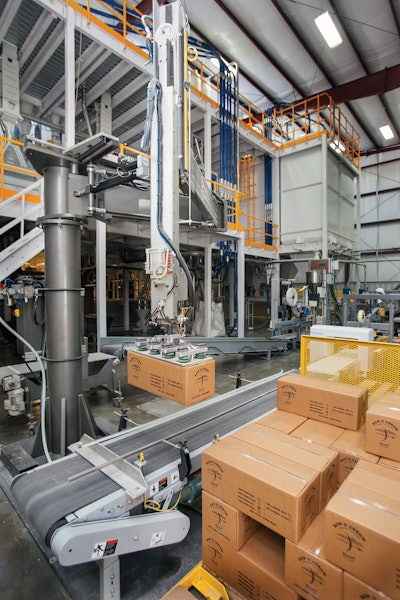 Simplicity, reliability, and value are packaging machinery characteristics that are universally appreciated. But they're even more highly prized in remote locations like the one occupied by Ute Mountain Tribe Farm & Ranch Enterprise. This 7,700-acre agricultural enterprise nestled below the Sleeping Ute Mountain on Ute Tribe Land in the southwest corner of Colorado is tucked away—to say the least. This became an influential factor as the firm conducted its search for the packaging equipment it needed to launch its Bow & Arrow brand of corn meal. Product Development and Sales & Marketing Manager Mike Abeyta puts it this way.
"As I went to trade shows and conducted other forms of research, I was looking for simple, solid, reliable equipment that wouldn't be excessively expensive. The simplicity factor was especially important because we're located in a pretty remote part of the country, where you don't want things going wrong if you can avoid it. Eventually I came to the conclusion that the Paxiom system was what I was looking for, and the fact that it all came from one source made it all the more appealing."
Paxiom Group comprises packaging machinery manufacturers WeighPack Systems, Eagle Packaging, and CombiScale. WeighPack and Eagle figured prominently in the Ute Mountain installation, with WeighPack supplying the primary and Eagle the secondary packaging systems.
The product being packaged on the new line is corn meal in 24-oz, 1-lb, and 5-lb stand-up zippered pouches. Previously, Ute Mountain sold whole white corn kernels in 50-lb bags to taquerias and other small foodservice establishments that make tortillas. But with the introduction of Bow & Arrow brand corn meal, the firm enters the retail arena, an entirely new sales channel.
"We grow non-GMO food-grade corn and felt there would be a market for a line of corn meals and corn meal mixes—muffins, for example, or jalapeno corn bread—that played off the strength of our Native American underpinnings," says Abeyta. "Especially in places like Whole Foods, which will likely be one of the first chains to carry the Bow & Arrow brand. Kroger and Walmart are also showing interest. I came on as a consultant to help get the Enterprise's whole corn kernel business going. With this new product we're adding more value to the corn and moving into retail sales."
Screw conveyor
Product enters the packaging line by way of a WeighPack screw conveyor that draws corn meal from a floor-level hopper and brings it up to an overhead WeighPack Star Auger 200 filler. Product drops then into a WeighPack Swifty Bagger 1200. Designed with a heavy-duty sheet metal frame, its straight-flow design simplifies accessibility and cleanability. It's designed to automatically open, fill, and seal pouches up to 12 in. wide x 18 inches long.
At the front end of this machine is a belt-feed mechanism that advances one pouch at a time from the pouch magazine and positions the pouch perfectly square. This allows the pick arm, which has two vacuum suction cups, to transfer it at a right angle into the opening station mounted on a reciprocating walking beam. Pouch opening is critical and is completed in a three-step process to ensure the highest performance. First the pouch is mechanically opened with a robust four-finger assembly. In the next step, a plunger with fiber optics is inserted into the bag to ensure the pouch has been opened to its full capability; also, air is blown in to help fully open the gusset. If it's determined that the pouch has not been opened correctly, the pouch will not be filled or sealed, thus allowing for the pouch to be re-used. Once opened, the pouch travels via walking beam to the pouch filling station, where product is dispensed into the pouch. Next is the sealing station, where both a hot seal and a cold seal are applied. Finished pouches are then transferred to the discharge station.
Supplied by Plus Packaging, the pouches are made from an adhesive lamination of 53-ga PVdC-coated polyester and 3-mil Linear Low-Density Polyethylene. The polyester is reverse-printed in five colors on a flexo press.
A short distance downstream from the Swifty Bagger is an innovative Eagle lane diverter that gives the pouches the orientation needed for the drop-pack casing system that comes next in the line. Take 24-oz pouches, for example, which are packed 20 per case in five layers. The goal is to have the pouches, when they drop into their case, resting not on their gusseted bottoms but rather lying flat on their sides. Also required is that when they drop into the case four per layer, one layer has gusseted bottoms on the right and the next layer has gusseted bottoms on the left.
The Eagle diverting system does two things to bring about this orientation. First, it directs four pouches to the left and then four to the right. But it's also equipped with a pair of paddles, one on the left and one on the right, that knock pouches from their stand-up vertical orientation onto their sides. When sensors detect that four pouches are laid flat with bottoms facing left, the system advances them up an incline conveyor and into the drop station of the Eagle case packer. The next four pouches entering the drop packer are treated similarly except that they're advanced with bottoms facing right. To appreciate just how this works, be sure to see the video link included in this story.
The beauty of gravity
"We needed a way to orient these stand-up pouches horizontally and position them over a case so they can be dropped in," says Abeyta. "Other solutions we looked at seemed to favor picking the pouch up, robotically in most cases, and putting it into the case. But these approaches would have been more complicated and expensive not only because of the robotics but also because of the programming involved. Simply dropping pouches into cases was a lot more straightforward."
The task of erecting corrugated cases from flat blanks, taping the bottoms of the cases, and feeding the cases to the drop packer is performed by an Eagle Boxxer T12 case erector.
Cases are filled with 20 of the 24-oz pouches, 32 of the 1-lb pouches, and eight of the 5-lb pouches. Case tops are closed and sealed by an Eagle EZTAPE taper and conveyed to an Eagle ZZAG Palletizer. Its pneumatically driven pick head uses vacuum pickup cups to pick cases one at a time and place them on a waiting pallet.
Running commercially now since January, the line produces about 20 pouches/min on the 24-oz size and 14/min on the 5-lb size. Changeover from one to another takes about 30 minutes, says Abeyta. "It's really simple," he adds. "All the same, we try to run one size all shift."
Looking back, Abeyta reiterates how easy installation and startup were once it was decided that Paxiom was the supplier for the job. "There's a PLC in each piece of equipment, and they're all tightly integrated. If something slows down or stops at the end of the line, the front half automatically adjusts accordingly. It was a lot smoother than having someone trying to marry up multiple pieces of equipment from a variety of suppliers."
Watch additional video related to this article at pwgo.to/1564
Companies in this article