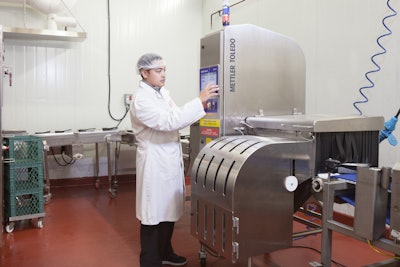 Zinetti Food Products, based in British Columbia, makes gourmet lasagnas and other prepared entrees that are available in the frozen food sections of Costco and other retailers throughout Canada and the U.S. To help ensure food safety, the company recently installed Mettler-Toledo Safeline X-ray's new X33 x-ray inspection system.
This next-generation inspection system's new 20-watt x-ray generator dramatically reduces power use and energy costs over conventional systems that use 100-watt generators while still providing "the same high detection sensitivity" according to the machine maker. The X33 also improves sanitation with its redesigned styling and eases use with its new graphical user interface. The vendor claims the system has "outstanding" detection sensitivity for identifying metal, glass, bone, stones and other dense foreign materials. It can also measure gross mass for portion control, inspect for packaging defects and check seal integrity.
"We started looking for an x-ray system several years ago," says Ash Engele, maintenance manager at Zinetti Foods. "We installed a unit from another supplier on a trial basis in 2008, but we got a lot of false rejects and decided it wouldn't work for us. Some people told us that x-ray inspection is better suited for products that are more homogenous than ours. We've since learned that's not true."
For this reason, he says, the company put x-ray inspection on the "back burner" until this machine, which performed well and was serviced by local representatives. "Our local service tech is very knowledgeable. He installed the unit and set it up for our products and trained us. It's good to know that if we run into any issues we can't solve, he can be here quickly to get us back up and running."
The specific model, Zinetti Foods selected is an X3302, which has a wide belt measuring 400mm — wide enough handle the company's also-wide range of products, which includes 3 kg family size meals as well as 300g single serve meals.
"Sometimes we run the same product for an entire shift and sometimes we have several products to run. The x-ray system is the easiest machine on our line to change over," says Engele. "It takes a few seconds on the control panel to select the next product from memory, and it's calibrated at the push of a button without having to send product through."
Engele adds that the touchscreen interface is user friendly, using icons, product lists and images that makes the system "very straightforward" for operators to use. Password protection prevents operators from modifying products without authorization. "Our engineers and QA personnel are allowed deeper access into the controls," said Azin Kad, HACCP coordinator at Zinetti Foods.
"We rely on a lot of outside vendors for ingredients. The possibilities that there could be a stone or shard of glass are endless. Our x-ray system gives us another layer of protection," said Engele. He says that as the company grows, so does the level of risk, and the new inspection technology "gives us confidence and it gives our retail customers confidence that we're maintaining the highest product quality. At Zinetti Foods, we go above and beyond making great tasting foods that people enjoy. We make sure our food is safe so they keep coming back for more."
Companies in this article