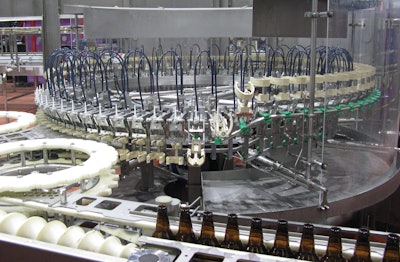 When Tony Magee left his northside Chicago neighborhood for California in 1987, he could hardly have foreseen that by 2014 he'd have himself a highly regarded craft brewery whose Compound Annual Growth Rate for 2009-2014 was about 50%. Nor could he have imagined that he'd return to Chicago and open a 300,000 square foot Lagunitas brewery and tap room in a former Ryerson Steel plant in the South Lawndale Park neighborhood on Chicago's west side. Just as surprising is that before the year is out, the new Chicago brewery will have the capacity to produce a million barrels a year—twice the amount produced at the Lagunitas headquarters facility in Petaluma, CA.
Currently the Chicago plant has one keg line and one glass bottling line. But a new keg line is being installed now, and some time this year a second bottling line could go in, as well. According to Sungo Wang, Packaging Manager at the Chicago facility, the existing bottling line in Chicago closely resembles the line that operates in Petaluma.
"One thing that Tony Magee is passionate about is being able to take someone from Petaluma and bring them here to Chicago and have them run our equipment," says Wang. "Likewise we want people from Chicago to be able to run equipment in Petaluma. The idea is that this way we can share learnings."
Wang says this shared learnings idea keeps him in close contact with his Packaging Manager counterpart in Petaluma. "As we were starting up here in Chicago, we were able to constantly compare notes about this issue or that issue. He might call me to say he's noticed some IO on a filler that's not working and ask me to check what I'm seeing on my line. We've gotten to the point that we call each other once a week, even if we haven't got something specific that we want to talk about."
Bulk depalletizer
At the Chicago plant, glass bottles, which are supplied by Ardagh, arrive in bulk and are fed into an overhead depalletizer from Sentry. Most of the conveyor connections also come from Sentry.
Good control of bottle flow from machine to machine was a priority as the line was designed and installed. Powerflex variable frequency drives from Rockwell ensure that conveyor speeds are automatically modulated based on line conditions. Sensors all along the line send inputs to a central Rockwell line PLC, which then sends outputs to the conveyors on the line to speed up or slow down based on the population of bottles. "If everything is running smoothly, operators hardly have to touch a thing," says Wang. "But even if, for example, the case packer is backing up, operators don't need to slow or stop the upstream labeler. It will do so automatically thanks to the VFDs."
One other aspect of the VFDs that appeals to Wang is that they are washdown rated. This means they can be mounted out on the line itself rather than in a central control panel. Among the benefits this brings is a reduction in the amount of wiring that needs to stretch from the line back to a central control panel.
Though many people might not associate a "craft" brewery with high-output filling equipment, the Krones rinser/filler/crowner block at Lagunitas is the real deal: 72 rinsing heads, 72 filling nozzles, and 12 crowning heads. It handles 12-, 22-, and 32-oz bottles, filling the 12-oz bottles at typical production speeds of 350 bottles/min.
So why not a "craft" filler for a "craft" brewer? "Hey, when we were smaller I built a six-head in-line filler out of bronze parts and PVC tubing I got from the hardware store," says Magee. "That's 'craft' for you, but it's not the most reliable. And oxygen pickup can be a problem, which is not the case when you have Krones equipment with its double pre-evacuation system. As you grow you want to make better beer, and you realize that the packaging line is the place where you can ruin all the great work that takes place upstream. The Germans, and Krones in particular, have practically made beer-filling their life's work, and then they add to that a great support system here in the U.S."
Wang couldn't agree more. "Krones has really been there for us," says Wang. "If an issue arises, I make a call and they're back to me right away. Among the things I've learned here at Lagunitas is that relationships with vendors are key. It really becomes a partnership, not simply us looking for the best bargain."
As for changeover, it takes 90 minutes to go from 12- to 22-oz. "Changing to 32-oz currently takes about six hours," says Wang. "But automatic rail adjustments being added by Sentry at rinser infeed, crowner discharge, and labeler discharge will cut that to about two hours."
On-line quality check
A Pentair Haffmans c-TPO meter right next to the filler measures not only dissolved oxygen in the liquid itself, but also oxygen in the head space. According to Magee, these are two separate parameters that can move independently. With a differentiated measurement of headspace oxygen separate from a measurement of dissolved oxygen, Lagunitas gets immediate insight into the filler's performance about every 30 minutes.
Exiting the crowner station and the Haffmans meter, bottles move into the first of three Filtec inspection devices on the line. This one checks that fill level is correct and crowns are properly seated. Another one after the labeler again inspects fill level and also checks for label placement. The third, located between case packing and case closing, checks that all bottles are in the case.
Right after the Krones filler block is a Krones labeler that glue applies cut and stacked paper labels. Then the bottles enter a long stretch of conveyor that serves as accumulation space in the event of a jam or some other reason to slow down production. The next machine that bottles encounter is a Hartness drop packer. Cases fed into it are always set up by a Wayne case erector, but exiting this machine the cases go down one of several paths.
• If 12-oz bottles are being filled and they're going into 12-count cases, the corrugated cases are conveyed directly from the Wayne case erector to the drop packer to receive bottles there.
• If 12-oz bottles are going into six pack paperboard carriers, cases are conveyed to a Sentry machine that inserts four carriers—erected on a Sentry machine—into each corrugated case, and then the case proceeds to the drop packer.
• If 22- or 32-oz bottles are in production, cases move from the Wayne case erector to a Wayne partition inserter and then to the drop packer.
The presence of one Sentry system to erect six-pack paperboard carriers and a second Sentry system to insert the carriers into corrugated cases represents the most significant difference between the bottling line in Petaluma and the new one in Chicago. In Petaluma, a single machine erects carriers and inserts carriers into cases ahead of a Hartness drop packer. According to Magee, that system has performed well. "But," he adds, "sometimes you have to experiment a little with different suppliers to learn what's out there. We're still an evolving company, not someone like Pepsi where things are so much more standardized and fixed."
As cases emerge from the Hartness drop packer, flaps are plowed down and glued by a Wayne top sealer. They proceed up a Ryson spiral conveyor and proceed to an Intelligrated overhead palletizer. A Cousins stretch wrapper brings the line to a close.
When asked if any of the packaging machines on the Chicago bottling line could be described as "garden variety" systems, Magee says it's beside the point. "What I do know is that these machines are robust, reliable, and battle-tested," he says. "It's all best in breed. I've bought used or refurbished or remanufactured equipment, and I know from experience that it can wind up being costly. When it's all you can afford, it's what you buy. But what you learn is that what you save up front, you pay for five times over in the next five years. The machinery suppliers you see in this line are very good at what they do, and they're fully committed to it. Plus the support is extraordinary. Let's face it, all equipment breaks down, but when these machines break down, the guys who built them are right there. They have a dog in the fight right alongside you."
As for the future, Magee looks forward to having the new KHS keg line up and running. Rated at 140 15.5-gal kegs/hr, it will make robotics part of the Lagunitas picture. One robot will feed kegs into the line and one will remove them and place them on a pallet.
With the Chicago operation now humming, Lagunitas is in a much better position to meet demand for its increasingly popular product. No longer will the Petaluma, CA, facility have to supply markets coast to coast, as Chicago will handle everything from the Mississippi to the Atlantic.
Wang could not be more excited about what the future holds at the Chicago operation. He also emphasizes how important it has been to get the right people to make it all work.
"We really got the right people on the bottling line," says Wang. "Some come from other manufacturing settings. But others are in their first manufacturing job, and some of them are our best performers."
Don't miss the Q&A with Lagunitas founder Tony Magee on beer blog 'The hop review:' pwgo.to/1411
Companies in this article