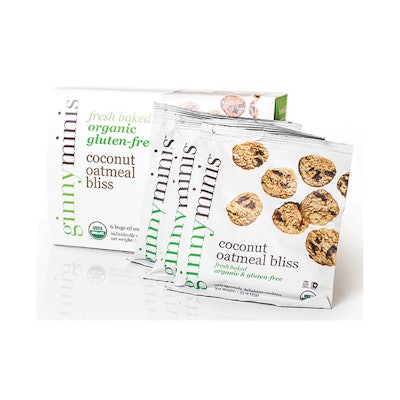 Ginny Bakes, Miami, FL, produces, packages and markets a range of gluten-free, organic, non-GMO, vegan, and kosher baked goods, including cookies, snack bars, bake mixes, crumble toppings, and "ginnyminis" (single-serve packs of bite-size cookies). These products are distributed through select retail outlets and also are available for purchase on-line (www.ginnybakes.com)
To package the ginnyminis, the bakery had been counting out six cookies, placing them in plastic trays, and then bag-wrapping the trays using a horizontal wrapper. But this system was proving to be costly in terms of packaging materials and labor time.
After evaluating more cost-effective alternatives, Ginny Bakes opted to install a vertical form/fill/seal bagging system to accommodate the ginnyminis. The baker shopped round and selected the Avatar Model A-1200 vertical form/fill/seal machine from All-Fill. It was installed in March 2013 and handles ginnymini packaging dimensions of 5.75 x 4.5 inches. The preprinted (3-color, flexo) packaging material is 70-gauge metallized, sealable, oriented polypropylene film from Belmark, Inc.
Ginny Bakes markets these products in individual bags as well as in cartons of 6-count bags. The paperboard carton blanks are printed and supplied by Winston Packaging and formed, filled, and sealed using cartoning equipment from Switchback.
All-Fill's Avatar line of vf/f/s equipment is engineered to complement All-Fill's existing line of auger and piston fillers, vibratory feeders, checkweighers, and related packaging equipment. The Model A-1200 bagger can produce pillow, gusseted, hanging hole-punch, and custom packages in sizes from 2" x 2" to 8" x 14" at speeds up to 70 packagers/min. The equipment can handle supported laminated films and unsupported polyethylene films in stock thicknesses up to 0.006". Touch-screen controls enable easy set-up, and multiple packaging formats can be stored in memory for quick retrieval when needed. Use-by dates and manufacturing information coding are applied to the bags by a Markem-Imaje Model 8018.
Ginny Bakes also uses a 10-head combination weigher/filler and mezzanine platform, also supplied by All-Fill, to weigh the appropriate amount of cookies and then dispense the cookies into the formed bags. In addition, the company has installed a new wafer-thin metal detector from Loma/Lock.
Mirasol Perez, Brand and Marketing Specialist at Ginny Bakes, says, "We now are able to package at speeds easily three to four times faster, and we are saving packaging material costs and labor costs by using the vertical form/fill/seal system. Everything used to be packed by hand, and cookies were counted before being manually packed into small trays. And then the filled trays were deposited into mini bags. Now our packaging materials cost is half of what it was with a guarantee of fresh product delivery to our customers. And for our retailers, the new single-serve bag packaging is an easy product to display at check-out registers where impulse purchasing does very well."
Companies in this article