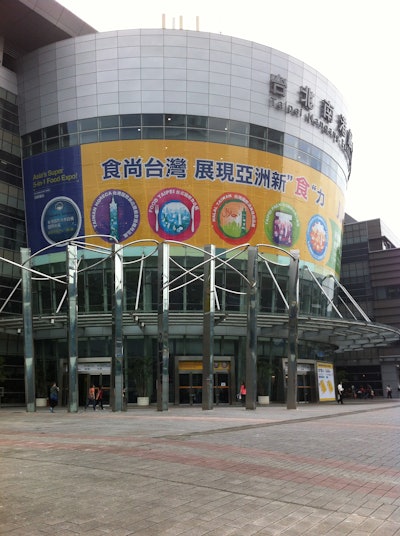 Despite a weak global economy and several food safety-related scandals faced by Taiwan in recent years, the country's food and beverage industry is going strong, experiencing "significant growth every year." That was the message conveyed by Chih-Kang Wang, Chairman of the Taiwan External Trade Development Council (TAITRA), who led the opening ceremony at the 5-in-1 Taipei International Food Expo in late June. He added, "The food industry is one of the most important in Taiwan, with a value of [US]$20.5 billion. Last year, the market experienced 3.3-percent growth, 25 percent of which came from exports."
The annual show, spread across two exposition centers in Taipei, boasted the largest number of participants—a record 1,592 exhibitors—in the event's 24-year history. While the greatest number of exhibitors took part in Food Taipei, a healthy number also participated in the show's other four events: Taipei Pack, Halal Taiwan, Foodtech & Pharmatech Taipei, and Taiwan HORECA (Hotel, Restaurant, and Catering Show).
During the opening ceremony, Wang and other speakers emphasized to an international audience of dignitaries that in order to continue growing, Taiwan's food and beverage industry, along with complementary food processing and packaging suppliers, need to focus on the environment, food safety, and export opportunities. In addition, the chairman of the Taiwan Food and Pharmaceutical Machinery Manufacturers' Assn. gave this advice: "Machinery manufacturers need to improve their quality, services, and marketing, and attend trade shows."
Machinery makers address Taiwan's needs
In Taiwan, the food and beverage industry is the largest end-use market for the packaging industry. At Taipei Pack, Packaging World was introduced to a number of packaging equipment and materials suppliers that are adapting their products and services to meet the ever-changing needs of CPG customers and consumers in the domestic market. Following are snapshots of these companies, along with some of their insights on the market for packaging in Taiwan.
Benison & Co., Ltd.—According to Recher C.L. Wang, Overseas Sales Dept., Div. #2 Division Manager, Benison has found its niche in Taiwan by offering high-quality shrink-film, labeling, and automatic packaging equipment that offers an alternative to China's low-quality equipment on the one hand and Japan's high-cost machines on the other. "Customers can find a balance between cost and quality with Benison," he says. Established 30 years ago, the company offers 40 models of equipment (30% of which are exported), and films (70% of which are exported) that include POF, PET, OPS, PVC, and PLA. The company's biggest customers include beverage, dairy, and yogurt brands, which make up 50% of its sales. At the show, Benison introduced its WL-150 semi-automatic pressure-sensitive labeling machine, developed for smaller companies. "Many of the big companies have moved out of Taiwan," explained Wang. "So this machine was developed for the local market." Its new LPC-100 labeler, for irregularly shaped bottles, was developed with the same intent, he added.
Day Young Enterprises—A producer of disposable paper and plastic cups, and paper food containers for the foodservice industry, Day Young has extensive manufacturing capabilities that allow it to print, coat, and form products, sold both domestically and globally (50% of its products are exported to the U.S.) As Jacky Lee, General Manager of Day Young explained, the people of Taiwan have a long history of sharing food—including those products purchased from street vendors—which had begun to result in the spread of disease. To address this issue, Day Young introduced a line of paper food containers that meet the government's health and safety standards. For both its cups and containers, the company imports from the U.S. and Europe long-fiber paper material, which is needed to enhance the strength of its packaging. In addition, the material is recyclable and biodegradable. At the show, Day Young Sales Executive Amber Chang provided a sneak peek of a paper food container expected to make its debut later this year. Eliminating the Taiwanese custom of securing the food box with a rubber band, the box is formed so that once closed, it will not open by itself.
Dorency Co. Ltd.—Manufactured 100% in Taiwan, Dorency's line of 18 different oxygen absorbers under the KEEPIT name are said to extend the shelf life of food products three- to five-times longer; inhibit the growth of microorganisms; and prevent changes in the taste and color of products. As Dorency Manager Arthur Chen related, one very popular application for KEEPIT in Taiwan is high-quality rice products. When rice is harvested, insects lay eggs inside the product. When the rice is packaged, use of an O2 absorber eliminates 99.9% oxygen, causing the eggs to die. "The absorbers protect the quality and extend the life of the product," he said. "In Taiwan, rice is not only used as a food, but it is also given as a gift." Dorency also offers Keep-Cool ice packs that allow consumers to keep products cold while they transport them from the store to their homes, and desiccants from its sister company Ching Hai Chemical Industry Co., Ltd.
Hsiao Sung Non-Oxygen Chemical Co., Ltd.—In business for 35 years, Hsiao Sung offers oxygen absorbers and desiccants under the O-Buster brand, used primarily in the food and pharmaceutical industries. According to Manager Roger Lan, use of O-Buster's oxygen-absorbing sachets in food products can result in a three- to four-times longer shelf life. Among the company's newest products is its Magic Lime desiccant, which provides high moisture absorption for products such as seaweed. At the show, Hsiao Sung displayed a wide range of food products using its oxygen absorbers, including bean curd, cake, peanut candy, and a variety of jerky snacks.
Joiepack Industrial Co., Ltd.—Manufacturing primarily flow-wrapping and shrink-wrapping equipment, Joiepack offers a range of capabilities and price points, from $18,000 at the entry level to $150,000 for its more sophisticated machines. According to company Director Roger I.K. Wang, the company has sold more than 4,500 machines globally, with low-speed machines sold in Saudia Arabia, and high-speed in the U.S. and Europe. Among the machines shown at Taipei Pack were the company's new S-5535 servo-driven flow wrapper that offers easy adjustment for a range of package sizes; the TEA-137 box-motion machine, which is said to offer better sealing through a lower temperature; the S-5447 high-speed box-motion flow-wrapping machine; the J-535, a lower-cost, mechanical machine with auto-feeding; and a new high-speed flow-wrapping line with low-pressure, smart belt feeding, capable of speeds to 450 packs/min.
Keed Automatic Packaging Machinery Co., Ltd.—Flexible packaging is huge in Taiwan due to its light weight and convenience for consumers, who appreciate products packed for on-the-go use. Addressing this flexibles trend, Keed has engineered a line of equipment for vertical flow wrapping of solids, liquids, powders, and granules. Among some of its biggest customers are those using the equipment for instant noodles. At the show, Keed exhibited some of its smaller, compact machines, which have become popular among Taiwan's smaller businesses because of their cost and space efficiency. According to Kevin Lin, of Keed's Marketing & Sales Dept., the company has switched all of its equipment from mechanical to servo-driven machines, with full automation and integration. "Customers can now make use of data, including machine run time, downtime, and errors," he said. "We are trying to give them more functions to make them more comfortable."
Tien Heng Machinery Co., Ltd./BestPack Packaging Inc.—BestPack offers a full range of automated and semi-automated secondary packaging equipment, for export (70%) and the domestic market. BestPack's largest export market is the U.S. According to company President John C.F. Chiu, BestPack invests heavily in R&D in order to adapt to changes in the packaging machinery market and to offer better and faster service to its customers. Explains Chiu, key to the evolution of its machines has been a continuous call since 1990 for increased automation, driven by trends such as labor shortages resulting from a growing economy; a focus on saving energy; and government tax incentives for those companies that automate.
Y-Fang Sealing Machine Ltd.—In Taiwan, the on-the-go food and beverage market is booming. According to Frank Lin, Sales Manager for Y-Fang, there are more than 10,000 convenience stores—5,000 of them are 7-Elevens—in the country. Lin's company produces tray and cup sealers used both by CPGs and convenience stores in a range of models from tabletop to fully automatic machines engineered for full production lines. For on-the-go beverages, c-stores and foodservice restaurants such as KFC use the tabletop cup sealers to cover the drinks before serving. CPGs package water in a cup with a film lid and straw for businesses to use during meetings and other events (this type of water product was used at many booths at the Taipei Pack show). In Japan, c-stores sell cups of ice sealed with film lidding that allow the consumer to add their beverage to the ice to keep the drink colder. Tray sealers are used for both frozen and fresh ready-meals, also sold in c-stores.
Yung Ming Packaging Machinery Co., Ltd.—The first to offer horizontal form/fill/seal equipment in Taiwan—according to Sales Department member Daniel Shih—Yung Ming offers machinery "to fill virtually any type of product." Among the advantages of the company's equipment, he adds, is the ability to use many different types of fillers, along with more than one filler per hf/f/s machine, allowing packagers to blend product on-site during filling. Said Shih, "Why are we making this type of equipment in Taiwan when most Asians use vertical machines? It's because it offers more capacity and more applications." In the company's five years of operation, it has engineered 10 different hf/f/s models.
Companies in this article