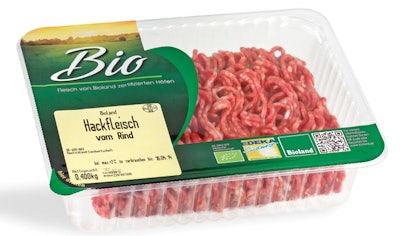 Germany's Edeka Sudwestfleisch Rheinstetten is considered one of the most modern meat processing operations in all of Europe. Some 900 employees process and package up to 600 tons of fresh and processed meat every day. The end products—approximately 2,500 items are continuously in stock in Rheinstetten—are transported to 1,250 retail stores in the five states that belong to the Edeka region in southwest Germany.
The best-selling product in the case-ready segment is ground meat, supplied in various grades including pork, beef, and mixed. But it's also the most sensitive in terms of shelf life because the meat tissues are far more exposed to ambient air than whole muscle meat cuts that don't go through the meat grinder.
In order to guarantee reliable deliveries to the Edeka supermarkets in the southwest of Germany, a state-of-the-art high-output ground meat packaging line was installed thanks to the involvement of some highly committed partners.
"Handling and packaging such large volumes of minced meat meant that only a high-output line for grinding, portioning, and tray sealing would do," says Edwin Mantel, Production Manager at Edeka. "We set up a list of requirements, including being able to output three tons per hour. This translates to around 120 trays per minute. Furthermore, we wanted a particular texture and appearance of the end product, as well as an efficient production process. To complete this task, we met with several suppliers, in the end deciding to move forward with Handtmann and Sealpac as our partners.
"Although the individual machine requirements in terms of capacity, flexibility, and product quality seemed to be relatively uncomplicated, the main focus was on coordinating and tightly integrating the individual components in the line. Our experience had shown that a close and trusting cooperation between all partners involved would be essential. Otherwise we'd never reach our goals. That cooperation started in October 2010, and by June of the following year the first equipment had been installed."
Perfect portions, perfect texture
The line starts with a VF 630 vacuum filler from Handtmann, which grinds and portions the meat to its exact weight in a single step. The combination of a vane cell feed system with separately controllable drive of the in-line grinder reduces the cutting load and shortens process steps. The geometry of the vane cell feed system ensures a safe transport and a constant product flow, which is important for weight accuracy. All process data are constantly monitored and visualized with the touch of a button. The batch traceability is supported by Handtmann Communication Unit software that links filling lines into a network and, as an intelligent control tool, supports the production managers in documenting, analyzing, and organizing overall operational efficiency.
As for the product texture, the grain size and bite of the ground meat are expertly controlled. Typically, ground meat has a grain size of 2.2 to 4 mm. When changing from one ground meat to another, the only thing that has to be changed is an end hole plate. The optimum machine settings for each product are stored in the machine memory. This allows for short set-up times and rules out faulty operation.
After portioning and checkweighing by a system from Bizerba, a Sealpac tray denester picks polypropylene trays from a magazine and feeds them to a Sealpac ground meat loader. It's complemented by a lane divider that ensures double-lane transport of trays into the Sealpac A10 tray sealer, which operates at 120 trays/minute under modified atmosphere.
After sealing, the trays go through metal detection and labeling, both done by Bizerba systems, and then are placed manually into corrugated secondary packaging.
"At Edeka we almost exclusively use transparent monolayer PP trays, as customers are very critical and want to see exactly what they are buying," says Mantel. "The tray configuration has been optimized over time, to the point where we are currently using ultralight 10-g trays, which is pretty unusual in our business. Lighter trays mean less materials, resulting in more sustainability and cost savings."
Lighter trays also make the sealing process more challenging, as one will encounter a physical limit when transporting these trays at higher speeds. It is common that, with double lane in-feed, rectangular trays are transported narrow side leading as it provides more stability in transport. However, it also means that the capacity of the tooling is not fully used, meaning that faster cycle times are required, which negatively affects the smoothness of the line's operation as well as its maintenance costs. This is why Sealpac, thanks to patented snap grippers on its high-output traysealers, provides reliable long-side-leading transportation of the trays. With this approach, tray transport speeds are reduced by 30%, hence requiring less cycles per minute. For Edeka, that means more efficiency and improved cost of ownership.
How to remain flexible
"Next to highest output," says Mantel, "we also demanded a flexible line, because with case-ready meat we are offering a wide range of products. Sometimes they're dictated by the season, the summertime BBQ season for example. This requires a flexible set-up of the line. Product changes can easily be made with minor changeover times. Service support also plays a major role in remaining flexible, which is something both Handtmann and Sealpac offer us by having technicians on standby in the area."
Minced meat may be the top seller in the case-ready segment, but Edeka also sees a trend towards fresh burgers and meat balls, which are already quite common in the U.K. and Benelux. Increase of shelf life will remain an important item, especially considering all the attention being paid to worldwide food loss these days. This is where Sealpac offers its unique MAP+ system, which requires less vacuum resulting in reduced product exposure, shorter cycle times, consistent gas values, and reduced gas consumption when packaging fresh meat. Furthermore, it supports color stability during the entire shelf life of the product.
"In the future, our production process will become more open," says Mantel. "Product safety and traceability are playing an ever greater role for consumers. We will have to be highly productive and flexible at the same time. For manufacturing particular products, manual processes will always have a certain share, but in other areas we will be forced to further automate. Naturally, we rely on our established partnerships to achieve equally good solutions. This high-performance minced meat line is a perfect example."
Companies in this article