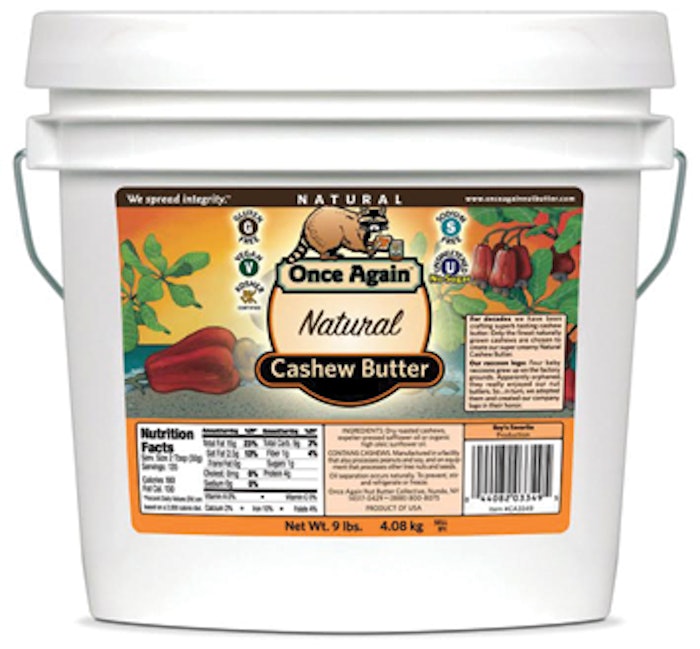 The company's distribution range is rapidly expanding through retail outlets such as Whole Foods, as well as through foodservice operations and internet sales.
All Once Again Nut Butter products are packaged in readily recyclable glass jars or plastic tubs/buckets. In constant pursuit of optimum quality control, Once Again Nut Butter chose to install Insight PipeLine metal detection equipment from Loma/Lock, which comes standard with OPTIX DDS (direct digital signal) metal detection software. Once Again Nut Butter runs all products past the metal detector through a pipeline that is 2" in diameter. The Lock system facilitates precise product set-ups, offers maximum sensitivity to contaminants, and records inspection activities to ensure compliance with retailers' product integrity standards. DDS delivers a visual representation of what is happening during the product inspection process, displayed on the system's graphic control panel.
Quality Assurance Manager Jacob Rawleigh notes, "The DDS vector diagram is a critical control because it provides a window into what is happening during the product inspection process. Combined with the unit's performance validation system (PVS), audible alarm, and the ability to stop any one of our processing lines for single reject analysis, this system helps us fully comply with regulatory and product traceability requirements. Using the Insight PL, we've been able to accurately detect the tiniest contaminants. And the inspection system withstands the rigors of harsh wash-downs, imperative for our good manufacturing practices."
As testament to the company's confidence in the Lock metal detection equipment, Once Again Nut Butter has installed two additional Insight PL systems in the past year.
Companies in this article