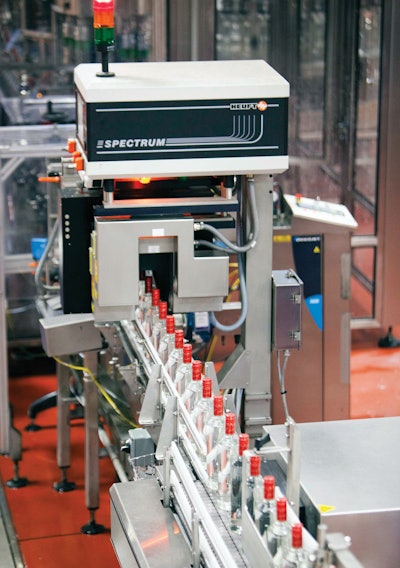 U.K.-based Diageo is one of the world's premium drinks businesses, producing such well known alcohol brands as Johnnie Walker and Crown Royal whiskies, Smirnoff, Ciroc, and Ketel One vodkas, Captain Morgan rum, Baileys Irish Cream, and Guinness beer, to name a few. Since 2010, the company has invested more than $250 million in its North American production network to put in place a Differentiated Supply Chain approach that allows for a mix of high-speed, high-volume lines for established brands and lines with greater flexibility for new product innovations.
"Diageo's ambition is to be the best performing, most trusted and respected consumer products company in the world. Our supply chain operations will play a critical role in delivering that goal," said Diageo North America President Larry Schwartz at the unveiling of the company's most recent plant expansion. "The investment we have made in our manufacturing network demonstrates our commitment to developing this important part of our business."
In August 2013, Diageo celebrated the Grand Opening of the completion of a 90,000-sq-ft expansion of its Plainfield, IL, manufacturing site, making it the company's largest bottling facility at 531,000 sq ft. The $120 million investment included three new high-speed bottling lines installed to package a wide variety of Diageo's leading brands, including its Smirnoff flavored vodkas, in glass and PET. The company also added a new cold-filtration system in the processing area, capable of preparing 250,000 gal of liquid per day.
Noted Paul Gallagher, Diageo NA President of Supply, at the Grand Opening event, "The transformation we have delivered at the Plainfield facility illustrates how we are creating best-in-class operations that are more flexible, efficient, cost-effective, and environmentally sustainable."
Investing in innovation
Diageo is a global company that sells products in more than 180 countries around the world, maintains offices in 80 countries, and has manufacturing facilities across the globe. In North America, Diageo operates more than 20 key manufacturing, production, and distribution locations.
Among the company's primary business goals are to:
• Strengthen and accelerate its premium core brands
• Innovate at scale to meet new consumer needs
• Drive out costs to invest in growth
Since it opened in 1966, the Plainfield facility has been the focus of a number of investments to facilitate these objectives. Among them, Diageo added a Brand Technical Center in 2001 to turn new liquid and packaging ideas into commercial products, and in 2009, it created a high-speed bottling area for malt drinks. Also in 2009, Diageo partnered with rigid plastic packaging supplier Logoplaste to add a 40,000-sq-ft blow-molding facility adjacent to the plant to supply the majority of its PET bottles. In 2012, Diageo created a flexible production area with two packaging lines geared toward lower-volume, complex production and innovation requirements.
With the latest expansion, Diageo added a pouch filling line that includes a Model TT-9CW high-speed pouch filler/sealer from Toyo Jidoki Co., Ltd. and a standalone PDC full-body shrink-sleeve labeler. The pouch machine, used for some of Diageo's new frozen cocktail products, offers a capacity of 200 mL to 12 oz.
The PDC equipment is a standalone system that labels products from Lines 5, 8, and 9, such as the Smirnoff Sorbet range and Captain Morgan Parrot RTD cocktails, to provide the products with visual impact on-shelf and a point of difference for consumers.
Says Pietro Di Pilato, Senior Vice President of Manufacturing & Distillation, Diageo NA, "Diageo is recognized as a leader in product Innovation, and North America is Diageo's leading region for new products. The design of our overall network—with specific lines dedicated to innovation and small-volume runs—has enabled us to get these new products to market more quickly, driving greater value for the business. In addition, the new equipment allows us greater flexibility in the product and packaging—including full bottle 'sleeving' and pouches—which has helped us innovate in new categories, or around new consumer occasions."
High-speed, high-volume is key
The most recent expansion brings the number of packaging lines at the Plainfield facility to 10, with the addition of Line 8 for glass and PET, Line 9 for glass, and Line 10 for PET. According to Di Pilato, machinery for the lines was chosen based on an evaluation of best-in-class equipment and by referencing benchmarking information from other Diageo sites around the world and from the wider industry. Maximum speed and changeover were facilitated by upgrading specific blending and batching processes to manage the liquid more effectively and through automation of the packaging line guide rails using Astrra equipment from A.S. Thomas, Inc.
"Automating the packaging line guide rails provided by Astrra decreased changeover times via single-touch adjustment, which automatically moves the guide rails to predetermined locations, thereby eliminating the need for manual movement and adjustment of the rails to match the bottle size," Di Pilato says. "This technology has helped to decrease changeover times by two to four hours, depending on the line."
The three new lines each feature state-of-the-art equipment selected for specific product varieties, and for a range of package types and sizes.
In brief, Line 8, the first high-speed line installed, accommodates 750-mL and 1- and 1.5-L formats, operating at speeds to 180 bottles/min. Equipment includes a Krones Isofill VV vacuum filling system; a Nitrodose nitrogen-dosing system from Vacuum Barrier Corp.; a Heuft Spectrum fill and cap inspection system; a Hartness DYNAC Model 6400 single-file FIFO (first-in/first-out) accumulator; a Krones Topmodul pressure-sensitive labeler; a Kones Checkmat label placement inspection system; a Mettler Toledo case weigher; and a Hartness 2800 top-load case packer.
Line 9—the fastest spirits line at the Plainfield facility at 300 bottles/min—fills glass bottles in 750-mL and 1-L sizes. The main product handled on the line is Diageo's Smirnoff No. 21 premium vodka; other products include Captain Morgan rum in round formats, Parrot Bay rum, Popov vodka, and others.
Line 9 begins with a Busse automatic, high-level Model T3000 depalletizer from Arrowhead Systems, Inc., which feeds bottles to a monobloc rinser/filler/capper from Perrier. The first station on the monobloc is a 56-head rotary rinser, followed by a 70-head two-stage rotary filler. "This type of filler provides an extremely fine level of fill control, with vacuum pressure both in the bowl as well as for 'snifting,'" says Di Pilato. "Snifting is where we do a final extraction of liquid from the bottle to ensure exact fill volume—the vacuum system sucks up any excess liquid. The two vacuum systems are run on separate vacuum pumps, unlike the Krones filler, which utilizes one vacuum pump for bowl and snifting control."
Following filling, the monobloc is equipped with two 10-head cappers—one for plastic, one for metal ROPP—from Fowler Products Co. A Heuft Spectrum inspection system located near the outfeed of the Perrier unit inspects labels and caps. After inspection, bottles are conveyed to a Hartness DYNAC 6200 single-file accumulator.
Bottles are then labeled using a Krones Solomodul modular labeling system capable of running both pressure-sensitive and cold-glue labels. This is followed by a Krones Checkmat inspection system that checks label placement. Another DYNAC, the mass-flow model 7100 FIFO, provides accumulation between the labeler and filler.
Secondary packaging is accomplished using a Brenton Mach-4 servo continuous-motion wraparound case packer, followed by a Mettler Toledo high-speed checkweigher. "The checkweighers [on Lines 8, 9, and10] confirm that each case is full and that it is completely sealed," says Di Pilato. "The checkweigher also provides an additional verification that all bottles being shipped are within fill-weight specifications."
Next, an Alvey 881 high-level case palletizer from Intelligrated combined with a Muller Octopus 303 stretch wrapper unitizes the cases. Explains Di Pilato, "The majority of our products are unitized versus palletized. Unitized cases are put into a pallet pattern, but are only placed on a slip sheet versus on a traditional wood or plastic pallet."
Line 10, handling PET packaging, runs primarily flask-style bottles in 200-, 375-, and 750-mL sizes. Products filled on the line include Smirnoff, some Captain Morgan variants, and a range of other brands. Main packaging equipment includes a Perrier monobloc rinser/filler/capper with a 42-head rinser, a 42-head vacuum filler, and a 10-head capper; a Spectrum inspection system; a Hartness DYNAC 6200 accumulator between the labeler and packer that holds approximately 600 bottles and provides three to four minutes of buffer; a Krones Autocol pressure-sensitive labeler; a Krones Checkmat inspection unit; a Brenton Mach-3 wraparound case packer; and a Mettler Toledo checkweigher.
Clean marking technology
When it came to case coding, for all three of its new packaging lines, Diageo was looking for a clean, fast, and accurate solution. To meet these requirements, Diageo worked with Matthews Marking Systems to install Solaris e-SolarMark 30-watt and 55-watt CO2 laser marking systems on Lines 8, 9, and 10. The laser systems add a lot code, date code, and SAP code onto each shipping case.
"Diageo wanted ease of use, fast SKU changeover, legible code quality, and high reliability," explains Dean Hornsby, Director of Business Development – CPG Markets, for Matthews. "The majority of the Plainfield operation is renewed and immaculate, so Diageo wanted to move toward the cleanest marking technology available. Laser coding eliminates printing ink and solvents, which prevents the risk of cross contamination with the product."
At the outset of the project, Matthews Marking Systems' parent company, Matthews Brand Solutions, already had an existing relationship with Diageo, providing prepress artwork to Diageo's packaging material suppliers in the form of flexographic printing plates for label and carton printing. "It was through our integration as One Matthews that we worked together through our groups to bring to life the laser-ablation coding concept by designing the flexographic plates to print a solid ink patch onto the fiberboard packaging," says Hornsby. "The Matthews lasers vaporize the preprinted ink patch that is printed by the box maker when all the SKU-relevant information, such as the product type, graphics, and barcode, are printed. Printing this patch has an insignificant cost, so it only made sense to use a laser to ablate this ink patch to reveal the code on-demand.
"The uptime has been fantastic and has led to more opportunity with installations throughout Diageo."
Three times around the globe
In 2013, Diageo's Plainfield site bottled approximately 31 million cases of product, which is equivalent to 372 million 750-mL bottles. According to Diageo, "if those bottles were laid end-to-end, they would circle the globe nearly three times." With the recent plant enhancements, the site has the capacity to take on additional volumes in the future.
"Diageo is on a journey to create a Differentiated Supply Chain approach, which will see us orchestrate the supply chain in different ways depending on the product type, customer, and economies of supply," says Di Pilato. "This approach is set to deliver value and benefits to our customers, while driving substantial cost savings for Diageo. Fundamental to achieving this outcome is having the right manufacturing footprint. We have invested in specific capabilities at particular facilities to help us achieve this. The new equipment and processes at Plainfield, along with the investment we have made across the wider network, positions our supply chain to deliver value now and in the future."
See the Muller Octopus 303 stretch wrapper in action at pwgo.to/917
See a video of Captain Morgan running on the Perrier monoboc at pwgo.to/910
Companies in this article