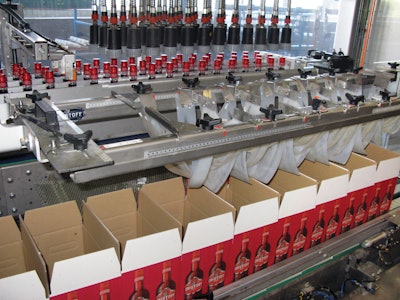 Beaucaire, France, is the site of a Bacardi plant where six bottling lines have been reduced to two highly efficient lines. In the process, the number of bottles produced per minute has been increased and the number of operators greatly reduced.
The improvements came about as decision makers at the plant looked for ways of optimizing operations. All kinds of packaging equipment was retained as the two new lines took shape. But conveyor connections are mostly new, and new case erecting and case packing equipment was installed, as well.
The newly optimized lines reflect the beverage line engineering expertise of Gebo Cermex. Headquartered in France and possessing a global network of offices and manufacturing facilities, the firm came into being in April of 2013 with the merger of Gebo, a well known name in the field of conveying and material handling, and Cermex, a proven leader in overwrapping and end-of-line equipment for a variety of consumer packaged goods. Operating as part of the Sidel Group, Gebo Cermex operates autonomously, allowing its experts to deliver best-in-breed packaging line engineering solutions.
So why were there six separate lines at Beaucaire in the first place? According to Eric Tourain, Manufacturing Director at the Beaucaire facility, it was brought about by the variety of products and container shapes that are run in the plant. "We have vodka, liqueur, tequila, and vermouth," he observes, "and many of them come in a variety of flavors. In all we have 20 different products and 24 different bottle shapes. All glass, and all from 200 mL to 2 L."
What the Gebo Cermex integrators came up with is one high-speed line for longer runs, which replaces two lines used formerly, and a second flexible line for shorter runs, which replaces four lines used formerly. Both lines have two fillers. On Line 1 it's because whenever production switches from spirits to vermouth, the filler must be sterilized prior to a production run. "With two fillers in place, we can be sterilizing the vermouth filler while producing spirits on the other filler," says Tourain. On Line 2, one filler is dedicated to Get—a liqueur with mint used as an aperitif or in cocktails that was created by Jean and Pierre Get in 1796—and the other is used for a variety of products.
Line 1 features a complete Gebo conveying system with pressure-free movement of bottles at speeds to 300/min, though nominal operating speed is 265/min. The conveyors are designed with a mechatronics approach, giving priority to simple and efficient mechanical principles combined with the best in electronics and computer networks. As a result, each element connects quickly to existing interfaces and is easily integrated into the modular architecture of the PLC used for centralizing all parameters. Movigear drives from SEW-Eurodrive are standard on the Gebo Cermex conveyors, which keeps power consumption to a minimum.
New end-of-line gear
Primary packaging on Line 1 consists of depalletizing, rinsing, filling, capping, labeling, and end-of-line palletizing equipment that came from the two lines now replaced. But case erecting, case packing, and case closing are all new, and all three systems were supplied by Cermex.
The Model F3 case erector features positive extraction of case blanks from an extended magazine and easy access for reloading the magazine. Hot-melt application is accurate and case squaring guaranteed.
Cases exit the F3 and make their way to a conveyor that runs parallel to the Model AN top-loading gantry case packer. With each cycle, the machine picks 36 bottles and places them in six waiting cases, six per case. When a new bottle shape requires changeover, a 15-minute repositioning of the bottle grippers is all that's needed.
A short distance later, a Model C6 case closer with a Nordson hot melt applicator closes the cases. A Markem-Imaje ink-jet coder prints the necessary lot and date code information, and then the cases proceed to a spiral elevator that takes them to a remote palletizer.
One other upgrade made to Line 1 is the addition of the EIT data acquisition software developed by Gebo. It checks data 24/7, tracks production events, details unplanned downtime, displays root cause analysis, and calculates multiple operational and performance metrics.
Flexibility a priority
Line 2 provides pressure-free conveying at 150 bottles/min. Here it's flexibility more than throughput that's important, as some pretty unusual bottle shapes have to make their way through. That's why Bacardi used to have four separate lines.
"Now we have grouped the four brands that were bottled on these separate lines into one line, again with two fillers," says Tourain.
As was the case on Line 1, depalletizing, rinsing, filling, capping, and palletizing equipment was repurposed from the four lines that Line 2 eliminated. Gebo Cermex, in addition to supplying all new bottle and case conveying systems, supplied a new case erector, gantry packer, and case sealer.
Line 2 also got a new labeler, the Modular Top 2320 from P.E. Labellers. "Having combined four lines into one, we now have so many varieties of labels, as you can imagine," says Tourain. "None of the labelers we had in-house from the lines we were replacing was flexible enough for so many bottle shapes and heights."
The Modular top 2320 can accept as many as eight labeling modules. It does pressure sensitive body, neck, and back labels as well as glue-applied paper labels.
"It features optical orientation," says Tourain. "There's no notch on the bottle for orientation. Orientation is done by cameras."
Now that the new lines are complete, Tourain and colleagues are the beneficiaries of a much smoother production flow. "Not only did we decrease the number of machines on the floor, we greatly improved both efficiency and reliability," says Tourain.
Companies in this article
Videos from Nordson Corporation