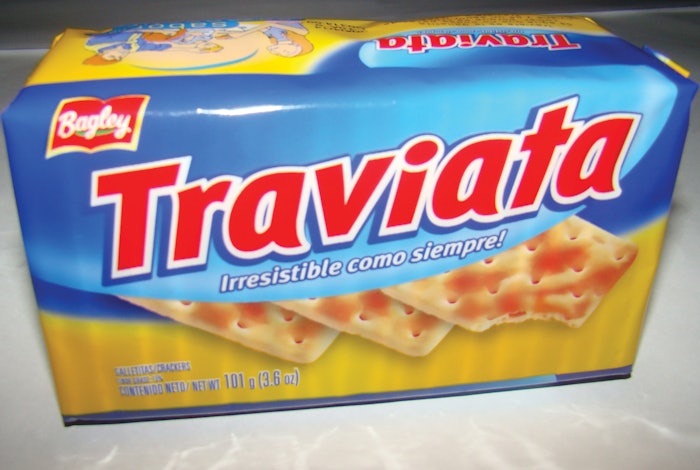 As one of the world's largest candy producers, Argentina-based Arcor is renowned for the sweet treats it distributes all over the globe. Its affiliated company, Bagley Latin America SA, is of equal renown in Argentina, producing one of the most famous cracker brands in the region—Traviata. This variety of cracker is a staple in Argentinian meals, similar to bread for Europeans. In this manner, Traviata crackers are central to Argentinian consumers of all ages: Children bring them to school, adults consume them with coffee, and everyone uses them to accompany various types of food.
To produce these crackers, Bagley established one of its five cracker production plants in Salto, Province of Buenos Aires, Argentina, referred to as Salto II. The plant has provided 1,000 new jobs since its opening and produces 24,000 tons of Traviata crackers per year to keep up with consumer demand.
To increase productivity at the new plant, Salto II needed a more efficient packaging solution that could handle product gently as well as produce a hermetically sealed package that resembled the traditional packet seal well known among Traviata consumers. Looking for a partner to help meet these challenges, Bagley turned to Bosch Packaging Systems AG in Beringen, Switzerland.
The gentle solution
Since the first half of the last century, Bagley has depended upon Bosch Packaging Systems AG, a company of Bosch Packaging Technology, for its wide portfolio of packaging solutions to handle its confections. Within that time, Bosch has provided Arcor with nearly 400 packaging machines in total, not only for crackers, but also for its candy and chocolate products. Thus, it was only natural that Bagley reached out to Bosch to upgrade its packaging technology for the Traviata crackers. The crackers themselves are a low-cost product, necessitating that a large volume be produced to drive profitability. Therefore, Bagley aimed to increase the production speed to maximize utilization of its equipment.
Adding another challenge, the fragile, rectangular-shaped crackers are characterized by their texture, with many holes and large blisters. Thus, it was necessary to ensure that the increased production speed would not damage the crackers.
To wrap the Traviata crackers, Bosch developed a complete packaging system comprising four wrapping legs that can handle up to 212 packs/leg/min—a significant increase from the previous system's 80/min. It also incorporated hermetic sealing into its cracker package to ensure product freshness, while the new flow wrap still closely resembles the traditional package with end fold already in the market.
After the Traviata crackers are baked in the oven, they are transferred to the Bosch primary packaging system, which consists of several components. First, 32 parallel lanes of crackers travel stacked partly between side guides along conveyors equipped with individual leg dump gates. Then, the 32 lanes are divided into groups of eight, and the crackers are transported to one of the four wrapping legs. The stacked products then pass through the vibratory channels, where the crackers are buffered and rotated 90 deg to lie on their longest side, which also eliminates wrongly positioned crackers.
Each leg has a Bosch Sigpack FGM-8 slug-measuring feeder that portions the crackers into slugs and deposits them into the cross chain of the Sigpack HCS high-speed horizontal flow wrapper. At the end of this chain, an automatic sliding gate is installed that removes broken crackers and crumbs that can clog the system and compromise hygiene.
The Sigpack Intelligent Feeding Wheel for Slugs (FWS) smoothly transfers the portions at 90 deg to the Sigpack HCS, balancing and synchronizing the different chain speeds. Each portion is secured by a full cage during this 90-deg transfer from chain to chain.
From the Sigpack HCS, the now-wrapped slugs travel to the Sigpack FWV vacuum feeding wheel, which is equipped with vacuum nozzles that gently lift each packet and turn them 90 deg, ensuring proper orientation of the packets for delivery to the Sigpack AQF lateral fin folder.
The Sigpack AQF folds and seals the cross fins to the packet's body—key to mimicking Traviata's traditional X-seal end-fold style. With the new flow-wrapped pack's folded ends, Traviata keeps its traditional look so familiar to and cherished by its loyal customers. Above the Sigpack AQF in-line discharge belt, a chain is installed for the bi-directional 90-deg discharge. One path is connected to the cartoning system, and the opposite side allows for the unloading of packages in case of a standstill of the cartoning system or the multipack machine, which follows in-line behind the Sigpack AQF.
Bagley was able to upgrade its existing lines, replacing two old measuring feeders and Sigpack GS end-fold wrapping machines, each group wrapping up to 80 packs/min, to only one machine group—the combined Sigpack FGM and Sigpack HCS. This new machinery has doubled the previous speed and also includes reserve capacity.
The packaged deal
Through close collaboration with Bagley, Bosch engineered a state-of-the-art line concept that resulted from an in-depth discussion of pros and cons of several versions until a solution exactly matched Bagley's needs. Additionally, with Bosch's assistance, Bagley became one of the first southern Latin American companies to incorporate hermetic sealing for this type of cracker.
"Leading the way in designing and manufacturing reliable packaging systems, Bosch is synonymous with experience, innovation, and guarantee," remarks Ing. Ivan Cuassolo, Engineering Director for Bagley Argentina. "Bosch goes beyond quality, reliability, robustness, and performance, and we never feel alone, given that at each stage of the project, their staff, designers, mechanics, and technicians offer a friendly, helpful, and proactive attitude that exceeds our expectations and makes us more than happy with the obtained results."
The acquisition of this new packaging system has allowed Bagley to make a leap regarding technology and increased production, allowing more people to enjoy their Traviata crackers.
Companies in this article