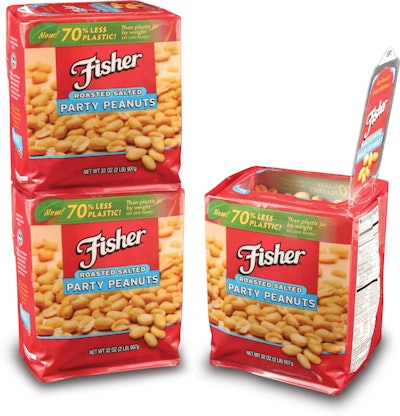 John B. Sanfilippo & Son is one of the first to commercialize a new style of flexible film package called PrimaPak™. The Elgin, IL-based firm released a limited-edition 11-oz package of holiday-themed Flavor Tree brand chocolate-covered pretzels in the innovative new container format this past December in Chicago. Now it's trying Fisher brand Party Peanuts in a 2-lb format that is essentially the same size as the pretzel pack.
Senior Vice President of Global Marketing & Customer Solutions Howard Brandeisky says the Primapak format, developed by Clear Lam Packaging, adds a lot of value for both retailers and consumers. Retailers, he says, like the supply chain benefits that come from a package that cubes so much better. Clear Lam calculates that one roll of film holding 2,000 PrimaPak impressions has an outside diameter of 16 inches and, since web width is 19.6 inches, stands 19.6 inches tall. By comparison, one and a half pallets are required to hold 2,000 plastic jars holding the same amount of product as the PrimaPak containers, and the space occupied measures 40 x 49 x 94 inches. The PrimaPak is also much lighter than the rigid containers that PrimaPak is poised to replace—both plastic and composite paperboard. Retailers also see it as an improvement upon existing flexible packaging options because its hybrid design provides stackability, enhanced product protection, and intuitive open/reclose features. On top of all that, this package merchandises beautifully, says Brandeisky.
As for consumers, he adds, they respond to the brilliant graphics, light weight, easy open/reclose convenience, and the reduced carbon footprint that is part of the PrimaPak value proposition. The sustainability angle is featured prominently on the front panel of the 2-lb Fisher brand package: "New! 70% less plastic than plastic jar by weight." Consumers are also instructed to "see side panel," where more information on the package's sustainability advantages can be found.
What makes Primapak unique is that it looks and performs like a rigid container even though it's formed and filled from flexible film rollstock on a pretty conventional looking vertical form/fill/seal system. The best way to understand its composition is to walk through the manufacturing steps behind the package. In this case we look at the Flavor Tree package specifically, but all PrimaPak varieties are essentially the same.
10-color flexo
First is reverse printing of a 70-ga BOPP on a 10-color flexo press. The printed BOPP is then adhesive laminated to a metallized PP. Finally, in a separate pass, a sealant layer is adhesive laminated to complete the base substrate.
Now comes the addition of the Prima Exo-Shell™ , the component that gives this package the look and feel of a rigid container. It's a clear cast sheet extrusion of polyester, made by Clear Lam, that is then die cut into blanks that have added to them a pressure-sensitive adhesive and a release liner. These blanks, whose thickness varies based on application need, are then fed into a proprietary system that applies them to the base film described above in a process that resembles the application of a pressure-sensitive label. The finished material is then wound into a roll that's ready to be fed into a packaging machine.
The film structures vary by application. In the case of the Flavor Tree pretzels, the finished rollstock consisted of 8-mil PET Prima Exo-Shell/70-ga BOPP/ink/adhesive/Metallized BOPP/adhesive/BOPP. In other cases where more barrier requirements are needed, such as with the Fisher brand nuts, the final structure consists of 10-mil PET Prima Exo-Shell/70-ga BOPP/ink/48-ga PET/2.25-mil PE/EVOH/PE.
The vf/f/s packaging machine receiving these materials sits a few hundred yards away from the Clear Lam laminating equipment, since Clear Lam produces both the Flavor Tree and the Fisher brand packages on a contract basis for Sanfilippo. The machine in this case is a PrimaPak Model P250, which uses an Ilapak Vegatronic 2000 platform. Product is fed from a floor-level hopper up into a 14-head combination scale from Ilapak.
Also fed into the Ilapak is the PrimaPak rollstock. "The film feed section is specially modified to handle this unusual material," says James Sanfilippo, President and CEO of Clear Lam. "The forming collar is modified, too. We need just the right tension on the material as it moves through the machine. Once we have the material over the forming tube in register, our tooling folds it and pre-creases it, which helps us create a very square package. The way we fold that Prima Exo-Shell system is where a lot of our IP resides. This is the component that provides rigidity—but only where it's needed. It also provides for the easy-open tab and the stay-open hinge feature. And all of this comes on a single roll of film shipped to the customer.
"We use an offset quad seal system to be able to actually hide the fin seal in the folds. So there is no fin seal showing. Then we index the film down and heat seal and tuck the material in a special configuration to create a cube. The film is then indexed down and the bottom seal is folded and sealed to complete the final package shape. Finally, the package is discharged onto a conveyor and brought to a secondary packaging area."
Stay-open feature
A minor detail in some ways, the stay-open feature of the top flap is intriguing because of how effectively it works and how much more functional and user friendly it makes the package. This feature, like the pull-tab on the flap, is die cut into the Prima Exo-Shell reclose label system during the converting process. What this die-cutting produces is a hinge of sorts, so when the consumer pulls the top flap all the way open and lets go, the flap doesn't fall back down. It leans back slightly on its "hinge" so that the consumer has easy access to the package contents. Yet when it comes time to reclose the package, the hinged flap makes it simple to do so.
Finished packages drop out the bottom of the intermittent-motion machine at a rate of about 40/min and are conveyed out on a Dorner conveyor. Case packing into corrugated shippers is done by hand.
The pneumatically actuated Ilapack vf/f/s machine now running at Clear Lam is described by Jim Sanfilippo as an "entry level" system. But in the final stages of development is a system whose actuation is done by a linear servo motor from Linmot. It operates at about 50/min.
A noticeable feature on Clear Lam's Ilapak machine is the orientation of the flexible film pull-down belts. In a conventional vf/f/s machine, these are typically located to the left and right of the forming tube. But in this case, the Ilapak platform allows for the pull belts to be behind and in front of the forming tube to make room on the left and right for specialized thermoforming tooling that Clear Lam has developed to produce a mechanical locking lid necessary for some powder applications or for items that have a lot of particulate. With the thermoforming tooling in place, the package produced has a snap-close lid rather than a peel and re-seal label.
Neither of the packages shown here gets the thermoform treatment, as both of them are of the peel and re-seal variety. To produce a package with a thermoformed snap-close lid, Clear Lam removes the forming collar and tube and replaces it with another set of tooling. It has two preheat stations and a thermoforming station.
This snap-close option is designed for use with granules, powders, or products that have particulates. Consumers use it in the same way they'd use a cap or lid on a tray. No commercial applications are out there yet, but Clear Lam has some interesting prototypes for, among other things, oatmeal products.
To see a spin + zoom 360° photo, click here.
Companies in this article