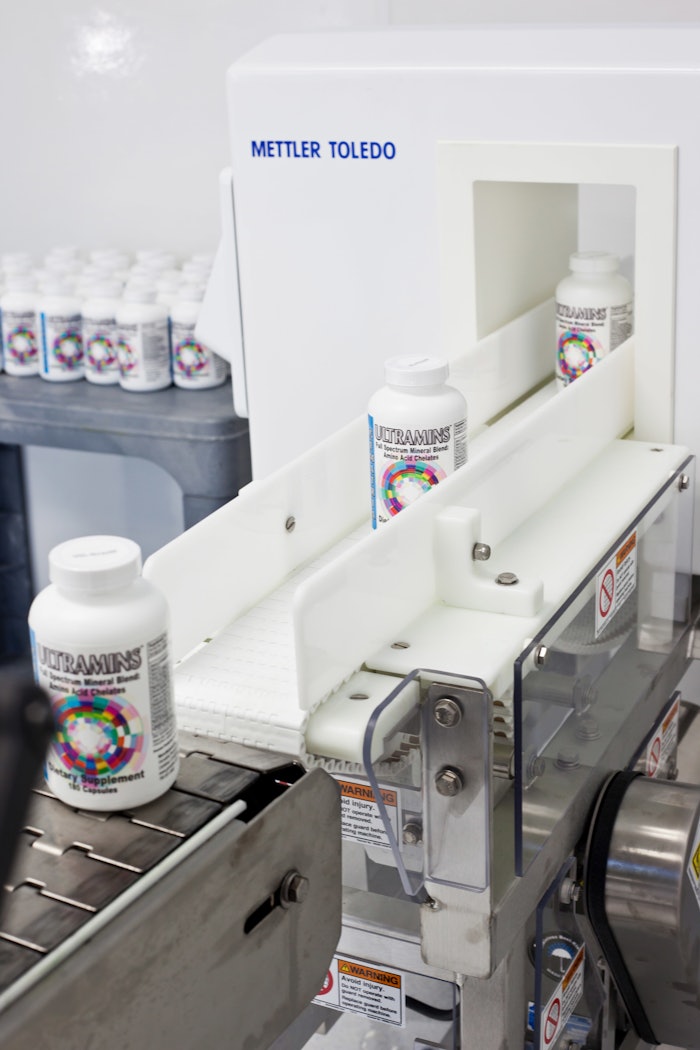 When Todd Ovokaitys, MD, founded Gematria Products in 1996, he set his sights high. The company's guiding principle focuses on creating the most technologically advanced and superior health-promoting nutritional supplements. The highest integrity, the best intentions, and the customers' health and wellbeing are in the forefront of all corporate actions. In support of these goals, Gematria in July 2013 installed a Signature Touch metal detector from Mettler-Toledo Safeline to help ensure the quality of their nutritional supplements and antioxidant formulas.
"In January 2013, we had our first [U.S.] FDA inspection. It went very well. It prompted us to consider a metal detector to achieve that final product quality check," says Wanda Sanders, QA Manager at Gematria, Carlsbad, CA. "I've worked in the food and nutritional supplement industries for many years, and I've had the best experiences with Safeline metal detectors. I went to the WestPack trade show [in Feb. 2013] specifically to look at them. Of course, I looked at other metal detectors while I was there.
"We wanted a reliable, high-performance metal detector that could handle all of our capsules and liquids in all of our packages. We also needed it to fit into our crowded packaging room on an existing line," adds Sanders. "We selected the Signature Touch metal detector from Mettler-Toledo Safeline." 
The Signature Touch metal detector is designed for easy integration into production lines. Its electronics platform offers sensitivity and stability while easing use. With its high-frequency detection coil technology and filtering techniques, the system identifies common ferrous and nonferrous tramp metal and the most difficult to detect nonmagnetic stainless-steel fragments and nonspherical fine wire contaminants.
"We've never had a single customer complaint at Gematria, so the metal detector wasn't installed to remedy any existing problems. It's simply a precaution," explains Sanders. "There is always the potential that metal contamination could come from raw materials or the manufacturing process, so it's good to check every finished product before it goes out the door. Our Safeline metal detector helps ensure that customers open the bottle and get exactly what the label says, with no surprises. As a line of defense, it limits our exposure."
Under the direction of Ovokaitys, who received his medical training at John Hopkins University, Gematria creates unique formulations using specialty raw materials like nucleic acids and amino acids combined with vitamins and minerals that offer a variety of health-promoting benefits. With 49 products now in Gematria's repertoire, manufacturing and packaging, as well as fulfillment, is centered at the company's Carlsbad facility.
"Our 25-kilo powder blender allows us to do production runs that are typically 500 to 700 bottles per lot, depending on the bottle count. If we need a longer run, we'll do multiple blending batches," notes Sanders.
On the packaging line, a semi-automatic, two-head filler counts and fills capsules into high-density polyethylene (HDPE) plastic bottles that range in size from 175 to 500 cc. From there, a desiccant and cotton are inserted and the bottles are capped with a neckband applied. The sealed bottles move to the metal detector for inspection. From there, the neckband is shrunk and an ink-jet printer adds lot numbers and expiration dates. Finished bottles are then quarantined until samples pass a variety of tests and the lot is released to inventory.
"We test the metal detector's sensitivity every morning before we bottle, which is usually once or twice a week [and up to three days/week]. We use test sticks to be sure the metal registers," says Sanders. "The sensitivity of our metal detector has been perfectly consistent, and we've had no false rejects, in part because we've had such good support and training to set up our metal detector to handle our challenging products. Our sales rep at Nevco has been extremely helpful every step of the way, and the technician that came out to train us was fantastic, too."
Designed for ease of use, the Signature Touch metal detector features a color touchscreen control panel and a single-pass auto set-up routine that enables the detector to be set rapidly with minimal training. It can hold 100 different product settings in its memory for quick and easy recall during changeovers while its "product clustering" capability minimizes the need for changes.
At Gematria, 49 different products are divided into six groups for the purpose of setting up the metal detector to maximize sensitivity and minimize false rejects. Says Sanders, "One of our products in particular was exceptionally tricky because it contains iron, copper, and magnesium, which will trigger the metal detector if it's not set up well. That product has its own setting."
The metal detector is password-protected to be sure unauthorized personnel don't inadvertently adjust important parameters. Individual operators can be assigned personal login passwords with their own user profile, which enables the detector to present the user interface in any one of 25 languages. This secure password access feature can restrict the depth of access. At Gematria, production line operators are given access to switch products while the QA Manager, Sanders, can go deeper and adjust the detection settings, if needed.
"We are very happy with our Safeline metal detector. It takes a weight off my shoulders, knowing that any potential metal contamination would be caught before the product goes out the door," says Sanders. "At Gematria, we are committed to formulating and manufacturing the highest-quality products. Our metal detector is an important tool in that effort."
Companies in this article