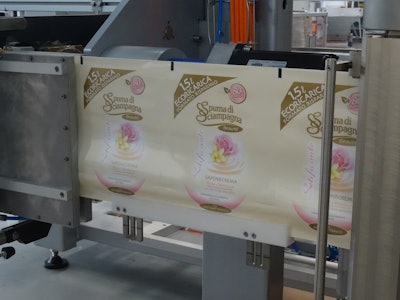 1. Ultrasonic sealing. Some f/f/s machinery manufacturers are debuting ultrasonic sealing capability, which has several advantages over traditional heat sealing. First, ultrasonic sealing has the ability to seal through certain food particulates. Ultrasonic technology suppliers claim this means a drastic reduction in rejected bags and a much lower chance of leakers, a critical issue for oxygen-sensitive products like shredded cheese or lettuce. There is also the potential for film savings. For example, on a typical pillow-style bag made with a laminated structure, traditional heated end seals are typically 3/8 in. wide. But ultrasonic seals are just 2 mm wide. That could mean a savings of more than 1/2 in. per bag. Some industries may be able to reduce the headspace in the finished bag, since having product in the seal area is no longer a concern. This could result in further film savings and machine increases. Also, there's the potential to reduce or eliminate the sealant layer in film structures, reducing material cost. Finally, ultrasonic sealing systems have the potential to "detect" whether a package has a potentially bad seal by measuring the time and power required to make an acceptable seal. If either parameter falls outside of a preset window, it could indicate a poor seal, allowing the bagger to reject the package for manual inspection. This could reduce or eliminate the requirement in some industries to manually check 100% of bags for leakers, saving labor and increasing throughput. The downside? Not all film structures can be sealed with ultrasonic technology. And ultrasonic sealing adds quite a bit to the system cost when compared with traditional heat-sealing systems.
2. Faster changeover and more reliability. Packagers are focused on reducing both planned and unplanned downtime. This is driving machine builders to reduce the number of adjustments for changeovers on their bagging machines. This can be as simple as adding color-coded centerlining features, clearly marking where to move a given knob or adjustment for precise, repeatable changeover settings throughout the machine. Or it can involve reducing the amount of time required to change a roll of film to less than 60 seconds.
3. Improved sanitation. A heightened focus on food safety has resulted in a demand for equipment that's easier to keep clean, with fewer or no cracks, crevices, or areas for particles to be trapped. In the dairy industry, a common standard referenced in machine-build specifications is AAA, which concentrates on cleanability, functionality, and durability. The recently implemented FDA Food Safety Modernization Act (FSMA) means that food companies are accountable to the Food and Drug Administration (FDA) to help ensure that their suppliers are making safe ingredients. It has two major themes: prevention and accountability. Prevention means that food companies need to have controls in place during manufacturing to assure the safety of their products and to prevent problems (not just react to them after-the-fact). New cleanability guidelines for food packaging machinery are a big part of the new regulations.
4. Better networking. Many f/f/s equipment manufacturers are beginning to make it easier to network their machines into a plant supervisory control system. A key benefit is compatibility with centralized plant automated data collection systems. This can lead to enhanced line control—in some cases, the f/f/s machine can slow down or speed up automatically based on signals from upstream or downstream equipment, ensuring a smooth and balanced production line.
5. Advanced servo technology. Proprietary "black box"-style controls are on the way out, and off-the-shelf controls are in. Many machine builders are beginning to switch to integrated servo drive/motor units, where the drive is literally built into the motor. Benefits include less wiring for the machine builder, which can reduce or even eliminate the control cabinet, as well as simplify troubleshooting. Also, the drive/motor combos signal when they begin to fail, and make it easier to quickly swap out a bad motor/drive to quickly resume production. Servo technology itself is increasing to the point where machines can produce bags at higher speeds and accuracies. Better diagnostics help detect and prevent potential failures. Controllers that accommodate open standards such PackML are gaining traction, thanks to flexible packaging-specific software functionality, such as controlling film registration or regulating sealing jaw temperature.
6. Higher speeds. Some horizontal pouch-filling equipment utilizing multiple lanes is approaching speeds of 1,000 packages/min. This capability makes it possible to entertain the idea of replacing high-speed machinery infrastructure currently running glass jars and metal cans. Vertical equipment continues the trend toward continuous-motion operation to achieve speeds upward of 200 bags/min for some laminated film structures, and up to 130 bags/min for low-density polyethylene.
7. More flexibility. For years, the single most important driver in f/f/s machine design was speed, often at the expense of flexibility. Machinery had to be purpose-built for specific bag styles or sizes to achieve very high speeds. Today, however, flexibility is the primary driver. Machinery builders are being asked to provide machines that can produce multiple bag styles, sizes, film structures, and reclosable features, without sacrificing speed.
Liked this article? Download the entire playbook here.