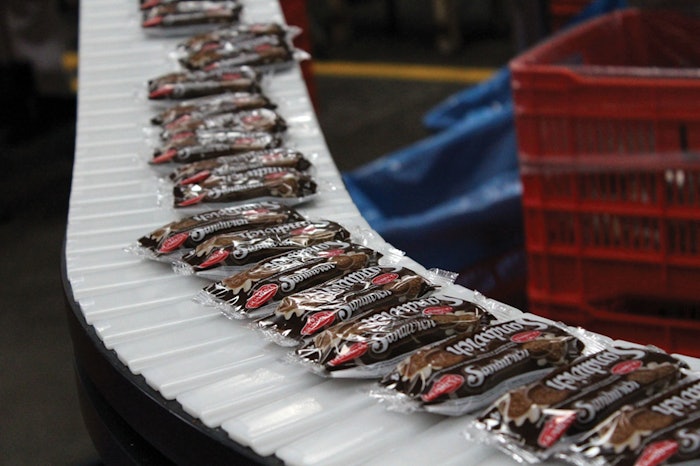 Perched in the scenic mountains overlooking Guatemala City, the Molinos Modernos facility in San Jose Pinula is the largest cookie and cracker plant in Guatemala. Its bakery products supply the local market and are exported throughout Central America and the Caribbean. In operation for more than 30 years, the company has built strong brands such as Can Can cookies on a reputation of high quality and fine taste. 
Molinos Modernos is a division of Corporacion Multi Inversiones and is dedicated to the production of products derived from wheat and cereals. As one of the largest milling groups in Latin America, it also produces the flour used in its cookies and crackers. This vertical integration from flour production to cookie baking helps ensure that its high-quality standards are met. Equally important to top-quality ingredients is a consistent baking and packaging operation.
Both Plant Manager Mario Antonio Ivic and Maintenance Manager Alejandro Cordon attribute their plant's long-term success to the high performance of their machinery and a commitment to preventive maintenance. Termed "Gesman" in Spanish, their philosophy is simple: Maintenance should be preventive and performed on a set schedule. This practice has allowed much of their machinery to consistently operate at a high level for more than 20 years. 
However, their diligent maintenance and long machine life recently created an unforeseen challenge with one of their cookie lines. The horizontal flow-wrapping machines that package their four- and six-count sandwich cookies, such as the popular Can Can brand, had outlived the manufacturer that originally built them. Because the wrapper manufacturer had gone out of business, Ivic and Cordon wanted to avoid a future situation where needed parts would not be available and thus decided to replace the wrappers.
Integration is key
During sandwich cookie production and packaging at the Molinos Modernos plant, a Peters Equipment creamer from Peerless Food Equipment places the cream filling between two cookie halves, then stacks and places the cookies into the flow-wrapper infeed chain. When the company began looking for new flow-wrapping machines, its creamers still functioned efficiently, in large part due to its strict maintenance program, but Ivic knew that integrating the machines into new state-of-the-art flow wrappers would pose a challenge. 
As a result, the search for new flow wrappers to package the cookies came with specific requirements. "The most important part of this project was seamless integration with the existing Peters creamers," states Ivic. "We were worried because we previously had bad experiences integrating new equipment with our existing machines."
In looking for new equipment, Ivic and Cordon narrowed down the number of suppliers they thought could handle the job to three contenders. In the end, they selected Bosch Packaging Technology and their Pack 201 flow wrapper for a variety of reasons, including their successful previous experience with Bosch wrappers, Bosch's long-term stability, and the wrapper's robust design and state-of-the-art technology. "Bosch was the best choice for us," says Ivic. 
Molinos Modernos has been working with Bosch for more than 13 years, including using Sigpack and Doboy flow wrappers—both Bosch brands—in their plant. "Not only does Bosch provide top-quality machines, but its service is terrific," states Alejandro. "When we need spare parts, the response from Bosch in the U.S. and Mexico is very fast. This is critical because we need the lines to run 24 hours a day, six days a week."
Fast and flexible
Despite the challenging integration, Bosch's experience integrating flow wrappers into creamers of all types facilitated installation of the two Pack 201s in little more than a week. Each flow-wrapper leg has achieved speeds up to 310 packs/min—faster than the required rate of 280/min.
Explains Rebeca Long, Bosch's Latin America Sales Manager, "Whenever integrating new technology into existing equipment, where the creamer needs to take signals from the wrapper, there also needs to be significant controls programming completed. Though most of the programming is completed at the factory, the technician needs to be able to troubleshoot during installation. Bosch knows how important it is to reduce delays during the installation process."
The model Pack 201 has the flexibility to handle multiple pack configurations, allowing it to accommodate two Can Can cookie formats: four cookies (two stacks of two), and six cookies (three stacks of two). Another benefit is the machine's self-centering film reel holders that quicken changeovers. This is important because some of the brands packaged on the line utilize a metallized film, while others use polypropylene film.
Given Molinos Modernos' maintenance practices, the Bosch flow wrappers will be around for quite some time. "We value a long relationship with our machine providers," says Ivic. Partnering with a major supplier such as Bosch will allow the company to avoid the situation that caused it to purchase new flow wrappers in the first place.
"Our experience with Bosch makes them first on our list of providers, and we expect to be partners for a long time."
Companies in this article