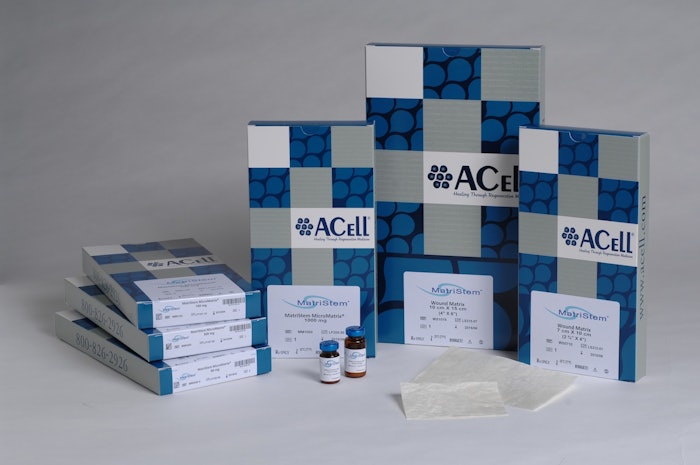 Arguably one of the most exciting and promising areas of medical treatment is that of regenerative medicine. In fact, last March, a finance.yahoo.com article cited TriMark Publications with publishing a report forecasting that the regenerative medicine market will "catapult to over $35 billion by 2019."
The article categorizes regenerative medicine into tissue engineering, biomaterials, and biomolecules, e.g., scaffolds, growth factors, and stem cell therapy. ACell, Inc. is a Columbia, MD-based developer, manufacturer, and marketer of "next-generation regenerative products," according to the company's website. "Our medical devices are cleared for a variety of indications and are marketed under the brand name 'MatriStem." These products are produced at the company's manufacturing sites in Columbia and Lafayette, IN, marketed through a direct sales force to physicians in the U.S.
"Our products are based on our proprietary urinary bladder matrix, or UBM, technology platform," explains Rodney Bosley, ACell's President. He explains, "Regenerative medicine is an interdisciplinary field that combines the technologies of biology, engineering, and traditional medicine to develop strategies to repair or replace diseased or injured tissues and organs."
Bosley offers the following background details on the subject: "When not responsive to the standard of care, complex wounds and surgical soft tissue repair can lead to a variety of adverse reactions, including scarring and infection. Synthetic wound and surgical products were initially developed to help the body heal itself through scarring. Even with the development of synthetic products, complex wounds and surgical soft tissue repair remained difficult to manage, which led to the development and introduction of ECM-derived scaffolds."
He says there are various ECM-derived scaffolds available, including products "using different tissue sources and processing techniques that may limit the constructive remodeling of the body. These existing regenerative medicine products generally consist of a scaffold with or without cells or other proteins," he notes. "Our MatriStem products address the limitations of existing regenerative medicine products and are often used to manage complex wounds or surgical soft tissue repairs where the standard of care and existing competitive regenerative therapy treatments have not been effective.
"Our proprietary UBM platform is based on an extracellular matrix, or ECM, made from porcine urinary bladder. As an ECM scaffold that includes a distinctive epithelial basement membrane and other collagens, carbohydrates and proteins, MatriStem is gradually resorbed and replaced by the patient's body following implantation. The result is site-appropriate tissue formation—generally known as constructive remodeling—where scarring typically occurs."
ACell manufactures its MatriStem products in sheet form and particle form for complex wound management, and in two-, three-, six- and eight-layer sheets. Manufacturing is completed in a controlled environment.
"Our Lafayette facility processes all of the material used in our MatriStem products and manufactures the majority of our products. Our facility in Columbia handles final manufacturing," says Bosley. At the Columbia location, third-party suppliers provide raw materials.
Bosley says the MatriStem products are classified by the U.S. Food and Drug Administration as medical devices. They are produced on eight production lines operating from five to seven days a week. Four of the production lines are specific to all devices and the remaining four lines are device-specific. Initial packaging is performed at the end of each of these lines and the devices are then transferred to a final packaging line. 
As a private company, ACell prefers not to divulge specifics on packaging materials, machinery, or suppliers. Bosley does explain that sheet devices are manually packaged within two DuPont Tyvek® pouches, which are heat-sealed. The Tyvek-pouched devices are labeled and placed into boxes for final labeling. 
"Our micronized particles are packaged in glass vials that are filled utilizing a filling machine and manually capped," explains Bosley.
All devices are stored at room temperature with a shelf life ranging from six months to two years. These devices are packed into shipping boxes with plastic wrap or corrugated paper, then shipped to customers. Extreme heat for a prolonged period of time can affect the mechanical properties of our devices.
"Packaging is significant for our devices and we have hired a packaging engineer who is currently validating trays for some of our sheet devices, as well as new outer boxes, and is evaluating our current packaging and vial caps for alternatives.." Bosley says a new addition to the plant will be producing commercial products by the fourth quarter of 2014.
Companies in this article