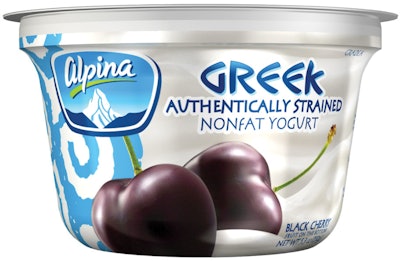 Since 2006, U.S. sales of Greek yogurt have been staggering, growing from $60 million a year, according to a 2011 report from NPR, to nearly $4.5 billion in the 52 weeks ending May 13, 2012—a figure from global research provider Mintel. Bringing innovation to a stagnant category, Greek yogurt has become hugely popular among those consumers trying to lead a healthier lifestyle, with its low-fat, low-carb, and high-protein content. However, the biggest driver of consumer sales, at 58%, is taste, reports Mintel.
One company that has perfectly positioned itself to meet the expanding consumer craze for Greek yogurt in the U.S. is Alpina Foods, the U.S. arm of Colombia-based dairy company Alpina Productos Alimenticios S.A. Opening a new, 41,000-sq-ft plant on 10 acres of land in Batavia, NY, in September 2012, Alpina Foods processes and packs its own brand yogurts as well as offers co-packing services, for both Greek and traditional yogurt varieties.
Since the plant finished its first production run in October 2012, business has been so strong that Alpina Foods was forced to add a second filling machine.
"We started out a little faster than I was planning," says Roger Parkhurst, Director of Operations for Alpina Foods. "We went to a three-shift operation within three months of opening. It's not what we had originally forecast. It's a good thing, but it was a challenge."
Going Greek
Alpina is a Swiss-born company whose founders settled in Colombia in 1945 to craft artisan cheeses. Today the company offers more than 500 consumer products, including baby foods, juices, desserts, cheeses, smoothies, and yogurts to South American and U.S. consumers. In 2009, the company opened a U.S. headquarters in Miami, an area chosen for its robust Hispanic population. The Batavia yogurt facility is Alpina Foods' first U.S. production operation.
"The plant was not originally supposed to be for Greek yogurt," explains Parkhurst. "The primary product was going to be a traditional yogurt, Bon Yurt, which is the number one-selling yogurt in Colombia. We also had a Greek line called Revive.
"However, when our salespeople went out and started to promote the products, they found that customers didn't even want to spend time with them unless they had a Greek yogurt. So we had to restructure our focus and make Revive our dominant rather than our secondary product.
"The nice thing was that we weren't established here in the U.S. as a non-Greek yogurt company, so we didn't have to change consumers' mindsets."
Among the features of Alpina Foods' Greek yogurt product that differentiates it from others is that it is an authentic, strained Greek yogurt versus a Greek-style product, which is not strained, and Alpina Foods' yogurt comes with granola toppings that are certified gluten-free. In July 2013, Alpina Foods relaunched its Revive brand under the Alpina Greek with Artisan Granola brand name, in nine flavors, with toppings prepared by Udi's Gluten Free. The company also offers nine varieties of Alpina Greek without toppings.
Says Parkhurst, "We are not using a unique [yogurt] culture per se, but the culture that we are using and the way we are using it has given us a creamier texture than what you might see with other Greek yogurt products."
Batavia, located in western New York, was chosen as the site for the plant for several strategic reasons, Parkhurst says: It is an area that is very strong in dairy; it is within a one-day's drive of 25% of the U.S. market; and the area's economic development council provided Alpina Foods with tremendous support.
In accordance with Alpina's "collective prosperity" philosophy, the plant uses local suppliers for equipment, materials, and ingredients, whenever possible. "If the community around you is not growing, then your company can't succeed," says Parkhurst. "So Alpina's philosophy is to help the community succeed, so that we will succeed along with them."
Equipped for success
The Alpina Foods yogurt facility is laid out in a linear fashion, beginning with the receipt of raw materials and ending with packaging. It takes approximately seven hours from the time ingredients are received until the finished product. The plant comprises a raw goods area, a batching room, a pasteurizer room equipped with Tetra Pak processing equipment, and an area for packaging.
In the packaging area, a two-stage, six-lane MP862 hot filler from Modern Packaging, Inc. handles 4- and 6-oz polypropylene cups at speeds from 200 to 260 cups/min. The cups are supplied by Grupo Phoenix with full-body shrink-sleeve labels already applied. The automatic in-line filler takes cups from a magazine that is filled manually and drops them in rows of six into a tray below. Cups are filled six at a time, with no-drip, cut-off nozzles, after which they are indexed to the foil lidding section, where the lid is applied. The cup is then advanced to a heat-seal station where the lid is sealed.
According to Parkhurst, changeover from one cup size to another takes approximately 45 minutes and involves changing out the tray that carries the cups through the machine. "Currently we limit the changeover sizes by day," Parkhurst says. "So we will run two or three days a week on the four-ounce cup, and then we will run the balance of the week with the six ounce, for example."
A new 10-lane servo-driven filler from Osgood has the extra trays "built right into the system," says Parkhurst, "so it's basically just a matter of turning a switch." The Osgood filler operates at speeds from 400 to 460/min. Parkhurst estimates that with the two fillers, the company's maximum output is now somewhere around 39,000 units/hr, providing them with excess capacity for co-packing opportunities.
Once the cups have exited the filling machine, operators manually add a clear plastic dome with toppings to each cup. In the case of the Osgood filler, domes are applied automatically. The domes are also supplied by Groupo Phoenix and are filled and then sealed with a foil lid in-house using a single-cup model MP737 rotary machine from Modern Packaging. Parkhurst explains that the main challenge with filling the domes internally is handling allergens. "Because you are dealing with different toppings like nuts and seeds, you have to be cognizant of that at all times," he says. "So from a quality standpoint, it becomes very critical to manage the process."
After the domes are added to the cups, a four-cup, 80-mm sleeve applicator with manual infeed from Douglas Machine is used for some products to create 4-ct multipacks, wrapped with a paperboard sleeve. The multipacks are then packed in corrugated cases by hand and are conveyed to a Wexxar Bel 252 Snap Folder that closes and seals the case flaps. Finished cases are then manually stacked on a pallet that is placed in cold storage until shipment.
A plan for the future
As Parkhurst shares, installation and startup of the new equipment went fairly smoothly, with just the normal hiccups, and the operation has been running optimally since. "We are using state-of-the-art equipment on the processing side and the filler," he says. "The only area where we regress would be in the packaging room, where we are doing it all by hand. But we do have plans to automate that process as well."
Sharing insight from his experiences starting up a new yogurt plant, Parkhurst advises, "Get involved as early as you can in the design so that you can build in all the sanitary designs upfront—it's always worth it." It's also critical to anticipate future needs such as expansions, he adds, so that you can build that into the design as well. He notes, "Good planning and understanding of where you are going will help you with future expansions."
Lucky thing Parkhurst planned for this possibility too. In July 2013, the company announced its intent to purchase an additional 10 acres of land adjacent to its plant, which will double its footprint. Plans for the land will be announced in the next 18 to 24 months.
Companies in this article