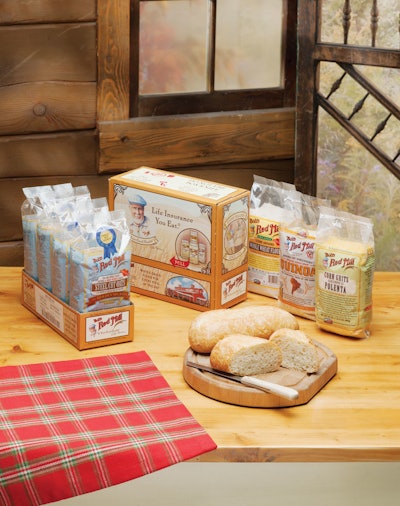 What does a company do if it's experiencing double-digit growth for the last decade or so? Add new packaging lines is one of the things it does. And if the lines that are added meet and exceed expectations, why not make each new one look a lot like the one that preceded it?
At Bob's Red Mill (BRM) in Milwaukie, OR, that's pretty much what's been going on. The firm just fired up its newest packaging line for its broad range of whole grain foods, and to a great extent, Line 21 resembles many of the lines that have preceded it. That includes equipment made in house, like the indexing conveyor that meters filled bags into an end-of-line cartoner. And why is this indexing conveyor made in house? Vice President of Operations Dennis Vaughn explains.
"It has properties that we think are especially helpful in preventing damage to the flexible packages it's handling," says Vaughn. "I'm sure a supplier out there somewhere could build such things for us, but part of the fun to us is designing and building equipment ourselves when it's appropriate. It challenges our tradesmen. I guess it's another one of those things that makes this company unique, sort of like the company ownership. I mean, how many other businesses this size are given to the employees by the company founder through an Employee Stock Ownership Program?"
One of the constants in many of the packaging lines at BRM are the cartoners, which have been supplied by Econocorp for about the past 12 years. According to Vaughn, The BRM/Econocorp relationship has been strengthened over the years by the insights of those BRM tradesmen he talks about.
"Our people have always looked for ways to improve cartoning efficiency, uptime, and ease of changeover," says Vaughn. "They communicate their ideas to Econocorp, and Econocorp has always been excited to receive their feedback and recommendations. Among the things it's led to is that this newest cartoner is easier than ever to change over from one size bag to another. Econocorp has taken our suggestions and put them to use, which has resulted in progressively more user-friendly and efficient pieces of equipment."
Line 21 was assembled with assistance not only from the packaging machinery manufacturers whose equipment is in it but also from R.L. Scott & Associates, the distributor that represents Econocorp and other OEMs in the Oregon region. The new line runs at about 40 bags/min. Vaughn says it's not that speed isn't important, but the flours and grains that are being packaged don't lend themselves to high-speed packaging the way nut products or M&Ms might. "Efficiency, ease of changeover, uptime, and size of footprint have always been more important to us than bags per minute," says Vaughn. "Econocorp has delivered consistently on all of these. And on this latest machine, they've added toolless changeover. Plus they've further reduced the lead time required to get a machine from them to us."
Two bag sizes
The newest line at the Milwaukie plant is used for two different bag sizes, a small and medium. Because the density of its products varies so greatly, the small size might weigh anywhere from 8 to 24 oz, while the medium size ranges from 30 to 64 oz.
At the head of the line, an All-Fill auger filler is mounted above a Matrix vertical form/fill/seal system. The roll-fed film going into the Matrix machine is supplied by Portco, but its composition is considered proprietary. "We have such a wide variety of products, and some of them present static issues that others don't," says Vaughn. "The flexible film is customized in such a way that those static issues don't present a problem."
As flexible film is fed through the Matrix machine, a thermal-transfer printer from Domino puts date-code information on the flexible film. "Like the Econocorp cartoners, we've used Matrix for about 12 years now, and they do just what we need them to do," says Vaughn. "Throughput, reliability, and affordability are all what we look for. I think we now have 18 Matrix systems here in the plant."
Dropping out of the Matrix bagger, pouches are conveyed through a metal detector supplied by Ceia, which is represented by Heat and Control. An Ishida DACS checkweigher, also from Heat and Control, is next, and it's followed by a top-and-bottom labeler from Code-in-Motion.
BRM is using fewer labels over the past few years. If a product sells in sufficient volumes, printed film makes more sense. But for products that sell in modest volumes—something just being introduced, for example, or products sold to export markets—in-house printing on a Speedstar tabletop digital printer with Memjet print heads makes more sense. BRM bought its first Speedstar this past July and has installed a second since then.
Just past the top-and-bottom pressure-sensitive labeler is a circular accumulation table onto which pouches are diverted if downstream equipment goes down for one reason or another. Next is BRM's own indexing conveyor that gently pushes bags at a right angle into the buckets of the Econocorp cartoner's infeed conveyor. Superintendent of Mechanical & Electrical Operations Zeek Szidon echoes Vaughn in his appreciation for the newest of 12 Econocorp cartoners in the Milwaukie facility.
Improved changeover
"The toolless changeover came at our request," says Szidon. "It used to take a half hour to an hour to change from one carton size to the other. Now it's a few minutes. Why? Because Econocorp paid attention to our feedback and incorporated our suggestions into the making of a better machine. The other improvement we've made over the years is in vacuum pickup. We used to have one venturi for four suction cups in the carton pick and erect operation. We've doubled that to one venturi per two suction cups. It results in a more secure vacuum pick of carton blanks from the magazine."
The intermittent-motion Econocorp cartoner picks carton blanks from the magazine feed and erects them before horizontally pushing four bags from a bucket conveyor into each carton. Flaps are tucked closed and sealed with hot melt and the finished four-bag carton is gently transferred at a right angle onto a takeaway conveyor.
The last piece of automated equipment in the line is a digital thermal ink-jet print station from HSA-USA that prints product ID, lot #, date code, bar code, and other variable information on two sides of each carton in an unprinted blank rectangle designed specifically to hold this information. "We like this digital system because we use different colors on the cartons—green for organic, red for Canada--and the snap-in ink-jet cartridges make it so easy to go from one color to the next," says Szidon.
Supplied by International Paper, the cartons are made of a single-wall B-flute corrugated and have a preprinted linerboard with graphics printed flexographically in seven colors. A tear strip built into the carton lets supermarket personnel quickly and easily remove the top of the carton with no need for knives that inevitably seem to damage the flexible pouches inside the carton. Once the top is removed, the bottom portion of the carton is placed right on the store shelf, so the cartons are shelf-ready.
So why the preprinted linerboard on secondary packaging that only the supermarket stock boy sees? "Somebody along the value chain will see it," says Vaughn. "Besides, the cartons are so attractive that they are used as aisle-end caps in the store."
Cartons exiting the print station are palletized by hand and then moved by fork lift to a Lantech stretchwrapper. Some thought has been given to installing an automated palletizer, possibly one that is located remotely and can handle multiple packaging lines. But for now the return on investment is difficult to prove. And besides, says Vaughn, palletizing by hand gives operators one more chance to touch the product and visually ensure that it's ready for the marketplace.
Running now since September, the new line went in just as smoothly as the ones that preceded it. "Maybe because we stay so consistent with the equipment we use, the installations have gotten to be like clockwork," says Vaughn.
Companies in this article