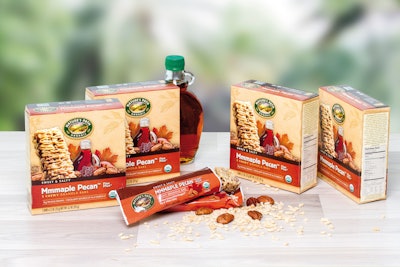 Since its beginnings in 1985, Nature's Path has prided itself on providing a variety of 100% percent organic food products, including cereals and granola bars. Based in Richmond, BC, Canada, the family-owned company produces products that are both Fair Trade- and non GMO-certified. This has benefits up and down the supply chain, from farmer to consumer. Health-conscious consumers of all ages soon caught on to the company´s delicious and nutritious products—so much so that demand began to outpace production.
In particular, Nature's Path's granola and rice bars, such as the Peanut Choco Granola Bars and Chocolate Crispy Rice Bars, became so popular that the company needed to upgrade its packaging line to boost output. The delicate and sticky granola bars often broke on the existing machine, jamming the system and necessitating frequent downtime for cleaning.
Nature's Path partnered with Bosch Packaging Systems and manufacturers' representative Charles Downer & Co., Ltd. for a completely reengineered bar-packaging line for its Blaine, WA, facility that doubled processing speed and quadrupled run time, resulting in up to six times the output of the previous solution.
Seamless transition
To find the best solution for the challenging rice and granola bars, Nature's Path approached several packaging companies, including Bosch, and surveyed their solutions. Nature's Path had previously worked with Bosch to wrap its signature toaster pastries using a Doboy flow wrapper. It became clear that Bosch's bar-packaging line provided the most advantageous and efficient system.
Nature's Path's previous system featured one wrapper, a cartoner, and a case packer with manual palletizing. The new system, a Bosch bar-packaging line, is designed as a single, seamless system, rather than as a chain of machines. To achieve a reliable and optimized production flow, the speeds of all components in the bar-packaging line are balanced to eliminate bottlenecks and minimize downtime. As a result, the completely automated line runs at speeds to 500 products/min—more than double that of the previous solution. In addition, the new wrapping material dimensions conform closer to the actual product, reducing the material needed and resulting in a 6% savings on primary wrapping and tri-seal carton materials. The bar-packaging line has been so successful that Nature's Path has plans to add a second leg to further increase production.
"The bar-packaging line is meeting all original design specifications," says John Oucharek, Director of Engineering at Nature's Path. "We're now positioned to add a second leg if production capacity requires it."
Sticky situation
While consumers may treasure the gooey, sticky characteristics of Nature's Path's rice and granola bars, these features of the snack bars present particular packaging challenges. Because the products are so sticky and prone to breakage, production on the previous equipment had to be halted every two to three hours due to extensive buildup of damaged products. The new bar-packaging line's noncontact infeed guides the product with minimal breakage, allowing the system to run at double the speed of the old line and up to eight hours before cleaning. This quadruples production time and output by up to a factor of six.
Because Nature's Path packages different products on the same system, easy and thorough cleaning was of paramount importance to eliminate all traces of potentially allergy-causing ingredients. The bar-packaging line features standardized parts and components, as well as high visibility and accessibility, that simplify cleaning and maintenance. All belts, end rollers, catch pans, and scrapers can be removed without tools for expedited cleaning. In addition, the bar-packaging line offers the flexibility needed for speedy product changeovers.
Smooth operator
With the fully automated bar-packaging line, Nature's Path was able to reduce manpower from eight operators to two, allowing the company to redirect workers to higher-skilled tasks. All interfaces and components, including the distribution station, accumulator, flow wrapper, and top loader, feature a uniform design. This makes operation of the entire line as simple as operating a single machine and reduces the risk of operator errors, which can cause lengthy and costly production stoppages. To ensure that the line functions with maximum overall equipment effectiveness (OEE), Bosch trained the operators during installation.
The primary wrapping system comprises several components, beginning with the single-leg Product Distribution System (PDS). The bars begin their journey at the Head of Line (HOL) consisting of an entrance conveyor, which is equipped with a servo-driven row aligner, a pullnose dump that inspects row geometry and metal contamination, and a bidirectional evacuation conveyor to discard unacceptable rows or contaminated products. As a result, the HOL components ensure that only top-quality products reach the packaging system.
Then the bars travel along a 90-deg curve conveyor to a Smartbelt row-regulation conveyor that facilitates constant product feeding, and to the distribution gentle direct (DGD) crossfeed station with a storage and recycling belt with direct refeed function. The DGD offers several cleaning and maintenance advantages, such as belt changes in under 20 minutes, tool-less disassembly in under five minutes, and easy access for allergen cleanup. This allows Nature's Path to achieve maximum uptime and the highest food safety standards.
The bars continue to the primary wrapping leg, which turns the products 90 deg via a product-turning unit. Each product then goes through the product alignment, inspection, and rejection unit, which measures length, width, and height to ensure that each bar meets required standards. The bars then go through the noncontact double pullnose in-line feeder, key to preventing products from sticking together, which would result in faulty indexing and halt production.
Bosch's patented feeding positioning chain (FPC) positively (no friction/no buildup) transports the bars directly into the folding carton. This minimizes the need for cleaning due to product buildup while ensuring correct positioning of the bars into the wrapper, maximizing uptime and performance. The FPC also features transparent guards that grant a clear view of product buildup, allowing operators to react early.
The bars then travel to the Sigpack HCM flow wrapper, an electronically controlled servo wrapper equipped with cold-seal film. The Sigpack HCM features an automatic reel splicer that allows operators to simply place a new reel onto the splicer while the machine is running. The flow wrapper has precision splicing at speeds to 120 m/min, reducing waste and saving material costs.
Speedy cartoning and retail-ready packaging
The now-wrapped bars are ready for the TTLx high-speed top-load cartoning system, consisting of the high-speed TTL top loader, designed to accommodate a small footprint. The TTL top-loading platform features the product infeed feeding wheel and two independently driven belts for product indexing and grouping. The TTF modular carton former and the TTC modular cartoner then wrap the cartons around the grouped products and close them by gluing the flaps in a tri-seal style. The TTLx cartoning system can package up to 120 cartons/min and features no change parts for easy and fast changeover, as well as tool-less spindle adjustments.
Nature's Path also selected Bosch's Elematic 3000S case packer for speedy retail-ready packaging that resulted in a 15% reduction in corrugated case material. The operator simply programs format selection, position, speed, timing, and glue position via a touch panel. Additionally, the Elematic 3000S can package up to 25 cases/min. The case packer is able to create 35 different styles of cases, including wraparound and two-piece retail-ready display cases, allowing for further possibilities for point-of-sale differentiation. Lastly, the finished cases are transferred to a Euroimpianti palletizing system.
Nature's Path has been very happy with the complete bar-packaging system and is positioned to further accelerate production to 750 products/min. "Bosch's complete line solution was perfect for increasing production of these challenging bar products," says Oucharek. "With Bosch as a single-source supplier, everything is simplified—from installation through to production."
Companies in this article