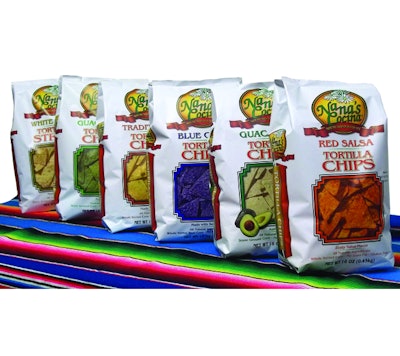 Sourcing high-quality, locally grown corn, Abuelita Mexican Foods, Manassas Park, VA, specializes in the production of hand-crafted tortillas and tortilla chips containing no trans-fats or artificial ingredients. The company's primary markets traditionally have been institutional foods and some specialty stores. For the tortilla chips, shelf life ranged from 55 to 75 days.
Originally the tortilla chip products were being packaged in preformed paper bags, using company-designed semi-automatic packaging operations. Five to seven Abuelita team members were assigned to the filling, sealing, check weighing, and case packing operations. The pre-made bags were difficult to fill accurately and to seal. Typically, every four out of ten bags were rejected because of poor seals or under- or over-weights. Scrapping four out of ten bags added 40% to the company's packaging materials costs, and 6%-8% of product was wasted in the repackaging procedures.
As a result, Abuelita's tortilla chip processing operations had to be throttled back nearly 50% from optimum throughput to accommodate the weakest link in the production chain--packaging. Total output of the two semi-automatic packaging lines averaged 1200-1300 pounds of bagged product per hour.
Ramping up for retail
Abuelita had ambitions to expand into larger retail markets and had received some inquiries from such markets. The company realized that, in order to tap into these new opportunities, some packaging systems upgrades would be needed to help propel the expansion and improve overall packaging efficiencies. In addition, the company needed to extend packaged product shelf life in order to appeal to grocery store chains and big box stores.
Abuelita's VP of Operations Eugene Suarez, Jr., notes, "Bringing in high-speed vertical form-fill-seal machines and switching from preformed paper bags to a range of film bags was a scary proposition. While it opened the door to opportunities for expansion into the retail food market, it also presented challenges."
Suarez knew that successful installation of new, state-of-the-art packaging machinery had to be well thought out and well executed. And the equipment selected would have to be rugged and easy to operate, maintain, and changeover. He attended Pack Expo and made contacts with several potential packaging machinery manufacturers. After some searching, Suarez found Abuelita's packaging partner—Matrix Packaging Machinery, a Pro Mach company. The model of choice was the Matrix Elete vertical form-fill-seal system. The stainless steel frame equipment features automatic film tracking and optional printer/labeler add-ons. The system incorporates Allen Bradley MicroLogix, touch-screen operation, and it can perform temperature-controlled edge or center back seals.
The Elete allowed Abuelita the capabilities to produce both pillow packs and gusseted flat-bottom bags in various sizes. It also provides fast changeovers, gas flush for extended product shelf life, and availability of off-the shelf equipment components and replacement parts that can be sourced quickly. Matrix helped mock up bags for Abuelita to show to key customers to get their reactions to the new packaging design. Matrix also worked with Abuelita's polypropylene and metallized polypropylene film suppliers to ensure that the films would perform well on the high-speed Elete f/f/s system. And finally, Matrix helped train packaging machinery set-up and operating personnel on-site. Training is particularly crucial for set-up personnel who daily ensure that the machines are adjusted to meet normal film variations.
Suarez notes, "One bag we produce is made from a combination of matte gloss printed polypropylene film and polyethylene sealant film. The matte gloss allows for a clear window and gives a paper-like look to the rest of the bag. The second bag structure is a lamination of matte polypropylene, metallized polyester, and polyethylene sealant. The metallized polyester layer provides moisture and gas barrier for enhanced product shelf life. All of our films are purchased from Bryce Corp.
"All of our bag graphics and prepress services are done by Cyber Graphics. They also helped us redesign our packaging and provided the photography."
Multi-benefit results
Today there are two Elete machines at Abuelita, and Suarez is considering addition of a third machine. The company has developed a solid customer base of grocery stores, restaurants, specialty stores, and big box retailers and has expanded its marketing range up and down the East Coast and into northwest Ohio.
The nitrogen gas-flushed metallized PP bags have increased average shelf life of the tortilla chip products to 180 days. That's up from 55 to 75 days for the previously used, non-gas-flushed paper bags. Abuelita uses non-metallized polypropylene bags for restaurant products because those products require shorter shelf lives.
The company also has improved bag sealing and filling weight efficiencies with the Eletes. Reportedly, 98% of the bags produced now have the correct weights and are sealed properly, and overall product and packaging waste has been reduced by more than 85%. Two team members now work each packaging line versus the five to seven workers needed on the paper bag lines.
On the two current Elete lines, Abuelita produces more than 26 SKUs in seven bag sizes. Production now is more than 2,000 pounds of product packaged per hour--up from 1200-1300 under the old paper bag system. The tool-less changeover enables rapid set-up of a new run of bag configurations. This is crucial because Abulelita now has a much wider range of bag configurations.
Suarez says, "We are a different company today in terms of overall volume and customer mix. It's quite amazing to consider just how much impact packaging changes and automation upgrades can have on the growth of a small business."
Abuelita Mexican Foods installed its first Matrix Elete vf/f/s machine in late 2010. The second was up and running in early 2012. Suarez reports, "We hope to purchase our third Elete bagger by the beginning of 2014. We are planning to set up a larger processing line that will require two form/fill/seal machines side by side to handle the output."

Companies in this article
Videos from Matrix Packaging Machinery