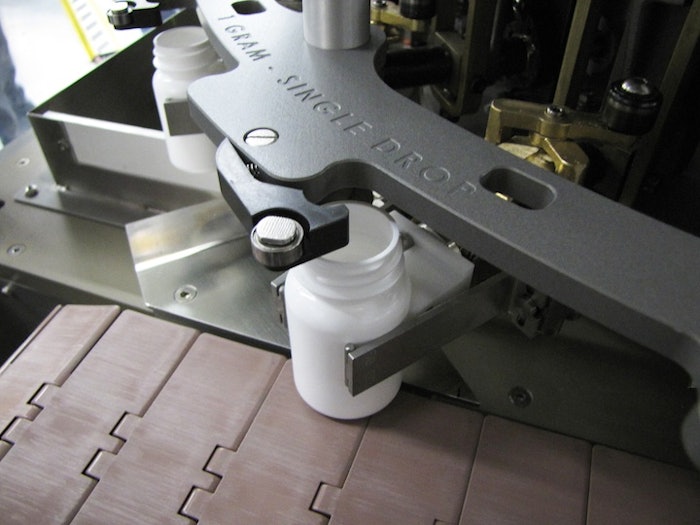 Teva Pharmaceutical Industries Ltd. is a global generic pharmaceuticals company whose 2012 sales topped $20 billion, producing 850 generic molecules with another 400 in development. Last year it manufactured 73 billion tablets at 75 pharmaceutical and API (active pharmaceutical ingredient) production facilities worldwide.
Recently Teva faced a challenge many companies would gladly take on: Its global customer base was growing so significantly that its remaining manufacturing facility space needed to be carefully allocated.
"We saw that floor space needed to be truly maximized moving forward," says Gabi Cherniak, engineering expert for Packaging and Assembly Technologies for Teva Pharmaceutical Industries. "Being judicious with floor space by placing high demands on your equipment footprint should be part of the evaluation process for any growing business."
Faced with business expansion and limited space for additional manufacturing equipment, Teva sought new bottling and desiccant feeding machinery to provide heightened production within a smaller footprint. For that, Teva turned to equipment partner Omega Design Corp.
"Teva has purchased and incorporated Omega equipment in the past, and we have always been impressed with their machines' quality design and robust capabilities, as well as the company's excellent after-sales service," says Cherniak. "This last point—customer service—was key, because we were planning to implement the new equipment multi-nationally. Due to this global scale, we needed to be sure our needs would be met expertly and expeditiously."
Addressing track-and-trace requirements
Omega Design's Model SRP rotary pocket bottle unscrambler is said to be the first to integrate desiccant feeding within the same frame. The machine's specially designed frame offers sound conditioning features and servo operation for optimum bottle control and positioning.
The compact SRP machine handles speeds in excess of 300 bottles/min. Even at the highest speeds, desiccants can be inserted into containers with very tight tolerances, with as little as 1/16-in. neck clearance. The machine can handle a wide range of desiccant sizes and suppliers in single or multiple-drop applications.
Teva was also seeking additional capability. After the initial purchase, a changing business environment demanded that unit-level coding be a part of the solution with integration of the required components for a complete track-and-trace packaging line. 
"Omega undertook a re-engineering project, requiring intensive R&D on an already ambitious machine, to add bottom-up printing and inspection, but everything was under control," says Cherniak.
Serialized printing and inspection at the unscrambler puts Teva in a favorable position to meet future unit-level serialization mandates, such as the California e-Pedigree law and other current global serialization requirements. Bottom-coding bottles is aligned with Omega's serialization philosophy of physical aggregation prior to data aggregation.  Bottom coding allows for the codes to be read after groupings (bundles or case layers) are created, ensuring the integrity of the parent-child relationship. "Printing of the bottom code inside the unscrambler is a brilliant idea. This is the best place to print and inspect codes," says Cherniak.
Supply chain identification
What makes the Model SRP unique is that bottles, upon exiting the unscrambler, will already contain their desiccant canisters and will be uniquely identifiable as they continue into Teva's supply chain.
Beyond its operational efficiency and multiple functions in a compact floor space, the machine's fixed-format change parts offer a high level of Overall Equipment Effectiveness (OEE), and an integrated controls platform allows for all functions to be monitored and operated from a single console. SRP is flexible, provides quick changeover, and handles bottles from 30cc to 1500cc, at high speeds.
The technically ambitious project included matching programming logic.  The Model SRP's core functions are unscrambling, air rinsing, desiccant feeding, printing, vision inspection, and reject verification, delivering six functions in four ft of space. To that, Cherniak notes: "It's easy to modernize packaging line functionality when working with a sophisticated supplier like Omega."
Companies in this article