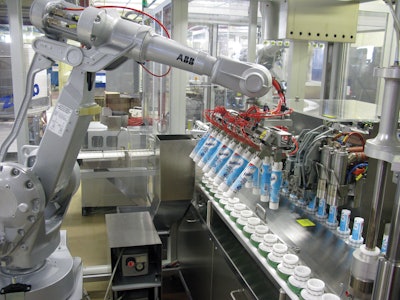 The largest maker of branded liquid detergents and personal care products in Scandinavia, Ello recently installed a new filling line for tubes. It illustrates shift after shift after shift how useful a robot or three can be.

The new line is in Ello's Kristiansund, Norway, plant, and it's anchored by a filling system from Norden, part of the Coesia Group. The line is a replacement for an older system that not only was slower but required four people to operate. The new line cranks out tubes at a speed of 155/min and requires just one operator, whose primary task is to replenish the stream of packaging materials consumed by the packaging line. The robots, supplied by ABB, play a big role, as do the Schneider Electric servo motors and controls.

"The robots represent new technology for this site," says Peder Kr. Stromsvag, technical manager at the Ello plant. "They're flexible enough to handle 75-mL and 35-mL tubes for toothpaste, which is the product we run most often on this line. But we can also do a 150-mL tube for shower and shampoo-type products. And changeover takes only three hours, including washing of pumps and such. With labor costs in Scandinavia being as high as they are, robots are going to play an increasingly important role in our efforts to remain competitive." (See sidebar for another example of how robotics are being implemented at the plant.)

Machine and materials are notable

The line is distinguished not only by its machines but by its materials, too, specifically the white injection-molded pocketed tray in which the tubes are placed prior to case packing. This secondary packaging format is all about retail-ready and on-shelf presentation. Not only is it attractive and easy for in-store personnel to handle, it's also very compact, which lets Ello display more tubes in whatever retail space it is allotted.

The other intriguing thing about secondary packaging, which is applied by a Norden robotic wraparound system, is that the wraparound corrugated case has no bottom. The robotic end effector uses vacuum cups to pick a flat corrugated blank from a magazine and position it over a tray full of 15 or 30 tubes, depending on tube size. The corrugated material, a single-wall B-flute with an edge crush test rating of > 4.0 kN/m, is then folded down around all four sides. But there is no case bottom, just two narrow flaps extending along the two long sides of the case. The tooling of the Norden robotic end effector folds both of these flaps under the white plastic tray. Then at all four corners the tooling folds the extended portion of the flap, after hot melt adhesive is applied, flat against the sidewall of the corrugated. This secures the tray full of tubes inside the case, even though there is no case bottom.

Corrugated converter Glomma Papp worked closely with Norden and Ello to develop this clever case alternative. The Ello line in Kristiansund represents its first commercial application.

"It brings some cost savings by not requiring a bottom piece," says Steven Hangen, an Ello engineer responsible for the tube line. "But it's also an inherently easier format for the robotic end effector to handle, and that has meant less programming costs."

Tray denesting

On the day that Packaging World visited, 30-count trays in a 6 x 5 format were in production. Corrugated boxes of empty laminated tubes, which are supplied by Norway Pack, are placed by the operator at one end of a powered roller conveyor. At the opposite end is a tilting table from which tubes are picked by an ABB robot. When a box in the tilting table is empty, the table tilts downward to release the box toward the floor. It then tilts back to its original position so that a fresh box of empty tubes can be automatically conveyed in and locked into position.

The ABB robot uses a twin-row end effector to pick empty tubes from their boxes. In the photo shown here, the end effector holds 16 tubes in one row and 16 in the other. The robot then pivots 45 degrees and uses two strokes to place the tubes—16 in one stroke and 16 in the next—in the pucks of the racetrack style device that takes the tubes through filling and heat-seal closing.

Filled and sealed tubes are taken from their pucks by a pick-and-place device that lays them horizontally in the flights of a discharge conveyor. From this conveyor, Robot #2 picks the tubes 12 at a time and places them so that they stand vertically in the pockets of the white injection-molded trays.

Even these white PP trays are handled automatically by a machine supplied by Zaugg. The Zaugg machine holds trays stacked vertically in six magazines. The trays are dispensed mechanically from the bottom of the magazines onto a belt conveyor leading to Robot #2. When one magazine is empty, the next one rotates into position so that the flow of empty trays into Robot #2 is uninterrupted. Since each magazine holds a lot of trays, the operator can fill this machine with trays and then ignore it for long periods of time knowing that there are six magazines to be emptied before more trays need to be added.

Trays full of neatly standing tubes are conveyed away from Robot #2 and make a right-angle turn on a conveyor that leads to Robot #3. This is the one that picks a flat corrugated blank, places it over a tray full of tubes, folds the blank down around the tubes, applies hot melt adhesive where needed, and folds the specially designed flaps against the sidewall of the case.

Corrugated cases are discharged through a Garvens checkweigher and then a tamp style thermal-transfer labeler from Markem-Imaje. The final machine in the automated line is a rebuilt palletizer from a local supplier. Ello is now looking into the possibility of putting a remote palletizing operation in the warehouse to minimize forklift traffic in the manufacturing area.

According to Hangen, the tube line has surpassed all expectations since it was installed. "It brings obvious ergonomics benefits and it saves some labor costs," says Hangen. "And it's proven so easy to changeover tube size or product being packaged, we're using it to take some pressure off of other lines. The amount of flexibility you get from servo-based packaging machines is impressive."
Companies in this article