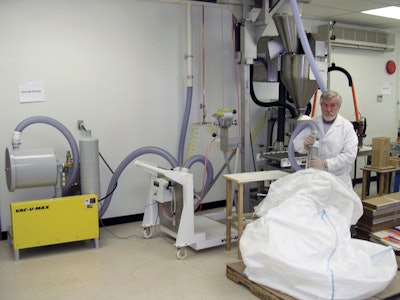 The Association for the Blind and Visually Impaired (ABVI), headquartered in Rochester, NY, is a not-for-profit organization dedicated to preparing and empowering people who are blind or visually impaired to be self-sufficient, contributing members to their families and communities.

When the U.S. government decided to switch to a bio-based laundry detergent for the military and other government entities, ABVI's manufacturing and fulfillment division, which employs approximately 60 blind or visually impaired people, wanted to bid on the contract. But first they had to develop a system to produce and package the detergent in an effective and economical manner.

ABVI employees convert, assemble, package, and distribute a wide range of high-quality products for federal and state government use, often partnering with major companies such as 3M and Ecolab. The bio-based, powdered laundry soap project presented a new challenge.

Leon France, quality manager at ABVI, notes, "This was a totally new process for us. Our first step was to work with a soap manufacturer that could formulate a bio-based product that met government specifications. Then we needed a production line that could give us the competitive edge."

After successfully developing a detergent with a supplier/manufacturer, France contacted an auger filler manufacturing specialist Per-Fil to secure an appropriate auger filling system to dispense the powdered detergent into 13-pound cartons. The corrugated boxes, custom-manufactured for ABVI, are supplied by RDA Container Corp.. ABVI chose a Per-Fil Model PF-11W that was already equipped with an audible alarm capability.

ABVI also needed a delivery system that could transfer the detergent emptied from 2,000-pound sacks to the auger filler. To accommodate this delivery function, Per-Fil recommended that ABVI contact vacuum and positive-pressure pneumatic conveyor expert Vac-U-Max.

Detergents are challenging to convey due to their adhesive characteristics and because moving and dispensing powder in high volumes potentially can change the density, component blend, and texture. This can result in inconsistent fill rates or volumes, causing production interruptions and possible degraded particle size, compromising quality control standards. But with vacuum conveying, powder isn't forced mechanically, and there are no moving parts to come in contact with the powder to disrupt it.

Vac-U-Max requested material samples to run some tests to ensure that particle size didn't change during vacuuming from the sacks to the filler. Because powdered products can get sticky and change density, leading to improper fills, it is critical to keep the powder at proper product density on the conveyors, in the hoppers, and in the auger filling heads.

The conveyor manufacturer has a fully functional test and demonstration facility equipped with a multitude of machine configurations to simulate actual conditions at customers' sites. The company also can utilize a variety of methods, such as specialized conveyor finishes and proprietary coneless vacuum receivers to reduce power sticking inside the system. The tests are performed at no charge to potential customers.

France says, "We decided on the Vacu-U-Max conveying system because the manufacturer invited us to their facility to demonstrate their equipment with our product. They offered us a couple different options, based upon our specific product needs. That helped us make our decision about which way to go."

ABVI chose a Model 105017 conveying system. The auger filler and conveyor were installed and started up in early 2012. The conveyor and filler systems feature control panels that are integrated to work together.

Contract in hand

Having done the necessary research and preparation, ABVI secured the government contract for the bio-based laundry detergent. Once ABVI was granted the contract, the organization commenced building a room with proper ventilation for the process and ordered the equipment. ABVI also needed to make sure that they installed the proper control system to integrate the conveying and filling machinery. Notes France, "We wanted to make sure that, when we got the whole system on-site, the line would be fully functional and work properly as a unit."

To secure those assurances, Vac-U-Max first set up its system at Per-Fil's facility and demonstrated to ABVI representatives that the two systems were fully integrated and operational. "We really appreciated the fact that Vac-U-Max was willing to send someone to the auger filler manufacturer to guarantee their equipment was able to interface properly with the Per-Fil equipment," says France.

The conveying system vacuums the detergent from the sacks at floor level into the hopper of the filling machine. The operator uses a large wand to access the detergent inside the corners and recesses of the bag when necessary. The auger filling system has been designed so that individuals who are blind or visually impaired can operate the line. Audible alarms on the filler alert operators that they need to move the wand to a different location within the bag if the conveying system is not sucking detergent into the hopper.

When a carton is full, an audible signal lets operators know they can move it away from the filling station to another location where the carton is sealed manually. The system also utilizes a touch screen for further assistance that provides audible explanations of whether the process is working properly or not.

Now in operation since early 2012, the new production and packaging line is staffed with three operators. France reports, "The system runs clean. We are impressed with the expertise that Vac-U-Max and Per-Fil brought to the table."
Companies in this article